Why Fulton Presley From We Have A Ghost Looks So Familiar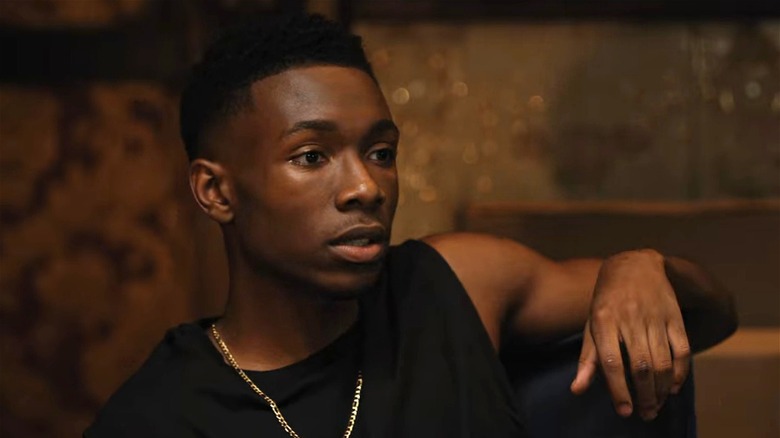 Netflix
In Netflix's latest original film "We Have a Ghost," viewers may recognize a familiar face in its supporting cast. While the main ensemble features big-name actors like David Harbour ("Strange Things," "Hellboy"), Tig Notaro ("Army of the Dead"), Jennifer Coolidge ("The White Lotus," "The Watcher"), and Marvel Studios star Anthony Mackie, it also features the talents of rising star Niles Fitch. From "Happy Death Day" and "Freaky" director Christopher Landon, "We Have a Ghost" follows a family whose haunted house becomes a social media sensation. 
Fitch plays Fulton Presley, the son of Frank (Mackie) and brother of Kevin (Jahi Winston) who unwittingly kicks off their family's discovery of a supernatural entity within their home. Though the film has received mostly mixed reviews from critics (and much worse from viewers), it's hardly a scratch on Fitch's impressive resume — one which already includes one of the biggest television series of the 2010s. Here's why Fulton probably looks familiar. 
Niles Fitch got his big break on Army Wives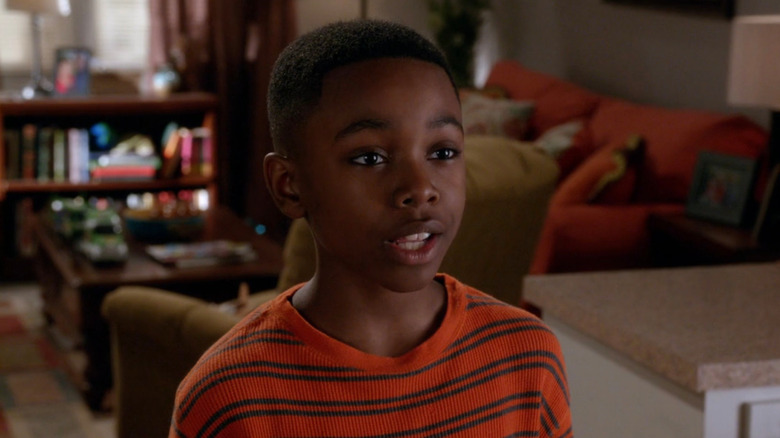 Lifetime
After co-starring in an episode of "Tyler Perry's House of Pain," Niles Fitch joined the cast of the Lifetime drama "Army Wives." The series is a fictional adaptation of the book "Under the Sabers," an examination of women who marry servicemen written by journalist and real-life "army wife" Tanya Biank.
In the show's seventh and final season, "Army Wives" introduced a brand new main character — Latasha Montclair, played by none other than platinum recording artist and mononymous R&B legend Ashanti. Though she had been acting since 1992's "Malcolm X" and has previously appeared on prominent shows like "Law and Order: Special Victims Unit," "Army Wives" marked her first major television role as well.
At just 12 years old, Fitch recurred for the entirety of Season 7 as Latasha's son, Deuce Montclair. Deuce would occasionally get into trouble with the other children of the army wives (army children?), such as the young David Burton (McCarrie McCausland). The series ended in 2013, just in time for Fitch to make his silver screen debut.
Fitch made his feature film debut in St. Vincent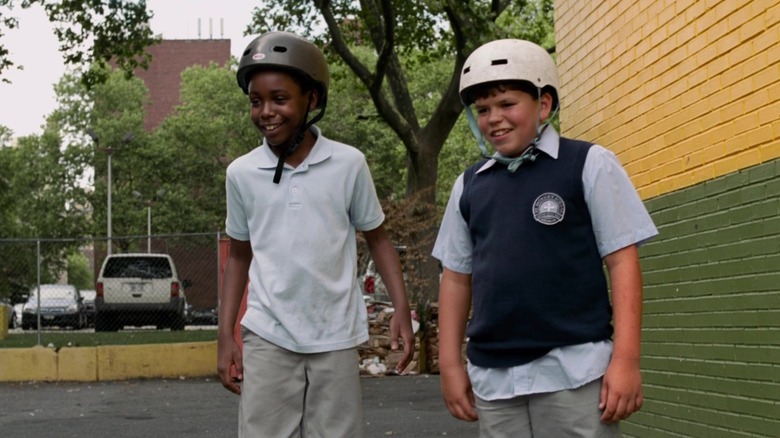 The Weinstein Company
Just two years before he would helm the semi-historical space-age drama "Hidden Figures," Theodore Melfi wrote, directed, and produced the dramedy "St. Vincent." The film stars Bill Murray as an aging Vietnam war veteran who forms an unlikely friendship with a young boy named Oliver (a pre-"It" Jaeden Martell). Mellisa McCarthy stars opposite Murray as Oliver's mother, Maggie.
Niles Fitch can be seen at many points throughout the film as Brooklyn, a featured classmate of Oliver's at the Catholic school he attends. Being both new to the area and precociously confused about his own religious beliefs, Oliver struggles to fit in with his classmates, causing some of the children to bully him. Brooklyn is often seen with Oliver's bullies.
The film received generally positive reviews from critics who praised the strong comedic performances of the cast (though they criticized its cloying sentimentality). Murray and Melfi both received Golden Globe nominations for their work, while Fitch continued to book roles on hit television shows.
He proved his talent in Law and Order: SVU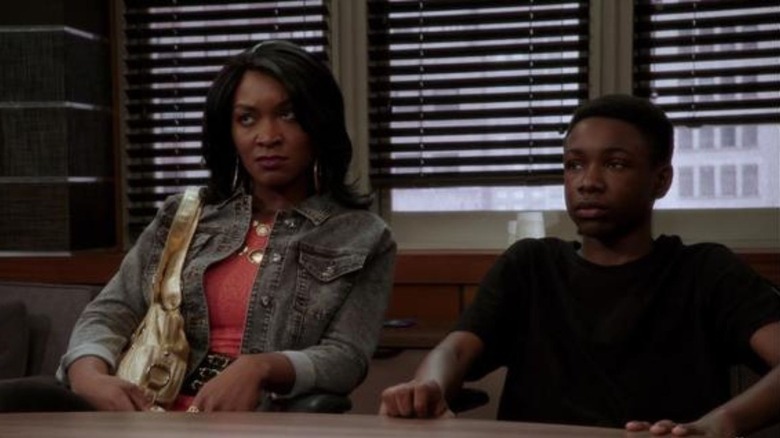 NBC
Like many other stars, Niles Fitch was given the chance to test his mettle in the highly popular "Law and Order" universe. He guest-starred in a Season 17 episode of the long-running spin-off series "Law and Order: Special Victims Unit," which follows darker investigations into various sex-related crimes in New York City. The series famously starred Christopher Meloni, Mariska Hargitay, and the late Richard Belzer.
In Season 17, Episode 3, "Transgender Bridge," Fitch has a featured role as Keon Williams, a person of interest in the assault of a trans teenager named Avery (Christopher Dylan White). It is ultimately revealed that Keon and his friends were bullying the young teenager, with their harassment getting increasingly physical until another teen accidentally pushed Avery off of a bridge. Though Keon shows no remorse for his indirect role in Avery's life-threatening injuries, he is merely given probation and community service.
If you or a loved one has experienced a hate crime, contact the VictimConnect Hotline by phone at 1-855-4-VICTIM or by chat for more information or assistance in locating services to help. If you or a loved one are in immediate danger, call 911.
He landed a series regular role in This Is Us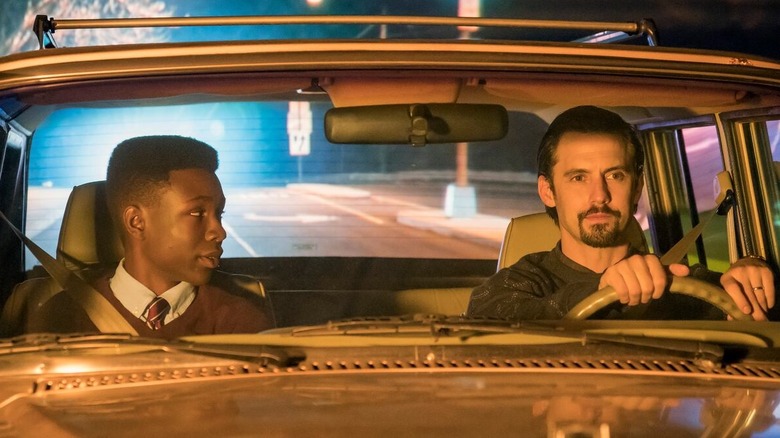 Ron Batzdorff/NBC
After a few more guest-starring roles in shows like "Unbreakable Kimmy Schmidt" and "Best Friends Whenever" (as well as a brief recurring stint on the little-remembered ABC drama "Mistresses"), Niles Fitch finally landed a spot in the main cast of what would become one of modern television's most beloved dramas — NBC's "This Is Us."
Created by Dan Fogleman ("Tangled," "Indiana Jones and the Dial of Destiny"), the series spent six seasons absolutely tearing away at the heartstrings of its audience with reckless abandon, as it slowly unfolded the simultaneously epic and intimate saga of the Pearson triplets. In the role that made him a household name, Sterling K. Brown starred as adopted sibling Randall; in the series' many flashbacks, Randall was played by Fitch.
Speaking to Today, Fitch recalled that his favorite episode was Season 2, Episode 10, "Number Three," in which Randall and his father Jack (Milo Ventimiglia) visit Howard University together. "I'm super biased," he admitted. "It's the one I'm featured in the most." He went on to say that traveling to Washington, DC to film the episode and getting to interact with friends was the most fun he'd had while on the show. Fitch also stated that he remains in touch with Brown, who offers him support and "man advice" about how to further himself and his career.
Fitch received praise for his role in The Fallout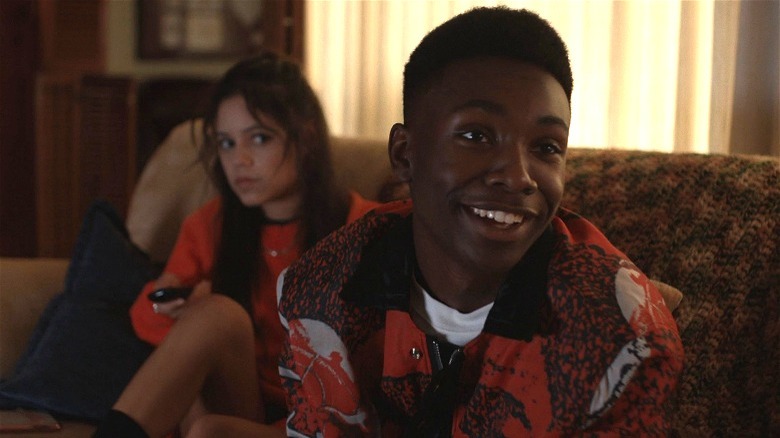 Warner Bros. Pictures
Starring an unstoppably ascendant Jenna Ortega and "Dance Moms" alum Maddie Ziegler, "The Fallout" chronicles the emotional aftermath several children experience after their school is attacked by a gunman. Niles Fitch also stars as Quinton Hasland, one of the traumatized survivors.
Throughout the film, Vada Cavell (Ortega) struggles to cope with her memories from the shooting, during which time she hid with Quinton in a cramped bathroom stall. With seemingly few options, Vada begins to medicate herself with drugs, alcohol, and sex, eventually leading to her failed attempt to kiss Quinton and their subsequent falling out.
The Hollywood Reporter lauded Fitch's performance in the film, writing that he "conveys wrenching depths in Quinton's silences as well as between the conversational lines," while The New York Times praised his chemistry with Ortega. "I feel that today, [school shootings are] a new normal," Fitch told Deadline. "We've seen kids come out and speak about it. We see their trauma played throughout media. For me, it was easy to tap into that."
If you have been impacted by incidents of mass violence, or are experiencing emotional distress related to incidents of mass violence, you can call or text Disaster Distress Helpline at 1-800-985-5990 for support.