Westworld: Park 6's Official Name Revealed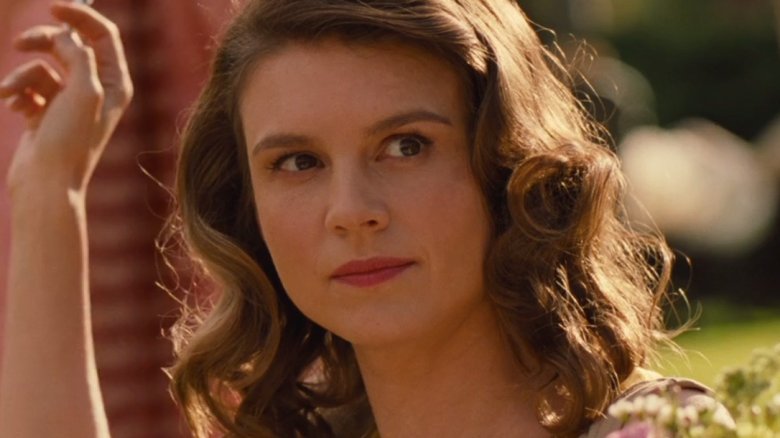 HBO
Contains spoilers for Westworld season 2, episode 3, "Virtù e Fortuna"
One more Westworld mystery: solved. 
The most recent episode of Westworld, "Virtù e Fortuna," opened on a sprawling new park set in British Colonial India, packed with fresh characters, lush landscapes, and alluring narratives, as well as the same mounting dangers seen in the Westworld park and its behind-the-scenes headquarters. There, viewers met Katja Herbers' Grace, who ends up in a shoot-out with a park host and later gets attack by a Bengal tiger — the very same beast who was found dead on the shores of Westworld in the season 2 premiere. So what exactly is this new park, the elusive Park 6, as Luke Hemsworth's Ashley Stubbs once referred to it?
Following the episode's premiere on Sunday, May 7, the Delos Destinations viral website has been updated to include a page that confirms Park 6 is called The Raj.
On the actual Delos site itself, under the Experience section, The Raj is described as such: "आइये और अनुभव कीजिए , समय के साथ खोये हुए स्थान की भव्यताऔर प्रेम को । If being pampered by our world-class spa isn't your cup of Darjeeling Tea, the park's jungles and mountains are your only chance to glimpse magnificent beasts long vanished from your world." The Hindi section reads in English, "Come and experience the grandeur of the lost place over time and the love of love."
The park-specific page invites Westworld fans to "Discover The Raj," and though there isn't much information included apart from the splash image of The Raj's riverbank, those who visit are greeted with a message from Westworld's Guest Services Host "Aeden," who offers a chat service on the Delos website. Aeden details the splendors of The Raj: "For guests looking for narratives and thrills beyond Westworld, we recommend The Raj as your next vacation. स्वयं की जिम्मेदारी से प्रवेश करें। कठपुतली शो खत्म हो गया है। The Raj is sure to bring out the lover or hunter in you. What better way to indulge in a new era of Delos Destinations?"
The section of text written in Hindi can be roughly translated to English as "Log yourself in with responsibility. The puppet show is over." As if that wasn't sign enough that there's trouble in paradise, the logo featured on the "Discover The Raj" site glitches constantly. It's clear that the uprising taking place in Westworld has made its way to The Raj. 
Westworld season 2 is set to explore a number of sister parks in future episodes, one of which we know is the Japan-themed ShogunWorld that Maeve (Thandie Newton), Felix (Leonardo Nam), Lee (Simon Quarterman), Armistice (Ingrid Bolsø Berdal), Hector (Rodrigo Santoro), and Sylvester (Ptolemy Slocum) ventured to at the end of "Virtù e Fortuna." With any luck, we'll see much more of both ShogunWorld and The Raj soon.
Westworld currently airs on Sundays at 9 PM on HBO.