Are Steven Michael Quezada And Dean Norris From Breaking Bad Friends In Real Life?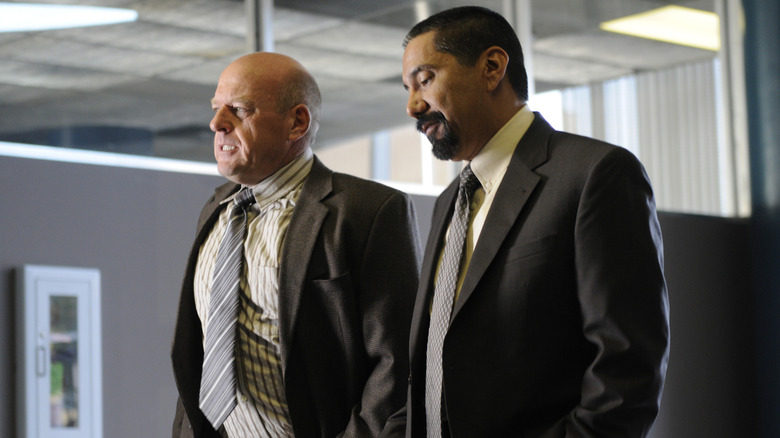 Ursula Coyote/AMC
When "Breaking Bad" premiered back in 2008, no one knew what Vince Gilligan and the cast were cooking up. The story of Walter White's slow descent from high school teacher to drug kingpin captured audiences' attention worldwide, making the entire cast household names overnight. While many involved made a name for themselves on the series, two "Breaking Bad" standouts have to be Dean Norris and Steven Michael Quezada's DEA partners Hank Schrader and Steven Gomez.
Throughout "Breaking Bad," Hank and Gomez's relationship runs deeper than just partners. They were best friends. Norris and Quezada constantly bounced off one another in scenes, whether while they hunted down Heisenberg or just had a beer together. As the series showcased their friendship throughout its five-season run, the actors' on-screen chemistry was undeniable, making their deaths in the legendary and fan-favorite episode "Ozymandias" hit that much harder.
Thankfully, it wasn't the last time that fans saw Hank and Gomez on screen, as both actors returned to their iconic roles in "Better Call Saul." Season 5, Episode 4, "The Guy for This," featured their returns, giving fans a final opportunity to experience Hank and Gomie's friendly bickering. However, this time around, their future deaths still linger in the audiences' minds, making for a bittersweet return to the series. Since the characters are practically side-by-side throughout their "Breaking Bad" appearances, fans may wonder, are the actors behind the characters as close in real life?
They developed a strong friendship during the Breaking Bad days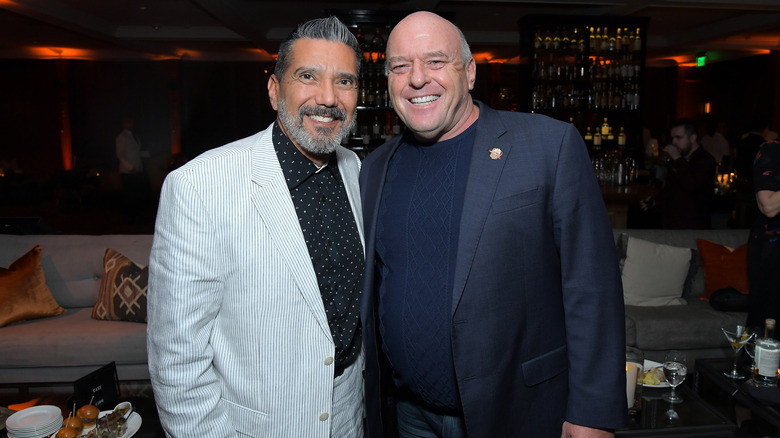 Charley Gallay/Getty Images
According to Dean Norris, he and Steven Michael Quezada formed an ever-lasting friendship as they played Hank Schrader and Steve Gomez on "Breaking Bad." During an Entertainment Weekly interview regarding his return as Hank for "Better Call Saul," Norris called returning with Quezada "surreal," reflecting on the two actors meeting on the set of "Breaking Bad" more than ten years ago. "We had just been introduced, and I've stayed friends with him, so I've known him for all these years. Now we get to go back and play like we're buddies in the show, and we actually are buddies in real life, you know what I'm saying?"
Quezada shared a similar response, speaking on his and Norris's friendship to Texas47 TV. The interview covered his final days on the "Breaking Bad" set, with the actor revealing his emotions were at an all-time high as Gomez and Hank's long journey came to a beautiful end. "We played partners for six years," Quezada reflected. "And we're really good friends on and off the screen. We would play a lot of golf. We both started in theater. We had a lot of, you know, we both had a million kids. We had a lot in common."
During an interview with The Hollywood Reporter, both Norris and Quezada touched on how their strong friendship impacted their "Better Call Saul" returns. Norris said being in front of the camera with Quezada felt much more "comfortable" than when they started "Breaking Bad." Quezada thought their on-screen friendship only benefitted from their off-screen relationship, saying, "People would always say we seemed like the best of friends onscreen, and that's what happened in real life."