The Real Reason Better Call Saul Brought Back Gomie From Breaking Bad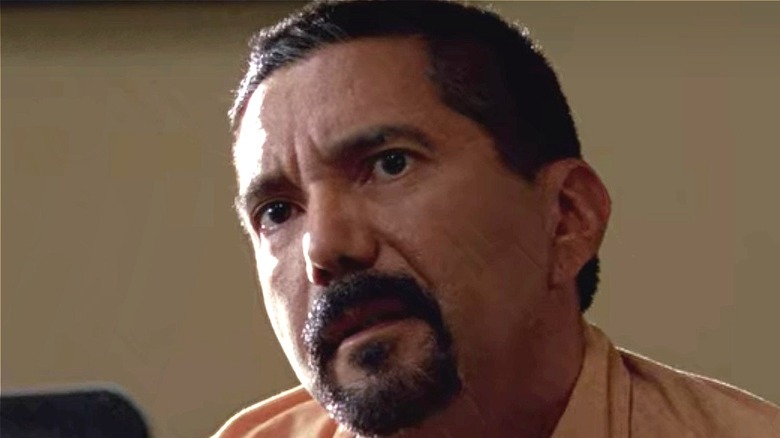 AMC/Netflix
Created by Vince Gilligan and Peter Gould, "Better Call Saul" — a prequel series to the highly acclaimed drama "Breaking Bad" — follows well-meaning new lawyer and former con artist Jimmy McGill (Bob Odenkirk) as he eventually transforms into the seedy criminal defense lawyer of "Breaking Bad," Saul Goodman. Meanwhile, we see Mike Ehrmantraut (Jonathan Banks) as he begins to become involved with a drug cartel in order to make money to provide for his granddaughter.
Excitingly for fans, Jimmy and Mike are not the only "Breaking Bad" characters to show up in "Better Call Saul." Hector Salamanca (Mark Margolis) and Gus Fring (Giancarlo Esposito) have also become major players on the prequel, each in their own way. Meanwhile, on Jimmy's side of the story, we find out how characters such as Saul's secretary Francesca (Tina Parker) and bodyguard Huell (Lavell Crawford) come into the mix.
With each of these crossover characters, their initial appearances have come as a welcome surprise — and in Season 5, fans got one of the most exciting "Breaking Bad" cameos to date, when DEA agent Steven "Gomie" Gomez (Steven Michael Quezada), along with his partner (and Walt's brother-in-law) Hank Schrader (Dean Norris), show up in "Better Call Saul" and interact with Jimmy McGill, before he has fully transformed into the unscrupulous figure he will become in the original series. Hank and Gomie show up in the third episode of Season 5 of "Better Call Saul" when Jimmy, now practicing law under the name Saul Goodman, is representing Krazy 8 (Maximino Arciniega).
Here's why the writers of the series decided to bring back Gomie from "Breaking Bad."
The writers found a perfect opening with Jimmy's story to bring in Gomie and Hank
Hank and Gomie's introduction in "Better Call Saul" was delved into by Vulture in a piece from March 2020, shortly after Season 5 Episode 3 aired. Maria Elena Fernandez wrote that the show's writers wanted Hank and Gomie on "Better Call Saul" from the beginning, but it took some time for the opportunity to naturally arise.
Showrunner Peter Gould explained in more detail. "Our North Star, the thing we stay focused on as much as we possibly can is the story of Jimmy McGill/Saul Goodman/Gene Takavic as he progresses through life ... We try not [to] let our desire to work with these wonderful actors from 'Breaking Bad' take over. The story has to demand it. This season, we were thinking, Who's the right opponent for Jimmy? As soon as we thought of the DEA, we thought, Wouldn't it be amazing if it's Hank?"
Hank may have been the main draw, but a Hank cameo wouldn't be complete without his partner Gomie — as well as their notorious banter. Gould continued, "These are two characters that Vince [Gilligan] created in the pilot of 'Breaking Bad.' The first time we see them they are taking bets on the identity of the person they're about to find, Cap'n Cook, and I felt a little hesitation bringing these two characters back not having Vince's pen involved." (Gilligan didn't contribute to the writing of Season 4, although remained an executive producer).
Ultimately though, Gilligan loved the banter between Hank and Gomie, in the episode written by Ann Cherkis — as did, likely, all the "Breaking Bad" fans out there, who were immensely excited to see the return of the two characters.