Tom Cruise Cried At Val Kilmer's Return In Top Gun: Maverick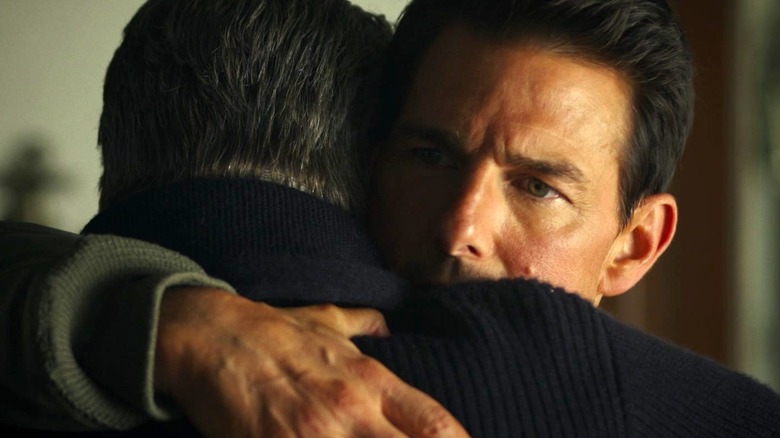 Paramount Pictures
With film icon Tom Cruise's worldwide box office blockbuster "Top Gun: Maverick" up for six Oscars including Best Picture, the star-slash-producer is becoming increasingly more visible on the awards season campaign trail, sometimes detailing the emotions that went into the making of the film.
Cruise's presence at the Academy Awards' annual Oscar luncheon drew major attention when a fellow Oscar nominee captured on video a conversation between Cruise and director Steven Spielberg, where the legendary director told his colleague how "'Top Gun: Maverick' might have saved the entire theatrical industry." After that, Cruise was honored at the Producers Guild of America Awards – with the David O. Selznick Achievement Award in Theatrical Motion Pictures — for his career contributions to film as a producer.
The PGA honor is the latest victory since May for Cruise, where after a long theatrical holdout due to the pandemic, his long-awaited "Top Gun" sequel "Top Gun: Maverick" soared into the showhouses worldwide and went on to amass nearly $1.5 billion in ticket sales worldwide. As fans have discovered, the film is not only packed with action and daring flight scenes but has an emotional impact thanks to scenes like Cruise's Pete "Maverick" Mitchell reunion with Val Kilmer's Tom "Iceman" Kazansky — marking the first time the two iconic characters appeared together since the conclusion of "Top Gun" in 1986. Given Kilmer's reported health struggles in recent years, the reunion of the two actors was particularly poignant for Cruise.
Top Gun: Maverick marks a reunion 36 years in the making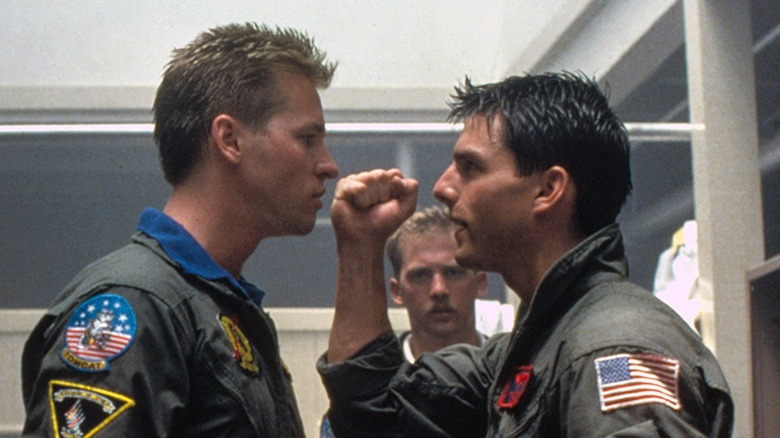 Paramount Pictures
Of course, at the center of the original "Top Gun" was the intense rivalry between Maverick and Iceman, as the two expert pilots were vying for the coveted Top Gun title during their training in the program. Iceman won the competition, and as we learn in "Top Gun: Maverick," went on to become a Navy Admiral. Maverick, meanwhile, continued to be a, well, maverick, and despite his defiance, is still revered by his colleagues and is handpicked by his former rival to lead a dangerous mission with a group of the Navy's best young pilots.
While both Tom Cruise and Val Kilmer both went on to successful careers after "Top Gun," Kilmer suffered a huge personal and professional setback in 2017 with the revelation of his battle with throat cancer. And while Kilmer went on to defeat the disease, his fight largely robbed him of his ability to speak. Today, the actor's voice is only audible as a low, gravelly tone when he plugs a hole in a tube in his esophagus to talk.
As a result, Kilmer's health issues were worked into the plot of "Top Gun: Maverick," as Iceman first answered Maverick's questions in their reunion scene, and eventually spoke to his rival-turned-friend in whispers (thanks to AI technology reconstructing Kilmer's voice). Witnesses on set, including Val Kilmer's daughter, Mercedes Kilmer, noted how special filming the scene was to her father.
Now, Cruise is giving a bit more insight into how he reacted to his reunion with Kilmer on a personal level.
Tom Cruise says Val Kilmer 'instantly' became Iceman
While Tom Cruise's Maverick appeared to be calm, cool and collected during his pivotal scene with Val Kilmer's Iceman in "Top Gun: Maverick," the actor-slash-producer said in reality he reacted much differently. In an interview with the eponymous host of "Jimmy Kimmel Live!" Cruise shared how he reacted to his reunion with Kilmer during the scene. "I just want to say that was pretty emotional. I've known Val for decades. For him to come back and play that character ... he's such a powerful actor that he instantly became that character again. You're looking at Iceman."
The reunion was so special to Cruise, in fact, that he admitted that he couldn't contain his emotions when he shot the scene with his old friend. "I was crying. I got emotional," Cruise told Kimmel about how the tears in the scene were real. "He's such a brilliant actor, and I love his work."
While Cruise didn't land a best actor nomination for his role as Pete "Maverick" Mitchell for this year's Oscars, he is one of the nominated producers in the best picture category, which he shares with Jerry Bruckheimer, David Ellison, and Christopher McQuarrie. The 95th annual Academy Awards celebration is set for Sunday, March 12.