Top Gun: Maverick Director Blown Away By Praise From Steven Spielberg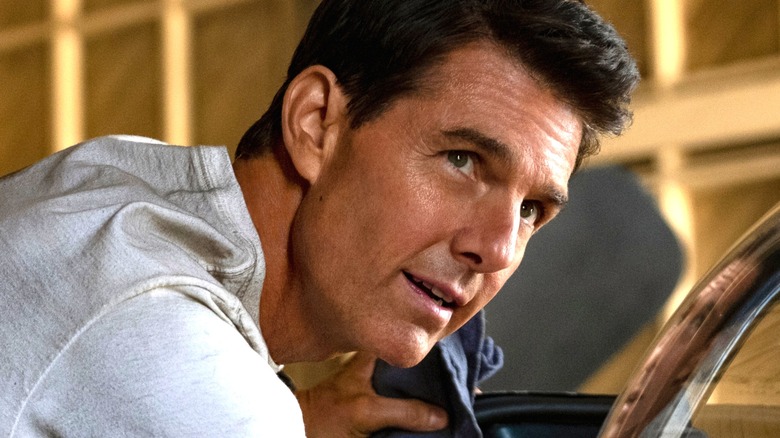 Paramount Pictures
"Top Gun: Maverick" was one of the biggest movies of all time, and the timing of it seemed to be perfect for Hollywood. While the development of streaming services changed the dynamic of how films were received by audiences, a global pandemic put the entire industry on its heels. Luring audiences into theaters to make the kind of money that only a blockbuster spectacle can would be harder than ever.
With $1.5 billion in box office revenue, "Maverick" was catapulted into the rarified tier of billion-dollar earners, only the second movie to do so since the world changed under the COVID-19 pandemic. Despite the anxiety and discomfort of going out in public, people left their homes to hit their local theaters in an attempt to see their favorite pilot with an attitude for the first time in 36 years. And while fans were wowed by the revival of a beloved character after decades in the vault, others in the industry also recognized the achievement.
As a matter of fact, one icon that recognized what "Top Gun: Maverick" did for the industry is one of the biggest in existence. As captured in a tweet from Discussing Film, none other than Steven Spielberg showered star and producer Tom Cruise with praise, saying, "'Maverick' might have saved the entire theatrical industry." When the legendary director of films like "Jaws," "Close Encounters of the Third Kind," "E.T. the Extra-Terrestrial," "Jurassic Park," and the "Indiana Jones" franchise tells you that you saved the entire industry, it's a life-altering moment. And for a fellow director, that's certainly true.
Joseph Kosinski was blown away by Spielberg's praise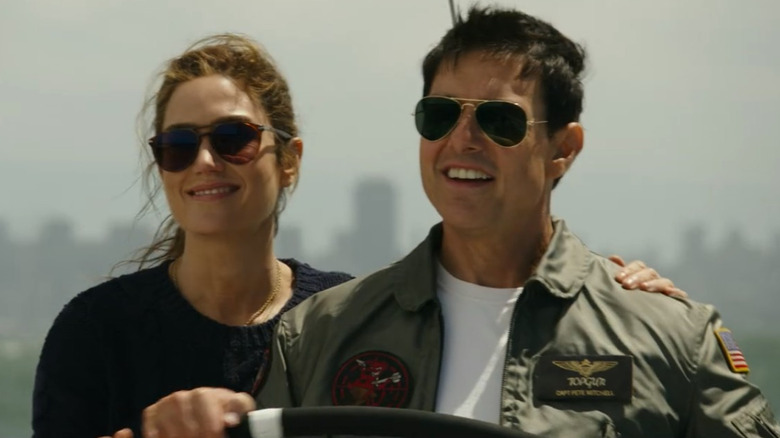 Paramount Pictures
"It absolutely blew my mind. That's so kind of Steven to say," director Joseph Kosinski told Variety at the Directors Guild Awards after Spielberg's comments. "All of us, every director here, can look at Steven's movies and find inspiration or some movie that touched them and made them want to be a director ... So to hear that from him, it makes me so proud and so happy for Tom because I know how hard he worked on this movie."
Kosinski went on to tell the publication that he would never claim to have saved the theatrical business. He believes that if you tell good stories and present a good product, people will come to the theater to see it. As the filmmaker explained, the cast and crew of "Maverick" weren't focused on accolades when they were making the movie; instead, they were wholly dedicated to telling the best story. He revealed that nothing makes him happier than people coming up to him to tell him they watched it in the theater, citing that as the reason they made the movie.
Of course, he also had to address the possibility of a third film. "It's just a faint idea at this point ... It's a conversation that you know, hopefully someday, happens between Jerry [Bruckheimer], Tom, and myself." A decade ago, many fans couldn't have imagined they would ever get a second "Top Gun" movie, much less a third.
Tom Gun: Maverick proved that the theater still has a future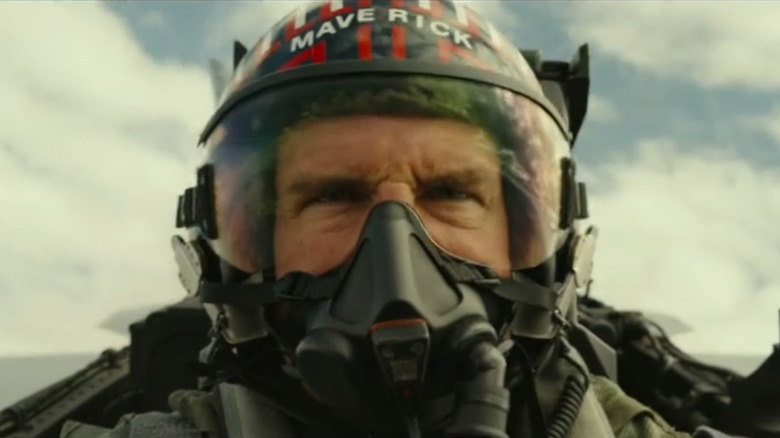 Paramount Pictures
But how did "Top Gun: Maverick" save the theater industry? If you really look at the numbers and the trends, one thing stands out — Tom Cruise's legacy sequel proved that a movie could cross the billion-dollar mark without the resources of Disney. Only two "Jurassic World" films, one "Harry Potter" film, one "Fast & Furious" film, and "Top Gun: Maverick" have broken the top 20 box office earners of all time without carrying the Disney name or being bought by the Mouse after initial release.
With "Top Gun: Maverick," the team proved there's still space for a crowd-pleasing blockbuster that isn't a superhero film or part of a massive franchise. Since the end of the pandemic, "Spider-Man: No Way Home" and "Avatar: The Way of Water" have been the only other releases to break the billion-dollar barrier. And the fact that "Maverick" outperformed films like "Thor: Love and Thunder," "Doctor Strange in the Multiverse of Madness," and "Jurassic World: Dominion" is all the more impressive.
You can definitely make an argument that the naval pilot adventure saved the theater industry, but Marvel and Disney would probably argue against it. Either way, when someone like Steven Spielberg gives you a compliment like that, you take it to heart. You frame the quote, weave it on a pillow, and put it on business cards. It's the kind of praise that can define your career.