Violent Night's Director Always Knew David Harbour Would Make The Perfect Santa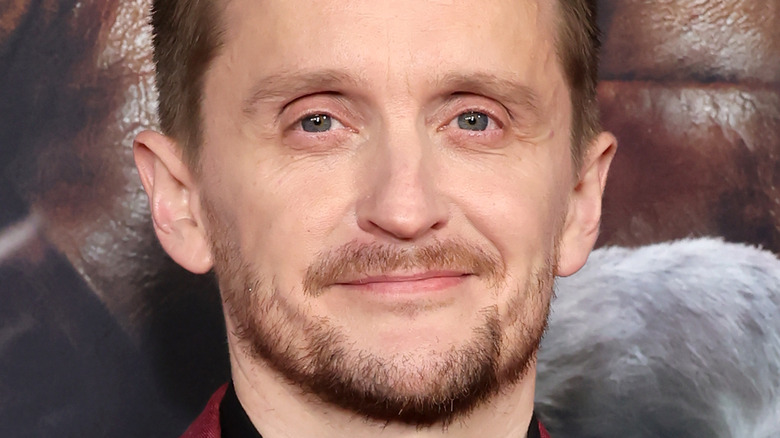 Emma Mcintyre/Getty Images
Ever since David Harbour became a breakout star with his portrayal of the gruff and protective Police Chief Jim Hopper in 2016's "Stranger Things," he's inhabited increasingly larger-than-life characters such as the new "Hellboy," Alexei Shostakov aka Red Guardian in "Black Widow" and the upcoming "Thunderbolts," and soon, Santa Claus in the upcoming twisted Christmas film, "Violent Night." It'd be easy to say that he's hit a pinnacle with his role as a vigilante Santa, but then we remember that he's about to start filming "The Trashers," in which he stars as an associate of the Genovese crime family, as well as a series with the fantastic title of "My Dentist's Murder Trial" (via IMDb).
As his exposure has increased, it's made it easier for directors, producers, and writers to approach him about specific roles. Award-winning playwright Theresa Rebeck didn't just cast him in her play "Mad House," she wrote it for him. "Theresa's a great playwright and there was a play that we almost did together before," he told Time Out. "We sat down and she said 'I wanna write you a play' and she had this idea about Dostoyevsky and the brothers Karamazov and this dying patriarch of the family."
In a similar vein, the "Violent Night" writers may not have written the film for Harbour specifically, but director Tommy Wirkola knew immediately that Harbour would make the perfect Santa.
Harbour loved exploring the history of Santa
"Violent Night" director Tommy Wirkola knows it's not the most intriguing story, but he's adamant that he knew all along that David Harbour was the actor they needed for the film to really come together. "Really early on, me, producers, and the studio were [looking] through names and what agents are suggesting," he told Screen Rant. "And somebody said, 'Oh, wait, what about David Harbour?' It was one of those moments where we just looked at each other and it's like, 'Oh my God, he's absolutely perfect.'"
Harbour, for his part, needed a bit more convincing, and talking to Wirkola persuaded him. "He's this kind of childlike Norwegian guy who's done a bunch of fantastic movies, and he loves Christmas," he told CBR. Wirkola's excitement was contagious, and after reading the script, Harbour was sold. "I was like, 'I've never seen this before.' So often with movies, rarely do I get sent something where I'm like, 'Oh, this not only isn't an action movie, but at its heart, it's really a Christmas movie.' It's really like 'Miracle on 34th Street' at the end, where this little girl believes in Santa Claus while he's dripping with blood all over his face."
Harbour went to surprising lengths to research his character, reading about everything from Coca-Cola's 1930's Santa to the pagan roots of Christmas. Thanks to his dedication to his craft, another larger-than-life Harbour character is born.