David Harbour Wants To Work With Anthony Mackie In Captain America 4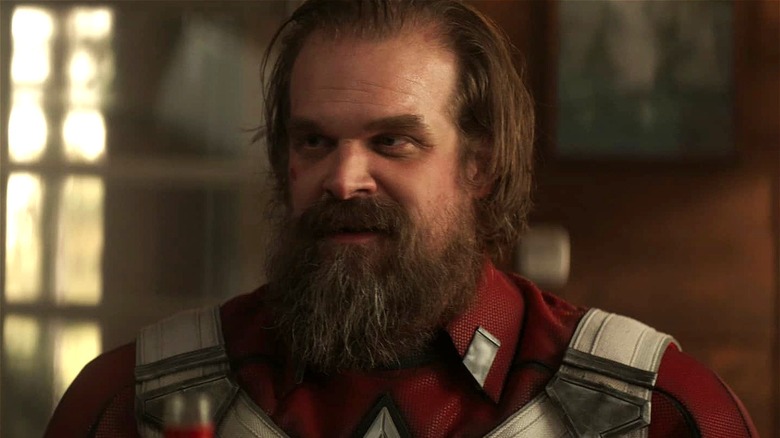 Marvel Studios/Disney
Although David Harbour is still relatively new to the MCU, the "Stranger Things" star quickly found his place within the universe alongside the likes of Black Widow, Bucky Barnes, and Captain America.
Harbour got his start in the franchise with "Black Widow," playing the titular heroine's "father" Alexei (aka Red Guardian). Much like his time on "Stranger Things," Harbour's MCU introduction found him behind the walls of a Russian prison, boasting about his fight against Captain America in the 80s. Alexei, the Russian version of a super soldier, seems obsessed with his American counterpart, pestering Natasha (Scarlett Johansson) if her Avengers teammate ever mentions him. While Alexei more than likely never faced off against Steve Rogers, it's possible he took on Isaiah Bradley during his stint as the American supersoldier.
Harbour's next MCU adventure, 2024's "Thunderbolts," puts Red Guardian face to face with another former Captain America, U.S. Agent (Wyatt Russell). It's safe to say Marvel's version of the Suicide Squad won't all get along at first, with Alexei and John Walker as prime personalities that could clash on their first mission. If that's the case, Alexei will add another Captain America to his collection as he attempts to fight all versions of the character to become the best that ever was. However, Harbour, much like Alexei, has his sights set on the one true Captain America, Anthony Mackie's Sam Wilson.
Get this man a shield... so he can fight Captain America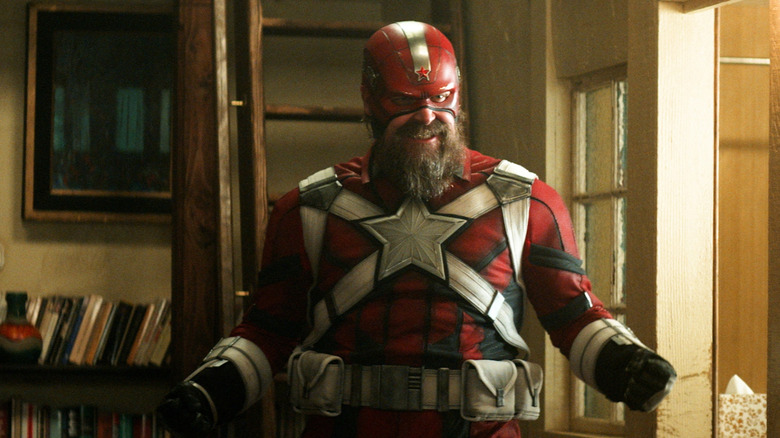 Marvel Studios/Disney
Although Sam Wilson (Anthony Mackie) will undoubtedly have his hands full in "Captain America: New World Order," David Harbour hopes there's time for a quick interaction with Red Guardian. During an interview with Jake's Takes, the actor revealed that he's trying hard to have an on-screen in-costume meeting with his "We Have a Ghost" costar, which could offer a hilarious interaction between the two soldiers.
"I think it would be a very funny meeting," Harbour answered when asked what Red Guardian would think of the new Captain America. "I think he'd be confused, certainly, based on what he thought his version of Captain America was. Mackie's a really fun guy; a really crazy personality. I love what he's doing with the character, and we shall see if there's any interaction in the future. I would certainly enjoy it myself, and I have expressed that to Kevin Feige and the powers that be."
When looking at the grand scheme of the MCU, a meeting between Harbour's Red Guardian and Mackie's Captain America doesn't seem that out of the picture. Barring unforeseen delays, "New World Order" and "Thunderbolts" both hit theaters in the summer of 2024. Both movies will also take place in the same corner of the MCU, with similar characters featuring in each, so potential crossovers aren't out of the question. Harbour has previously stated his interest in doing a Red Guardian origin story featuring his character fighting Captain America, so maybe Marvel Studios could adapt that idea for either of their highly-anticipated films.