Brie Larson Calls Iman Vellani The Perfect Ms. Marvel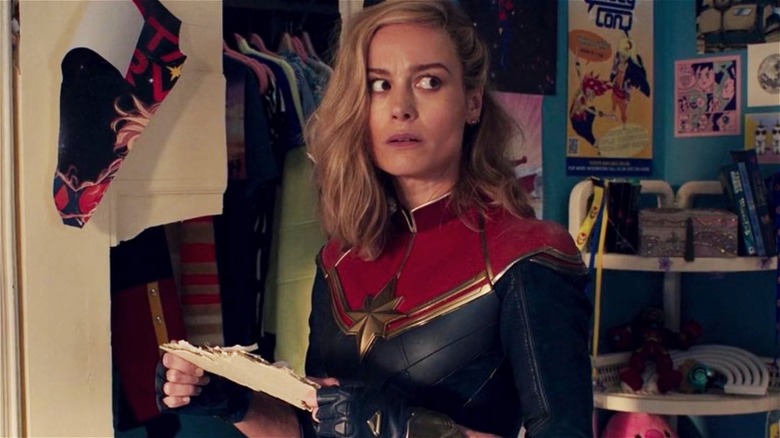 Marvel Studios/Disney+
Following the not-so-welcome reception for "Ant-Man and the Wasp: Quantumania," it's easy to wonder if Kevin Feige and the powers-that-be at Marvel Studios are working on damage control — or, that is, making adjustments to the slate ahead. Schedule changes have already happened: Not only are "Secret Invasion" and "Loki" Season 2 now set to be the only TV shows appearing this year, but a potential body-swapping big-screen outing, "The Marvels," was also pushed to November from its summer slot. 
Fan excitement for "The Marvels," though, remains high — and is getting higher. The upcoming film sees Iman Vellani break out from her small-screen stint in the Disney+ series "Ms. Marvel," along with "WandaVision" supporting star Teyona Parris as Monica Rambeau aka Photon. Together, they'll be joining Brie Larson's Carol Danvers, aka Captain Marvel, in the upcoming entry directed by Nia DaCosta, who recently scared audiences in her critically-acclaimed "Candyman" sequel.
So far, the only bit of info we have on what "The Marvels" will entail is that Kamala Khan (Vellani) might be switching spots with Danvers, who was last seen dropping in on the young super's room at the end of her Disney+ show. From there, a team-up is getting teed up that Larson admitted she couldn't wait to be a part of. In fact, it was the Captain's time with Kamala in the comics that swayed her to join the Marvel ranks in the first place.
Brie Larson has nothing but praise for Ms. Marvel's Iman Vellani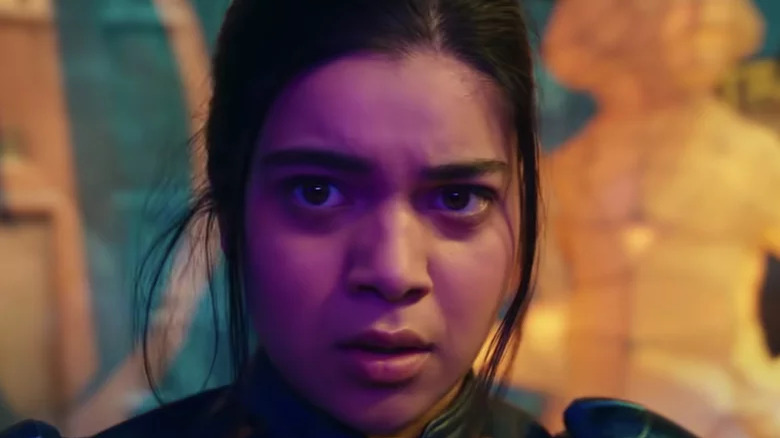 Marvel Studios/Disney+
Speaking to Entertainment Weekly about the film, Larson had a lot of love to give for her young co-star, after seeing firsthand what she's capable of and the pitch-perfect delivery that has carried on from Vellani's time on the show. "Iman is the future. She is the perfect Ms. Marvel and the most incredible person and castmate," Larson said, expressing immense enthusiasm for one of the MCU's youngest heroes. "I'm so excited for her success, and I'm so excited to see what she will do with her life because she can do anything she wants. She's one of my favorite people on this earth."
While we've yet to see the two together, it's a relationship that has every chance to resonate like the one between Tony Stark (Robert Downey Jr.) and Peter Parker (Tom Holland), with a seasoned super standing as an idol to an enthusiastic up-and-comer.
The relationship between these two Marvels is rooted in Kamala's comic book history, and it's also something that Larson couldn't wait to work on. "A huge part of why I wanted to play Captain Marvel was because of Ms. Marvel and what that meant," Larson explained, now that "The Marvels" will mark her fourth appearance in the MCU. "To see that character realized by such a brilliant human with so much potential is just a really exciting thing." 
Praise like this will surely only increase excitement for the film — and make the wait all the longer, as the world prepares for "The Marvels" to (hopefully) touch down in theatres on November 10.