Family Guy's Alex Borstein Has One Lois Quote She Calls Her Favorite
While she's worn several hats on "Family Guy" as a producer and writer, Alex Borstein's most significant contribution to the long-running adult animated sitcom is providing the voice of Lois Griffin. The wife of Peter Griffin and mother of Chris, Meg, and Stewie, Lois may seem like an ordinary housewife at first glance, but much like the demented show she's a part of, there's a more twisted side to her that isn't as obvious. 
Throughout the show's ongoing run of over 20 seasons and 400 episodes, Lois has shown that she can be an extremely uncaring and downright sadistic individual, at times even acting worse than her infamous husband. From constantly talking about never intending to be a mother to straight up laughing at her family's misfortunes on several occasions, Lois has never been one to hold back, and fans love her for it. In no small part, this is due to Borstein's on-point line delivery that continues to leave TV viewers in stitches. But after voicing the character for over 20 years, there's still one particularly messed-up moment from the show Borstein holds dear. 
Borstein's favorite line is an especially raunchy one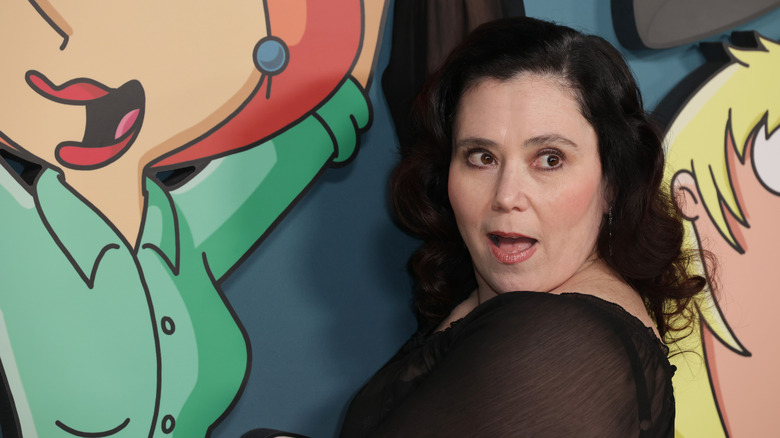 Momodu Mansaray/Getty Images
Alex Borstein probably deserves a Guinness World Record for the most messed-up lines said by a TV mom. And when it comes to the crème de la crème of her craziest moments in "Family Guy," look no further than the Season 4 episode "Deep Throats." 
In the episode, Peter and Lois revert to their hippie days while trying to conjure up songs for a talent show. At one point, an unsuspecting Brian and Stewie enter the living room to find a stoned Lois and Peter lying on the couch in the nude. If the mere sight isn't shocking enough, the line Lois speaks to Brian is icing on the cake. The line, "He's knockin' on the back door. Should I let him in?" has not only lived rent-free in the minds of fans for years but is also Borstein's favorite dirty sentence spoken by her character, as she admitted on a Reddit AMA. Fans were happy to hear Borstein is also a fan of the scene, with u/Jsal33 commenting, "That is my favorite line in television history. I'm so glad we have that in common."
No matter how rancid the line reads, there's no denying that anyone other than Borstein (who got the role after Seth MacFarlane saw a live performance where she acted as a similarly-voiced character) could pull it off with such gut-busting expertise.