Cocaine Bear Writer Never Thought Anyone Would Read The Screenplay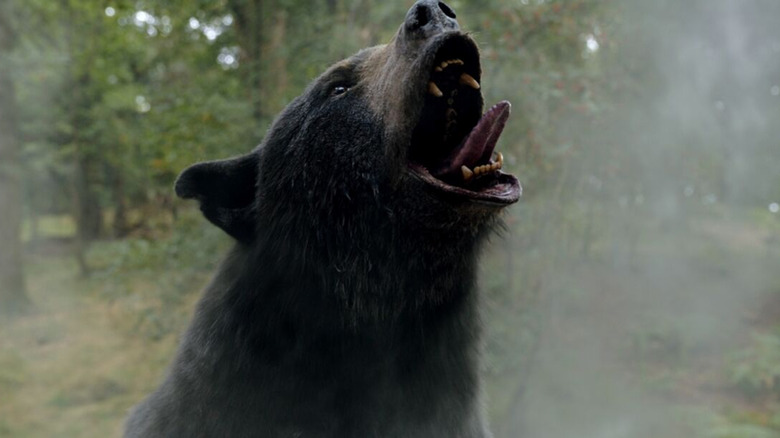 Universal Pictures
Loosely based on a true story, "Cocaine Bear" is shockingly shredding most of its competition in its first weekend of theatrical release. But the new horror comedy only managed to claw its way to the No. 2 spot at the box office. The latest directorial effort from Elizabeth Banks ("Pitch Perfect 2," "Charlie's Angels") couldn't stamp out "Ant-Man and the Wasp: Quantumania," but screenwriter Jimmy Warden's terror-stricken tale of a beastly bear hopped up on Coke did manage to take the silver medal with an estimated $23 million domestically.
The film's scriptwriter couldn't be more pleased to have his horror comedy and its lethal antagonist roaring into theaters. "I think the goal in writing the script was: 'Don't disappoint the audience,'" Warden said during an interview with The Hollywood Reporter. "Don't call the movie 'Cocaine Bear' and then make it about the drug trade." The genesis for "Cocaine Bear" started simply enough, and it didn't take Warden long to flesh out the character development of the crack-driven creature wreaking havoc throughout the movie. 
"Black bears on cocaine are probably kind of dangerous," Warden told THR. "I've known people like that. The person's not dangerous at all, but you give them some cocaine and you're like, 'Watch out.'" According to Rotten Tomatoes, Warden's horrifying cautionary tale is receiving largely positive reviews from many critics and audience members. And Warden is just delighted moviegoers are turning out to see his scary story brought to life on the big screen.
Warden can't believe his Cocaine Bear script would spark interest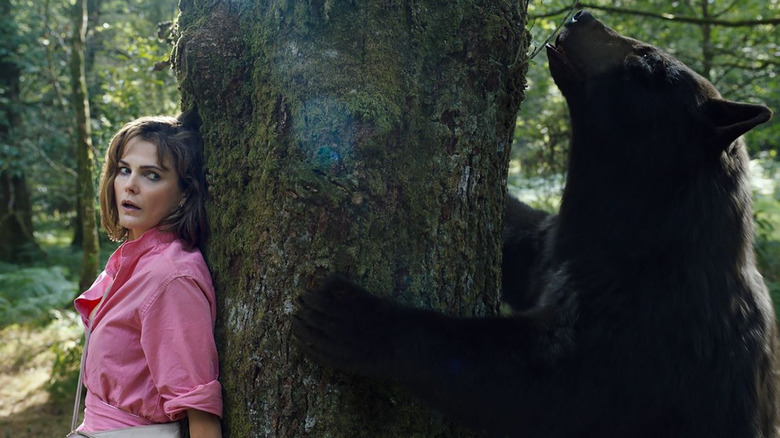 Universal Pictures
Jimmy Warden only had a single writing credit to his name prior to crafting the "Cocaine Bear" screenplay: 2020's "The Babysitter: Killer Queen." And Warden didn't have any inkling anyone wanted to read the "Cocaine Bear" story he penned, and, as such, he approached the material in an arbitrary fashion. "I just wanted to entertain myself," Warden said during an interview with The Hollywood Reporter. "Screw a studio — I didn't think people would read it." 
Warden couldn't have been more wrong, and cinephiles are praising his storytelling. "The way the movie tied together in its 90-minute runtime, while doing all that overall 'universe' building, impressed me a lot," u/KungPowChicken23 posted on Reddit. "I went in expecting a solid fun action horror film and left getting even more. I love fun films like this." Another Redditor, u/CO-Beegs, also enjoyed the film: "It has some genuinely great comedic and action moments."
Warden is currently working on post-production of "Borderline" as the writer and director. But for the time being, Warden is more than satisfied that his little script about a flesh-mangling bear high on cocaine actually found its way into theaters. "The victory was getting a movie made called 'Cocaine Bear,'" Warden also told THR. "We're already playing with house money at this point." Even though audiences participating in the theater-based spot polls are only giving the film a B- CinemaScore, Warden's horror comedy continues to scare up audiences.