Avengers: Infinity War: Tom Holland Didn't Know Spider-Man's Fate Until The Day Of Filming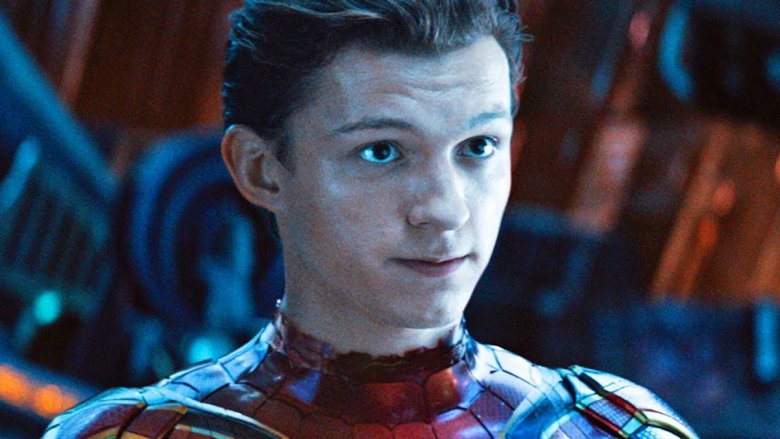 Contains spoilers for Avengers: Infinity War
Tom Holland's Spidey senses definitely weren't tingling.
During an event held for his family's charity group The Brothers' Trust, Avengers: Infinity War star Tom Holland chatted about the mega-sized Marvel movie; joked that because the film features so many major players, Robert Downey Jr.'s Iron Man felt like an extra; and reiterated that he did indeed improvise his most gut-wrenching lines in the movie. But those remarks weren't what got people talking. Rather, it was Holland's surprising reveal regarding the fate of his character that turned heads. 
Holland admitted during the Q&A session that he didn't learn of Spider-Man's death at the end of Avengers: Infinity War until the day he filmed the scene. As WebbedMedia, whose representatives were in attendance at the charity event, details, "Tom filmed the Spider-Man death scene the same day he found out he was dying. Even he was taken aback when he saw the death in the film, as he just remembers having the time of his life filming."
After Holland completed the tear-inducing sequence, perhaps the hardest one to watch in the film's entire 156 minutes, the 21-year-old actor filmed scenes that came before it and "purposefully made a plan to play Peter Parker as innocent throughout the whole film so that the death would have a larger impact at the end."
Upon witnessing the fruits of his acting labor up on the big screen, Holland "didn't cry when he saw the film the first time because he was so stressed, as he didn't know much about what was happening," but mentioned that he "got a bit emotional" during his second viewing, when "he could afford to be more relaxed."
For Holland to deliver a virtually flawless and deeply impactful performance without fully understanding the weight of it until moments before is a testament to his superior acting chops. Let's just hope he doesn't have to do it all over again in Avengers 4.