Keanu Reeves Knew John Wick Would Give Him 'A Lot To Chew On' (& He Loves It)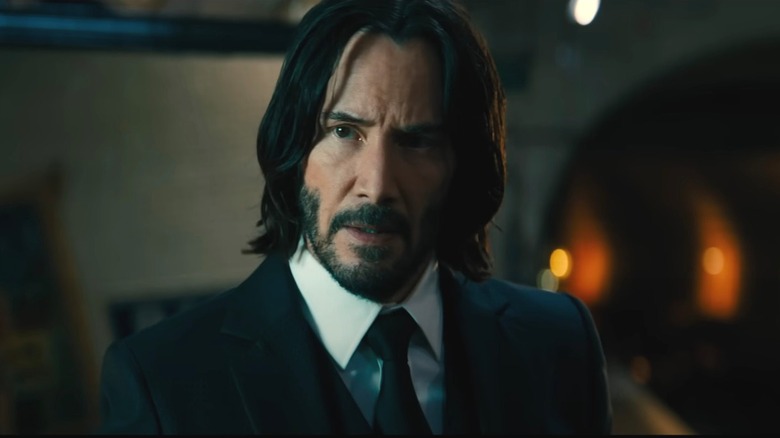 Lionsgate Films
Keanu Reeves returns as everyone's favorite hitman who just can't seem to stay retired in "John Wick: Chapter 4." This time around the bullets-can't-seem-to-kill-him badass is destined to square off against the Marquis de Gramont (Bill Skarsgård), mano a mano. John Wick has always been a man of action, but his rugged, no-holds-barred physicality belies the emotional complexity of the ardent assassin. And a compelling character is just one facet that enticed Reeves to accept the role in 2014's "John Wick."
"I guess it starts with the script and the character, but also what the story is," Reeves said during a roundtable discussion (via The Action Elite). "Who is involved with it matters too, and it all comes down to personal taste. For this, I really liked the character of John Wick, and I really liked the tone as well where it's this real world aspect mixed in with this underworld of criminals. I like the rules and the code; it just had something fresh about it."
If the latest "John Wick: Chapter 4" footage holds true, John might actually have a shot at winning his freedom should he emerge victorious over the Marquis de Gramont. Hopefully, the dog that showed up alongside him in the trailer released the week after Super Bowl LVII fares far better than poor Daisy. But, if not, Reeves will simply have more emotions and acting choices to explore.
Reeves realized Wick was a meaty role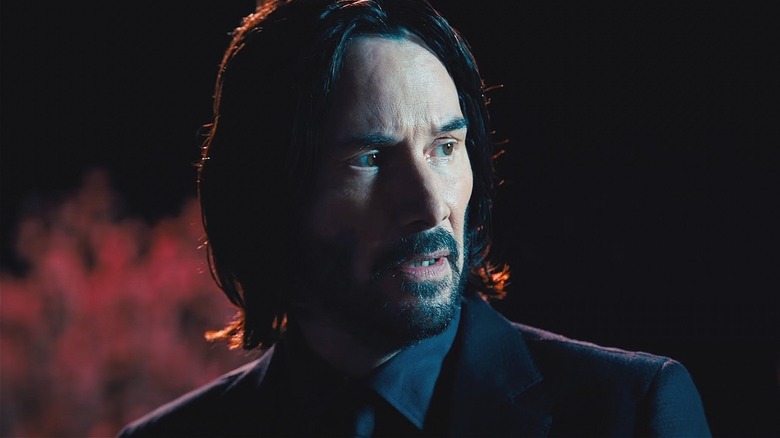 Lionsgate Films
If fans and moviegoers should walk away with anything after watching Keanu Reeves in the original "John Wick," it's this: Don't mess with a grieving hitman's puppy. John's emotional dilemma in the seminal film stems from the death of both his wife, Helen (Bridget Moynahan), and then his beloved dog, Daisy. With so much fervor and complexity involved, Reeves knew he found a fantastic role that would allow him to flex his acting muscles.
"I liked the emotion of John," Reeves said during the aforementioned roundtable interview. "I loved that opening where we see John's grief, and how it turns into a kind of determination. So, it was a really fun role to play and to have a lot to chew on. It's kind of what you look forward to." In addition to the emotional aspects of John's character, Reeves delighted in getting to perform so many of his own stunts.
The actor told the roundtable that he spent three months undergoing intense training so that he could pull off the choreography behind John's epic fight sequences. However, when it came time to go toe-to-toe with the impressive contract killer Ms. Perkins (Adrianne Palicki), Reeves had to learn on the fly. "I learned that fight scene with the female assassin two hours before we shot it," Reeves revealed. The thespian's dedication to his acting craft and the way he handles his nunchucks suggest there is nothing John Wick can't do.