Thanos Is People's Sexiest Man Alive In Fan-Made Parody Magazine Cover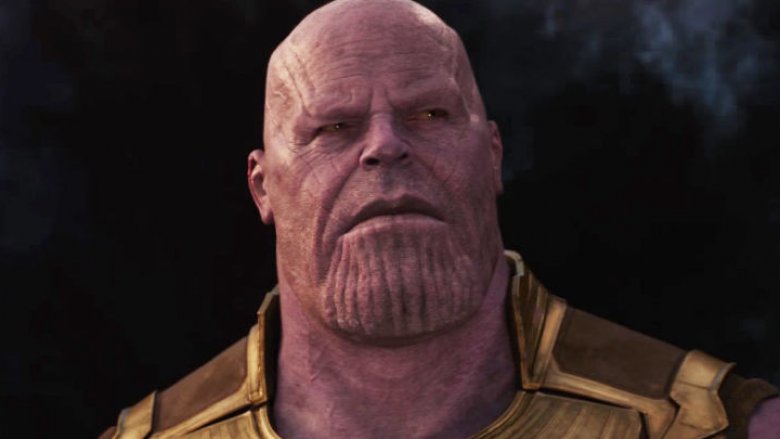 Contains a spoiler for Avengers: Infinity War
Purple skin, hulking stature, and a chin with such a unique topography, it rivals that of the Himalayas? That's Thanos, and he's the Sexiest Man Alive — at least according to a fan-made magazine cover that parodies People's famous annual issue, that is.
After Avengers: Infinity War launched in theaters, a number of fans took to social media to profess their love for Josh Brolin's Thanos, declaring him as "a whole lot of sexy purple." Now, one Marvel enthusiast has taken that attraction to the next level and made Thanos his very own Sexiest Man Alive cover. 
Shared to Le Cinéphiles' Twitter account, the parody cover features artwork from 3D artist Rodion Vlasov, teases Thanos' "perfectly balanced" issue (a wink at his plan to stabilize the universe by slaughtering half of it at random once he activates the Infinity Gauntlet), and shows the Mad Titan wearing a wide and toothy grin and rocking a tight black muscle tee. The spoof also uses Thanos' mention of pushing his daughter, Zoe Saldana's Gamora, off a cliff to obtain the Soul Stone as its pull quote, hints that he gets "very personal" in the exclusive interview feature, and reveals the runners up for the Sexiest Man Alive accolade: Venom and Danny Elfman. 
Take a look at the parody in all its hilarity below. 
While it's still a mystery how Thanos won the award, some have kept the gag going by suggesting that the Mad Titan killed off all the genuinely attractive men in the universe, thus obliterating his competition and allowing him to take the crown. It certainly wouldn't be the worst thing Thanos has ever done, that's for sure.
BREAKING: People Magazine has announced 'AVENGERS: INFINITY WAR' star Thanos as 2018's SEXIEST MAN ALIVE! pic.twitter.com/wMZ1edJON6

— Le Cinéphiles (@LeCinephiles) May 4, 2018