Who Plays EMT Tom In Cocaine Bear?
In its review of "Cocaine Bear," the Associated Press called the movie "a mashup of Quentin Tarantino bloodfests, Sam Raimi's scare tactics and the Coen brothers' absurdity." That is, if you can believe it, a negative review. For the "Cocaine Bear" demographic (lovers of bears and, uh, cinema), AP accidentally dropped an enticing endorsement. Even "Cocaine Bear" producer Phil Lord accepted the AP's pan as PR manna from heaven. "We are putting this on the poster," Lord tweeted.
The very premise of "Cocaine Bear" is a seat-filler in and of itself. Elizabeth Bank's film is loosely based on a 1985 incident wherein a black bear ingested copious amounts of cocaine and died soon after. The gonzo Hollywood retelling adds drug dealers, chase scenes, and enough fake blood to make Tarantino and Raimi blush. Sweetening the pot is the movie's stacked ensemble cast, which includes Keri Russell, Alden Ehrenreich, Isiah Whitlock Jr., O'Shea Jackson Jr., Margo Martindale, and the late Ray Liotta. Plus, let's not forget the newcomer who plays Tom the EMT.
Social media star Scott Seiss plays Tom the EMT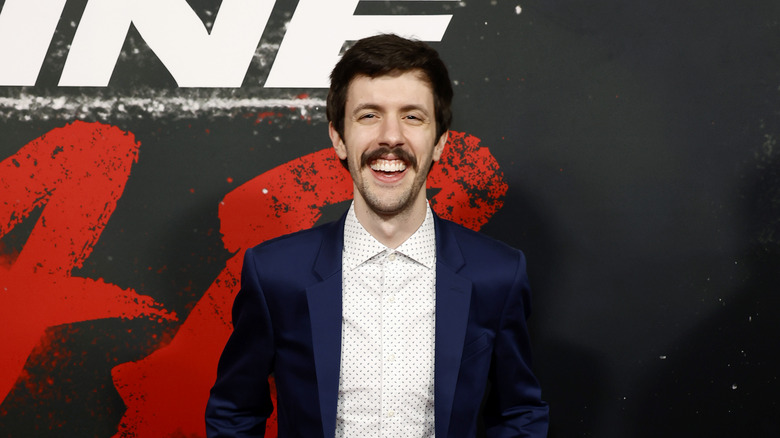 Frazer Harrison/Getty Images
"Cocaine Bear" is filled with big-name stars who have been acting for decades. Scott Seiss, on the other hand, you might recognize from your cell phone. Seiss is a Baltimore-born comedian who rose to fame with his viral "Angry Retail Guy" character who has taken TikTok by storm. "Cocaine Bear" is the comedian's feature film debut, and he nabbed the part when the casting director's assistant messaged him on Facebook asking him to audition.
"I'm lucky as hell that my first [movie] was something so fun," Seiss told OnMilwaukee. He also appreciated that the role didn't pigeonhole him as a TikTok star. "They were super collaborative and I was treated just like any other actor on the set doing work. It wasn't just like a joke part." Indeed, as Tom the EMT, Seiss plays one of many characters who's a victim to the bear's coke-fueled ire — anti-customer-service screeds not included.
Seiss may have shared a gruesome scene with Margo Martindale, but he still hasn't forgotten his social media roots. The comedian took to Twitter to helpfully explain that "Cocaine Bear" viewers need not prepare by studying up on convoluted IP or decades-old source material. "If you've ever heard the words 'cocaine' or 'bear' before, you're completely up to speed."
Scott Seiss has given Cocaine Bear a ton of publicity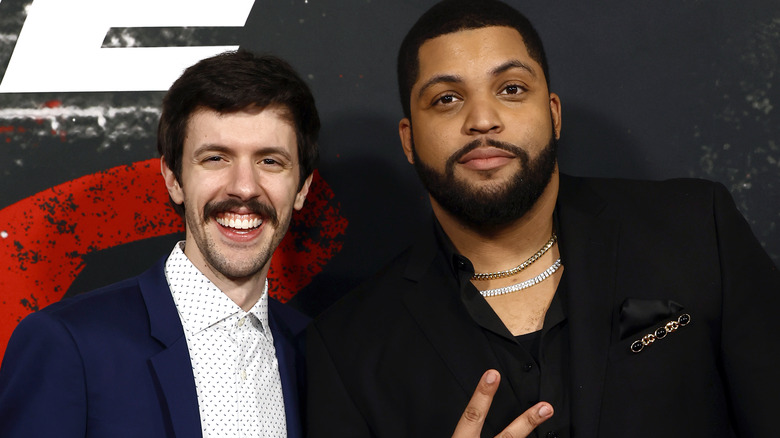 Frazer Harrison/Getty Images
Scott Seiss has amassed quite a sizable following on TikTok, currently standing at 1.7 million followers. While many people likely follow him for his hilarious sketches poking fun at retail culture or to see some of his standup comedy bits, he's also posted about "Cocaine Bear." Wouldn't you?
Several of his videos provide a behind-the-scenes look at the making of the instant cult classic and to show his followers what he went through to bring the horror comedy to life. In one such video, he gives viewers a look at the making of the scene where the titular bear pins him to the ground through a door. Naturally, they didn't have an actual bear there to intimidate Seiss, but they had the next best thing — a regular dude standing over him with a "drool gun" to simulate saliva dripping onto his face as if a real bear were there about to eat him. 
In another video, Seiss shows how they filmed him leaping into an ambulance and how the vehicle takes off while the bear is in pursuit. Seiss even refers to himself as a daredevil, and he certainly got put through the wringer for his role in the film. And casting a TikTok star paid off. If you look through the video's comments, one person wrote, "I'm watching this movie just for you dude! Congrats!" Perhaps this will start a trend of major movies casting TikTok stars and catapulting them to fame. One can dream.