The Witcher: Blood Origin's Cast Carried Each Other Across The Finish Line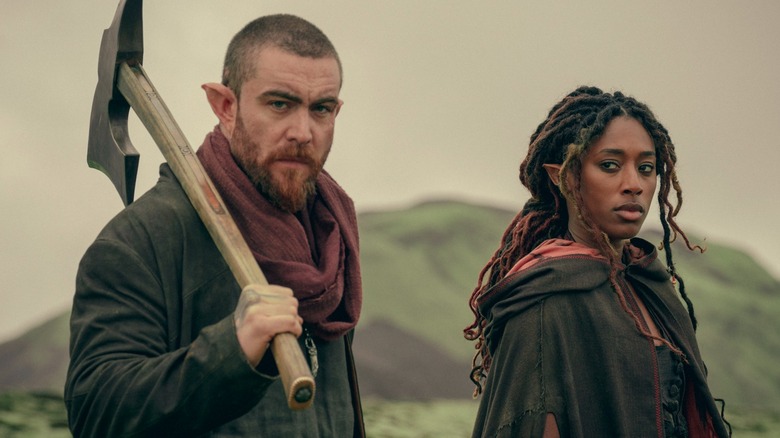 Lilja Jonsdottir/Netflix
In an increasingly crowded fantasy television marketplace, Netflix managed to land a hit with "The Witcher." Based on the book and video game series of the same name, the show follows Geralt of Rivia (Liam Hemsworth, who has taken over the role from Henry Cavill), Ciri of Cintra (Freya Allan), and Yennefer of Vengerberg (Anya Chalotra) as they go about various adventures on the landmass known as the Continent. It has all kinds of strange creatures, sword-clanging action, and attention-grabbing drama, which combined to make it a major draw for subscribers.
Beyond the first "Witcher" season, Netflix has turned the fantasy brand into a full-on franchise. Next came the animated prequel movie, "The Witcher: Nightmare of the Wolf," followed by a live-action prequel show, "The Witcher: Blood Origin." This limited series takes audiences back centuries before the days of Geralt to explore the origin of the Witchers: skilled monster hunters with extraordinary abilities. With its entertaining story and loaded cast, it, too, proved to be a streaming standout, but that didn't come easy.
Members of the "Witcher: Blood Origin" cast have admitted that filming the Netflix series was a mammoth undertaking. As a result, they had to help one another along to make it across the finish line.
Filming Blood Origin was no easy task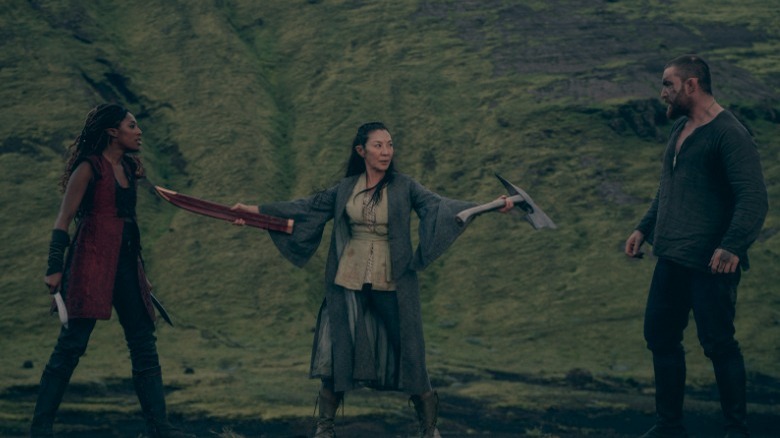 Lilja Jonsdottir/Netflix
In December 2022, "The Witcher: Blood Origin" stars Laurence O'Fuarain and Sophia Brown, who play Fjall and Éile, respectively, spoke with Collider about the prequel series. While they both made it clear how much they appreciated working on the show, they did admit that it was quite a challenging shoot overall. Thankfully, they had each other to make it through each excruciating day. "When one of us fell, we'd catch each other. One of us [was] having a bad day, we'd pick each other up because it was an awful long shoot. And the days are really, really, really, really long," O'Fuarain explained with Brown agreeing.
Sadly, one can't help but wonder if their shared struggle to get "Blood Origin" made was worth it or not. After all, the series didn't exactly release to glowing reviews (and not just because of review-bombing), and many fans weren't very impressed by the final product. Though Redditor u/DecafPeako thinks the series is somewhat underrated, many in the comments of their thread didn't shy away from voicing how much they dislike it. From the visuals to its tendency to come across as a generic fantasy story, "Blood Origin" doesn't seem to have many fans online.
Disregarding the response to it, there's no denying that the folks behind "The Witcher: Blood Origin" worked incredibly hard to bring it to life. It's just good to know that the cast bonded so well to make those long, tedious filming days a bit more bearable.