Chicago Fire Fans Are Tired Of People Hating On Miranda Rae Mayo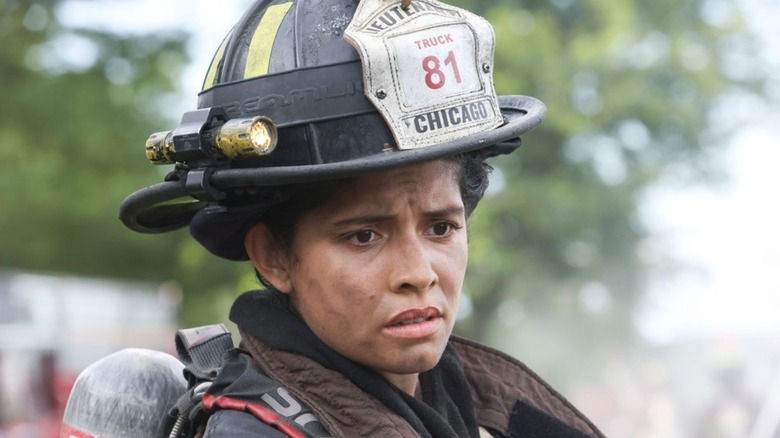 Adrian S Burrows Sr/NBC
As dedicated firefighter Stella Kidd on NBC's long-enduring hit "Chicago Fire," Miranda Rae Mayo has been suiting up and riding to the rescue with the rest of the squad at Firehouse 51 since becoming a series regular in Season 5. In addition to earning her place among the crew of firefighters and paramedics at the station, Stella is also now one-half of the series' most-shipped couple, having married fan fave Kelly Severide (Taylor Kinney) after a long and occasionally rocky relationship.
Finally tying the knot with Severide at the conclusion of Season 10, Mayo's character is also forging ahead in her first responder career. Having achieved lieutenant status, she continues to rack up experience in the field as she and her colleagues tackle deadly blazes, harrowing rescues, and all the other pulse-pounding emergencies the Windy City throws at them. But following the recent announcement that Kinney is taking an indefinite break from the show for personal reasons, some fans think Mayo's firefighter character — and the actress herself — is receiving an unwarranted amount of negative vibe from other "Chicago Fire" viewers.
Some Chicago Fire fans think Mayo is being treated unfairly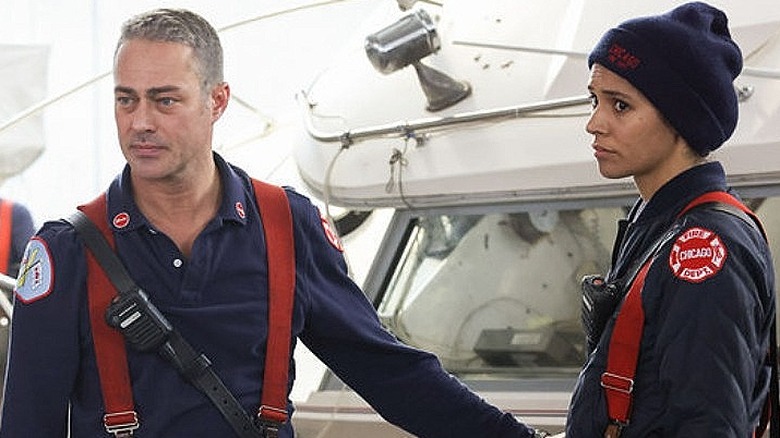 Adrian S Burrows Sr/NBC
It seems that in the past, Mayo's Stella Kidd had been actively singled out as a fundamentally unlikeable character. But in the wake of Taylor Kinney's departure from the show, a number of fans have come to the actress' defense on the show's subreddit. For instance, "Chicago Fire" viewer u/NoBusiness51 started a Reddit discussion titled "The Cast is human" and wrote, "I just know that because Taylor [Kinney] will be gone for a lot of the season, the hate for Miranda will multiply. People will find a way to blame her." They went on to say people are confusing Mayo with the character she plays. Redditor u/Rtsp1345 focused on this topic, writing, "I personally have zero issue with the actress. I just don't like the character, Stella. I don't understand why anyone would have hate toward Miranda... People can be terrible sometimes."
"Chicago Fire" fan u/The_Reaper129 added their voice to support Mayo as a performer versus who she plays on screen, saying, "Agreed, it's the character that's been getting worse. Not the actress. It's really a shame that some can't/won't separate the character and the actor/actress." 
As for how the actress herself feels about her work on the show, Mayo told Hello Magazine that her time on "Chicago Fire" has greatly affected her mental health. "I mean, there's a lot of pressure that I have put on myself to be quote-unquote perfect," she added.
Mayo isn't the only Chicago Fire actress being singled out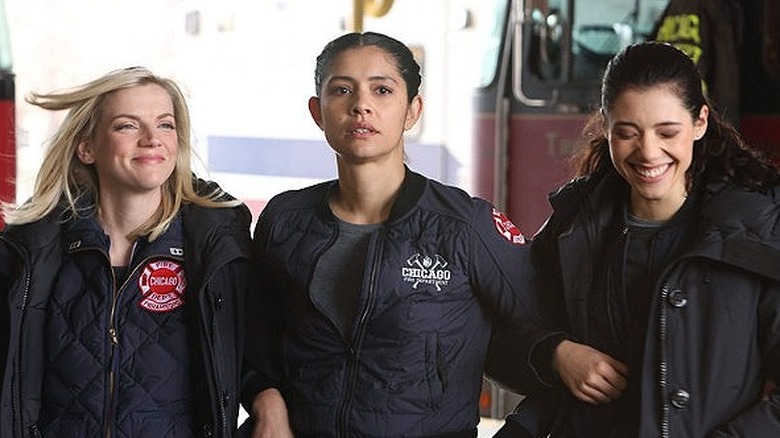 Adrian S Burrows Sr/NBC
In the same Reddit discussion noted above, the OP followed up their initial comments by saying that they were attempting to point out that, "since the first time Miranda has been introduced, she's been constantly hated on. A lot of the people who hate on her and send her threats don't like her because of the fact that her character is in a relationship with Taylor's character." The poster then went on to say the issue for some fans seemed to be their preference for seeing more of Taylor Kinney's Severide on screen and less of Miranda Rae Mayo's Kidd. "It's about people are wishing that Miranda took the break rather than Taylor. Nobody was prepared for him having to take care of personal matter. But people are still spinning this around and wishing Miranda took the break instead."
Redditor u/catlady86802 joined the conversation to say she'd also noticed digs apparently aimed at specific female actors on the series: "I've seen so much hate aimed particularly at the female cast, especially Miranda and Kara [Killmer, who plays Sylvie Brett]. It's one thing to not like a character. Everyone has their affinities and preferences. It's another entirely to harass and even threaten an actor."