Chicago Fire Fans Are In Tears Over The News Of Taylor Kinney's Leave Of Absence
It seems "Chicago Fire" will be losing one of its most beloved Firehouse 51 lieutenants for the time being. On January 20, Deadline broke the news that series lead Taylor Kinney, who portrays Lieutenant Kelly Severide on the NBC procedural series, is taking a leave of absence from the show. While further details on the situation are still slim, the outlet confirmed that the actor was leaving "to deal with a personal matter."
Considering that Kinney has been on the "Chicago Fire" cast since it first began in 2012 and that Severide has become something of an anchor while other major characters like Jesse Spencer's Matt Casey have left the show, it's a pretty major upheaval for the series' status quo. Indeed, the news proved to be an unexpected shock to dedicated fans of the series, and many quickly took to social media platforms to express their somber feelings on the matter.
Fans are hoping Kinney is okay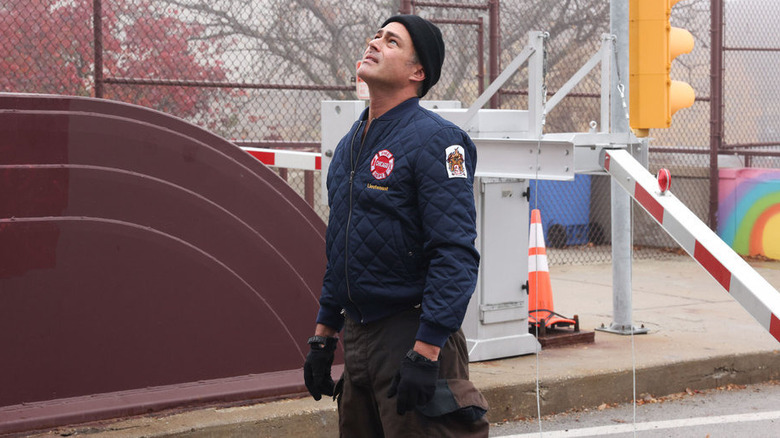 Adrian S Burrows Sr/NBC
Following the news that Taylor Kinney would be taking a break from portraying Lieutenant Severide on "Chicago Fire," some fans wasted no time expressing their sadness at his upcoming absence. "OMG how can you have Chicago Fire without Taylor Kinney!" @SherryG50496649 tweeted. "Aww this just breaks my heart!"
While Severide's ostensibly temporary departure from the show has disappointed fans of the character, many have prioritized expressing well-wishes for Kinney. "I am heartbroken about the Severide news, but I really hope Taylor Kinney is alright!" @docmarcelsgirl1 tweeted. With information on the reason for Kinney's leave remaining ambiguous, others noted the value of being respectful and considerate as to what the actor may be dealing with. "I just want to send good thoughts and support that him, his family, and friends are alright, and wait until an official update is released, as no one knows what Taylor may be going through, so I just hope everything is ok," u/NorthernLights3-2-1 commented.
While the span of Kinney's leave is still unclear, it at least seems that the actor will be absent from a portion of the latter half of "Chicago Fire" Season 11. For now, fans will have to wait for further details when or if the star or the show's creative team decides to share an update on the situation.