Matt Lauria Enjoys CSI: Vegas' Dynamic Of Old And New Cast Members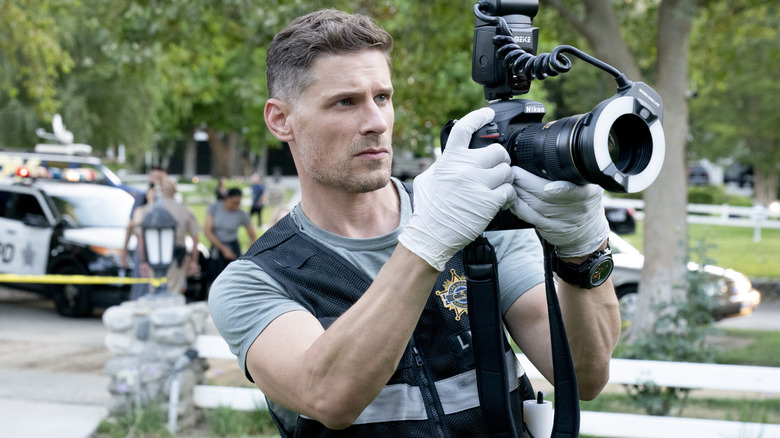 Erik Voake/CBS
Most jobs come with the potential for new recruits to not resonate well with the seasoned players, but that might not be the case with "CSI: Vegas." The "CSI" franchise has made it difficult for fictional TV criminals and murderers to thrive since 2000, and in the process, its success has yielded several spin-offs and a sequel series to the one that started it all.
Out of all the shows released, "CSI: Crime Scene Investigation" and "CSI: Vegas" have tied as the most popular on IMDb. That's probably why the addition of some of the original cast members to the follow-up show has worked out so well. Gill Grissom (Will Peterson) and Sarah Sidle (Jorja Fox), big contributors to the original's stellar success, were on the job in the first run, and Catherine Willows (Marg Helgenberger), who also served as a major persona beforehand, joined the squad in the second season.
Overall, the combined crime-solving efforts of the hardened veterans and the next generation of super sleuths have earned the franchise another victory with both fans and critics, resulting in solid scores on Rotten Tomatoes. But the "CSI: Vegas" actor who stars on the show as Josh Folsom, Matt Lauria, believes there are even more benefits to having the legacy characters back in the hunt for justice.
Matt Lauria appreciates what the original CSIs bring to the table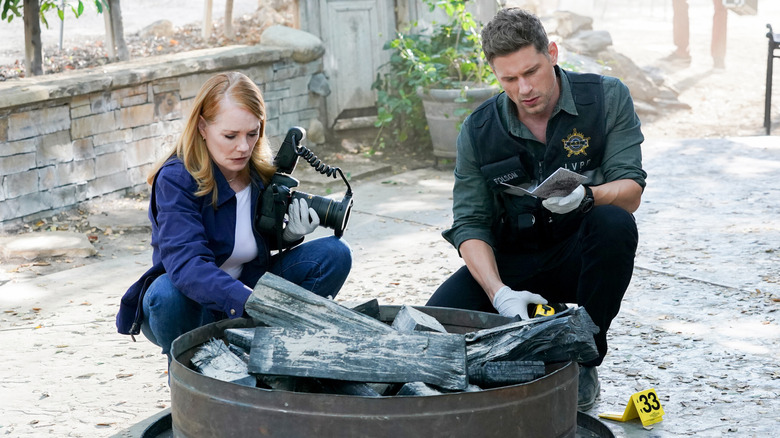 Sonja Flemming/CBS
When it comes to working with talented franchise players, Matt Lauria believes they are fortunate to have them on board and also understands how their participation helps the show stand out from the competition. "It adds a dynamic when you're able to marry a version with the original," Lauria told Parade. 
He also revealed how the characters' accomplishments in the original narrative add a fascinating element to the plot of "CSI: Vegas." "A lot has changed in 20 years. So, you have the original practitioners of this type of law enforcement and a whole new world of technology and a whole new world in which criminals have gotten smarter due to all the work that they've done in the past." The actor recognizes the many advantages of having the fan-favorites on the team, which shouldn't be surprising given his connection to the original show.
Many people may not realize that the continuation of the CBS series isn't the first time Lauria has interacted with the team from "CSI: Crime Scene Investigation." Lauria appeared in three episodes of Season 12 as Agent Mathew Pratt when Marg Helgenberger and Jorja Fox were still on the procedural. The "CSI: Vegas" star has described his return to the franchise as a "beautiful, full-circle situation."
While there may be some bias due to his prior encounters, it does seem safe to presume that many viewers would agree that having both vintage and modern CSIs on the roster adds to the show's appeal.