Netflix's Something Is Killing The Children - What We Know So Far
Netflix certainly enjoys its horror, thrillers, and mysteries, which is probably best highlighted by the massive success of shows like "Stranger Things," "You," and "Midnight Mass." Besides these examples, there are plenty to choose from on the streaming service for audiences that like their entertainment full of surprise and suspense. However, Netflix is not one to rest on its laurels or catalog of shows. They always cancel, renew, and commission several new series a year to ensure something is always popular with people.
"Something is Killing the Children" is yet another upcoming project from Netflix, and they are combining their efforts with creators they have worked with in the past, as well as a comic book studio in which "Something is Killing the Children" is based. However, this upcoming show is definitely in good hands; what else is known about this future offering from one of the biggest names in streaming?
What is the plot of Something is Killing the Children?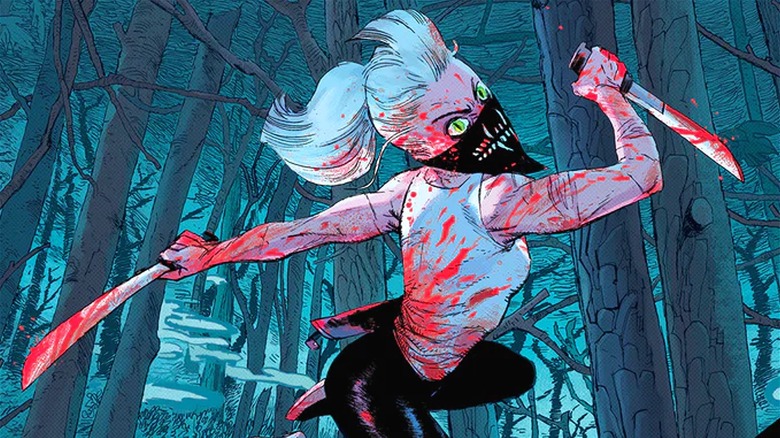 Boom! Studios/Werther Dell'edera
As mentioned earlier, "Something is Killing the Children" was originally a comic from Boom! Studios, and was intended to be a limited, five-issue series. Luckily for Boom! Studios, "Something is Killing the Children," received overwhelming critical and audience accolades, which helped promote the formerly limited series to that of a full-blown comic that even managed to spawn its spin-off. This means there is plenty for Netflix to adapt, but what is this comic?
According to Boom! Studios, the official synopsis for the first comic reads, "SOMETHING IS KILLING THE CHILDREN #1 introduces readers to a close-knit community rocked by a series of murders and the sudden appearance of Erica Slaughter, a mysterious figure who rides into town claiming she can stop the brutal murders turning their lives upside down." It goes on to say that the local townsfolk aren't sure what to make of this stranger or the killings, which means there will be many questions, plot, and character development.
Who is in the cast of Something is Killing the Children?
Unfortunately, the official cast for the adaptation of "Something is Killing the Children" is as of yet unknown. Still, it is safe to assume who some of the major characters will be since the upcoming series is based on a comic of the same name. Considering the above plot synopsis, the show's main character will be Erica Slaughter, whose last name is quite apt for her profession. As noted by TV Tropes, Erica is a member of the Order of Saint George, an ancient group dedicated to monster hunting. This means that "Something is Killing the Children" isn't your standard-issue mystery and will involve many supernatural elements. It also helps to explain why Erica is so confident in her abilities when she first reaches town.
Support cast in "Something is Killing the Children" can be somewhat trickier to pin down, but one can assume that there will be townsfolk, victims, and other members of the Order of Saint George. Some major characters are the ax-wielding nemesis Charlotte Cutter, as well as Jessica, Otto, Aaron, and Coroner Tim Cavanaugh. However, the series' primary focus will be Erica, who acts as a half-detective and half-hunter.
Who are the showrunners for Something is Killing the Children?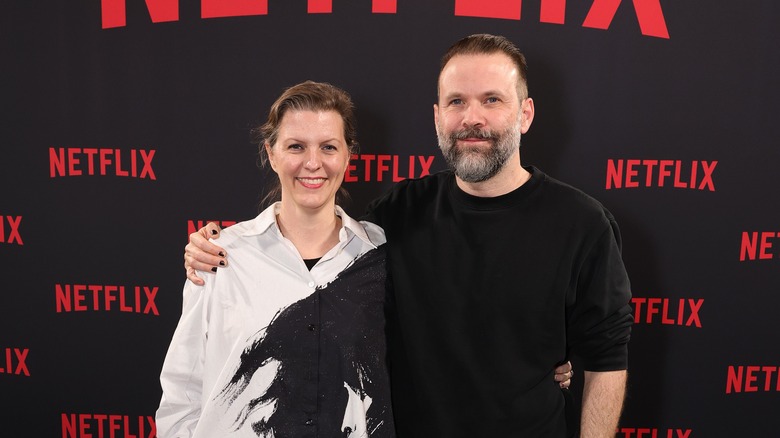 Andreas Rentz/Getty Images
To have a working relationship with Netflix as a television or movie creator has got to be a reasonably lucrative deal. As one of the biggest streaming services, to have a series hosted on Netflix is to almost guarantee some time in the spotlight, even if the show ultimately ends up being canceled — just look at the controversy surrounding the fate of "Warrior Nun." However, it seems as if even when a show is canceled, that doesn't necessarily mean that a creator's career is over with the titan of streaming.
One such example is probably best highlighted by Baran bo Odar and Jantje Friese, German creators with a history with Netflix. These Germans have already crafted two series for Netflix, the first being "Dark" and the second being the short-sightedly canceled "1899." These television shows highlight a specific wheelhouse for the German creative duo involving mystery and missing persons. Although "1899" didn't make it to a second season, it seems that Netflix still tapped them for this upcoming comic adaptation.
Netflix is showing a tremendous vote of confidence in Baran bo Odar and Jantje Friese by extending them an eight-figure deal, though considering their previous cinematic efforts, "Something is Killing the Children" is something they are more than capable of adapting.
The original author is quite proud of Something is Killing the Children
The original comic writer of "Something is Killing the Children" is James Tynion IV, and he is immensely proud of his work. Speaking with CBR in 2019, Tynion explained that "Something is Killing the Children" had been a long-simmering story in his mind. This story has taken many forms over the years, requiring Tynion to reconsider this particular passion project constantly. He then added that he initially thought "Something is Killing the Children" would be a stand-alone story, but as he started to write it, it blossomed into so much more.
During this interview, Tynion expressed being tremendously grateful for the opportunities presented by "Something is Killing the Children," noting that fan support helped catapult and transform the comic into a long-form horror story. He continued, "The way that I see this is that this is a horror novel, and I'm excited to tell a long-form horror novel in the town of Archer's Peak, and Erica Slaughter is the only one who knows what that is, and she's the only one who thinks she'll be able to stop it, and even that'll come at a great cost. I just really, really hope people enjoy the series and enjoy this strange, horrifying world that we've built."
The comic trailer for Something is Killing the Children
Although there isn't an official trailer for this newly announced project, there is a trailer for the comic that showcases what audiences may expect from the upcoming "Something is Killing the Children." The above trailer starts with an ominous tone and shows off several frames from the comic, which seems pleasant enough. The trailer then denotes there is a monster in this town, and it shifts to a scene of Erica gazing at a spread of missing person fliers, which shows that Erica's job of monster hunting is ceaseless and unending.
The comic trailer then says that only children can typically see these monsters, which makes the survivors' stories hard to be believed. Still, luckily Erica can perceive these abominations. Although this trailer is just for the comic, it does help establish the tone and feel of the show, and it will be interesting to see what the Netflix version of "Something is Killing the Children" will look like. Either way, Netflix's horror catalog is about to be expanded again.