Chicago Fire Fatigue? You Need To Give Fire Country A Try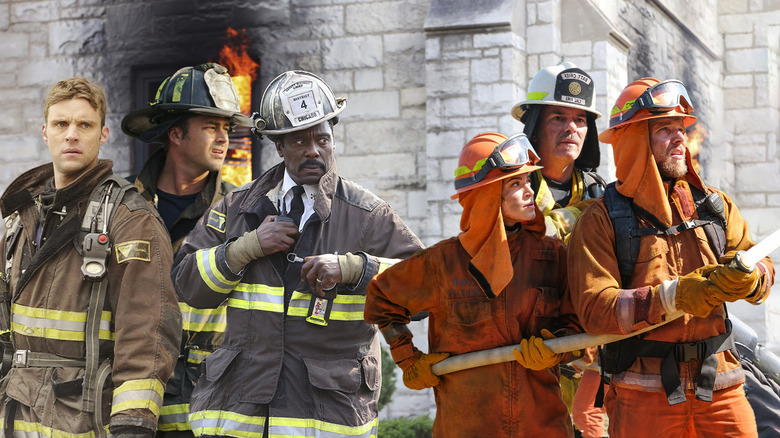 Static Media
Dick Wolf is more than just a man with a cool name. He's an absolute maverick when it comes to network procedural dramas, having created the "Law & Order," "FBI," and "One Chicago" universes. His shows launch franchises that encompass several spin-offs, most of which spawn multiple seasons that attract millions of viewers around the world. As of this writing, "Law & Order: SVU" is the longest-running primetime live-action series in the history of American television, and "Law & Order" isn't far behind it. But is his work too formulaic?
The "One Chicago" universe is also on its way to becoming an everlasting television juggernaut. "Chicago Fire" is currently 11 seasons deep and it continues to produce big numbers for NBC. At the same time, some viewers are of the opinion that "Chicago Fire" ain't so hot these days, and that can be chalked up to several factors, ranging from unexpected departures to repetitive storytelling.
Fortunately, there's one show out there that might reignite people's passion for firefighter-themed entertainment. "Fire Country" debuted on CBS last year and it's been a certified hit for the network. It's also the perfect remedy for viewers who've cooled on "Chicago Fire," but still want to watch a show that brings the flames. 
Some Chicago Fire fans are feeling the burnout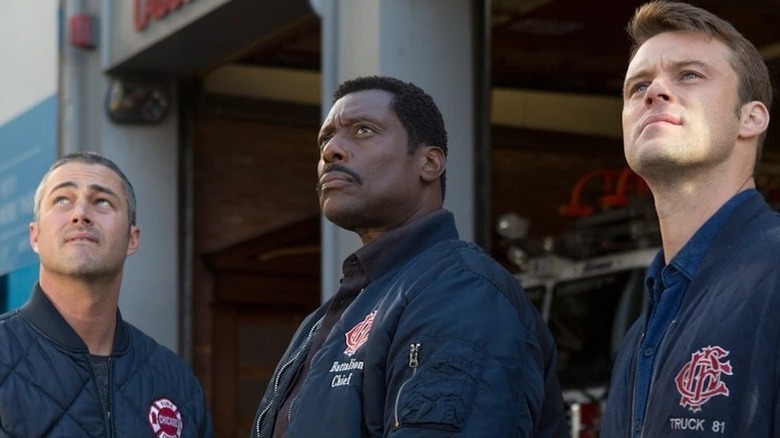 NBC
It's not uncommon for long-running TV shows to stick to the same formula that's worked for years. At the end of the day, why would anyone want to mess with a good thing, especially if the ratings are good? Of course, repetition can also lead to audience fatigue as too much of the same thing is boring — which brings us to "Chicago Fire." 
While the series has always had a romantic side, some fans aren't too fond of the recent relationship storylines. "They've always had drama and romances on the show. It's not that the romance side of things has become more pronounced, it's that everyone is looking within the firehouse for their love interests now so it makes it feel much more restricted," Redditor u/Mundane-Parsnip-7302 wrote. Per Hello Magazine, some fans also assume that Stella (Miranda Rae Mayo) and Sam (Jake Lockett) will hook up and have an affair in the near future, once again proving that the series has conditioned viewers into anticipating such scenarios. 
The earlier seasons used romance storylines as a way to introduce fresh characters to the mix, but there was also an ample amount of firefighting to counterbalance the relationship drama. Many of the complaints from long-term viewers have noted that some of these relationships feel forced, which prevents interesting character development and creates more of an unwelcome bubble effect.
Chicago Fire is going through changes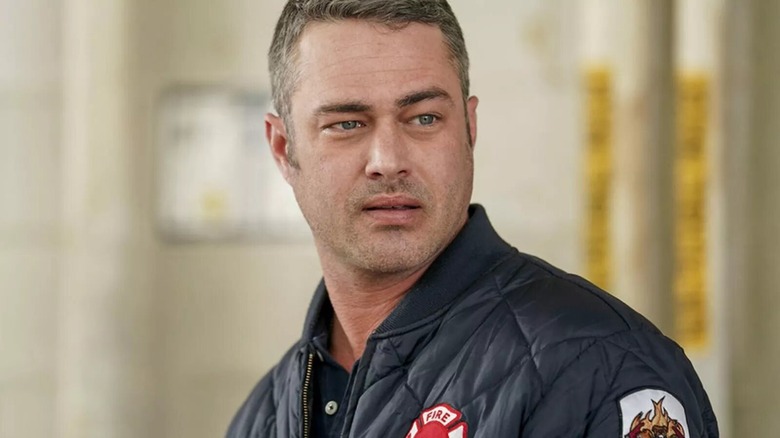 NBC
"Chicago Fire" is still an audience magnet for NBC, and it remains one of the most viewed dramas on television. That said, Season 11 has seen interest in the show dwindle ever so slightly. The first episode of the latest season pulled in 6.7 million viewers, which is the lowest premiere rating for a "Chicago Fire" season to date.
There are various reasons for fans potentially losing interest in the goings-on at Firehouse 51, but losing key cast members probably hasn't helped. Fan-favorite Jesse Spencer left "Chicago Fire" following Season 10, ending a 10-year run that saw him lend his talents to over 200 episodes. Now that Taylor Kinney is stepping away from the series, the NBC drama has lost another staple whose absence will be felt.
"Fire Country," meanwhile, is the new kid on the block. The show hasn't been tainted by any significant departures yet, and it's highly likely that most of the key players will stick around for a while as the series garners momentum. The dramatic nature of firefighting means that there might be some heartbreaking character deaths down the line, but, for now, viewers can sit back and enjoy watching some fresh-faced characters experience trials and tribulations.
Fire Country is an alternative to Chicago Fire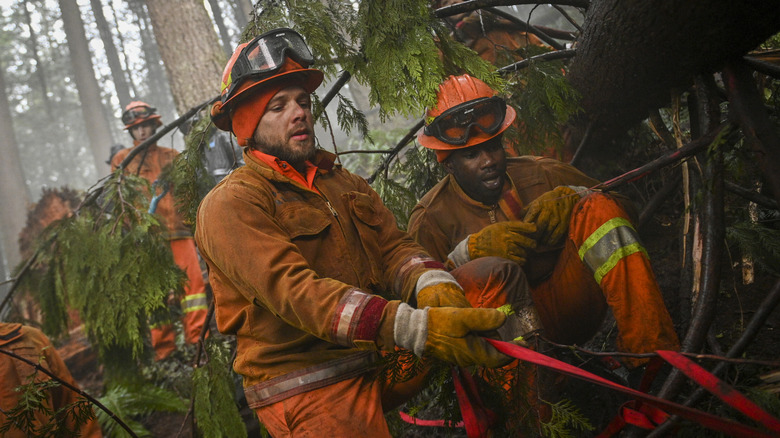 Sergei Bachlakov/CBS
"Fire Country" is a formulaic procedural in many ways, but it stands out from other shows of its ilk thanks to strong characters and locations. The series follows a firefighter named Bode Donovan (Max Thieriot) as he juggles his first responder duties with his personal and professional relationships. That said, this hero differs from the protagonists in "Chicago Fire" and "Station 19" as he's a convict who does the job to shave years off his prison sentence. Furthermore, Bode's quest to overcome his sketchy past gives him an interesting redemption arc that separates him from more traditional emergency service heroes.
The setting also goes a long way in helping "Fire Country" stand out from its peers. The show takes place in a small town as opposed to a large city, and it's one of those places where everyone knows everything. As such, the show has an intimate sensibility that procedurals about city life can't capture due to the fact their settings are inherently large and loud.
Of course, it's the rescue missions that people really tune in for, and "Fire Country" has some riveting ones. Bode and his colleagues are tasked with putting out unpredictable wildfires, which provides an alternative to the metropolitan carnage depicted in "Chicago Fire." That goes a long way in giving "Fire Country" an identity of its own in the overcrowded world of procedural emergency dramas.