Whatever Happened To Andrea Cantillo From Breaking Bad?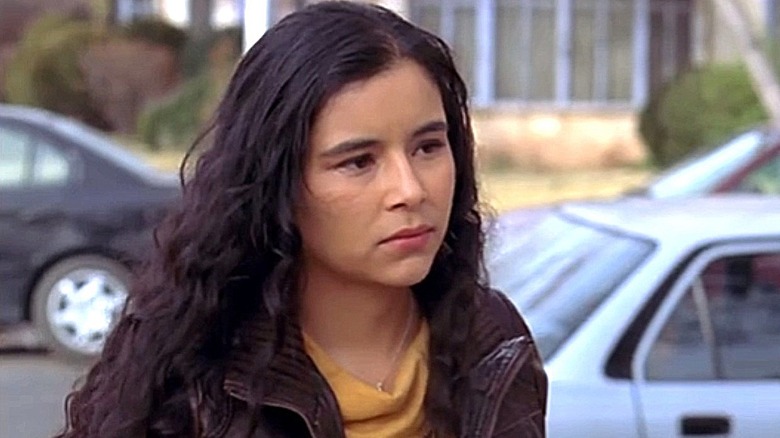 AMC
Although not as violent as "The Walking Dead" or "Game of Thrones," AMC's "Breaking Bad" easily joins these two shows for depicting some of the most devastating character deaths. From Combo (Rodney Rush) and Jane Margolis (Krysten Ritter) in Season 2, to numerous other passings as the series came to a close, the influential drama series spared nothing when depicting the tragedy of unexpected death. Some fans have pointed out that Hank Schrader's (Dean Norris) death in "Ozymandias" is the most unsettling, but there is another example that simply defies explanation.
Andrea Cantillo (Emily Rios) became Jesse Pinkman's (Aaron Paul) love interest after Jane's tragic death, and in many ways, she was the most stable and responsible partner Jesse had on the show. Starting in Season 3, Andrea and her young son Brock (Ian Posada) came into Jesse's life at a time when he was in the throes of both grief and drug addiction. Andrea helped him overcome some of his inner demons, but her sudden, brutal murder at the hands of Todd (Jesse Plemmons) in the penultimate episode was a gut punch fans could only relieve through tears. So what has Emily Rios been up to since her exit from the series in 2013?
Emily Rios has starred in numerous TV shows since the end of Breaking Bad
Since the airing of Season 5, Episode 15 of "Breaking Bad," Emily Rios has acted steadily. From 2013-2014, the actor played the supporting role of news reporter Adrianna Mendez in the FX crime drama series "The Bridge." In an interview with News Taco, Rios was asked what it was that she liked about Adrianna. She replied, "I like the fact that it's not a stereotypical role. She's Mexican, but she doesn't have to have an accent and she doesn't have to be working as a cleaning lady or whatnot." She continued by highlighting how the character was her own person.
After the series ended, Rios acted in numerous guest appearances on "Grimm," "Scandal," "True Detective," and "Criminal Minds." She also appeared as Victoria Rogers in 2018's "If Beale Street Could Talk." Her most recent major role has been as Mexican drug cartel heiress Lucia Villanueva in the first two seasons of FX's gritty crime drama "Snowfall."
In a 2018 interview with INTO, Emily Rios was asked what she wanted to do in her future acting career in regard to being a queer Latinx performer. The actor responded that it has always been her goal to further inclusivity for both queer and Latinx representation in media. Rios also shared how she was prepared to produce projects on her own if need be to meet this goal as the future progresses.