Whatever Happened To Trevor From Shameless?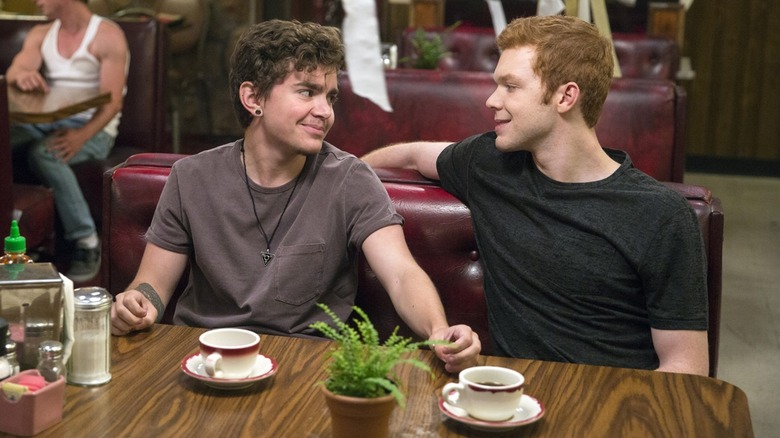 Showtime
The relationship between Mickey Milkovich (Noel Fisher) and Ian Gallagher (Cameron Monaghan) on "Shameless" was known to be extremely volatile and even violent at times, as Mickey struggled with his own internalized homophobia and Ian with his bipolar disorder. Eventually both characters turned their lives around (well, mostly), sorted out their relationship issues, and even got married, but it took a while. Fisher stepping away from "Shameless" at the start of season 6 also didn't help advance the couple's storyline, as Fisher only appeared in three episodes until he returned as a regular in season 10. But during this break we saw Ian meet a couple of new love interests, including Trevor.
Trevor first appears in season 7, episode 4, when he comes to the neighborhood to check out Frank Gallagher's (William H. Macy) 'Home for the Homeless' shelter as part of his work with at-risk youth. While it's clear there's an attraction between Ian and Trevor, things almost come to a screeching halt when the two go to a club and Trevor informs Ian that he's trans. After realizing that he's acting like a jerk, Ian apologizes to Trevor for his ignorance and begins asking questions. Trevor helps introduce Ian back into the social scene, and genuinely seems to care about him and his family. The brief return of Mickey throws a wrench in their relationship, however, and they eventually split up for good after Ian begins referring to himself as the "gay Jesus."
While he may have departed "Shameless" in 2018, the actor who plays Trevor, Elliot Fletcher, has been quite busy ever since.
Fletcher played major roles in Tell Me Your Secrets and Y: The Last Man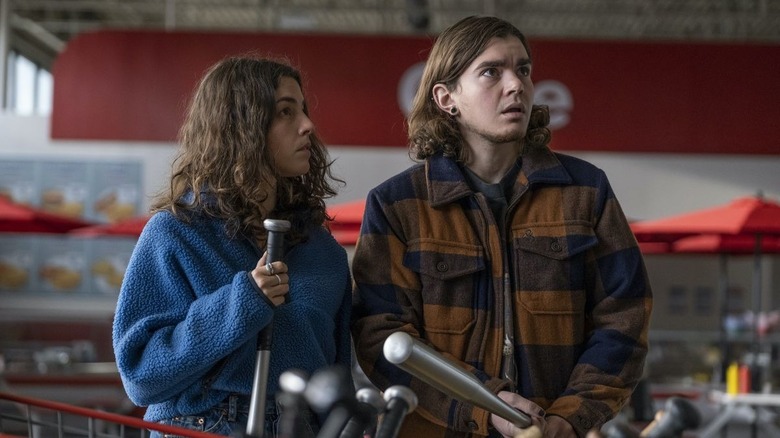 FX/Hulu
During his time on "Shameless" Elliot Fletcher was already busy elsewhere, playing Aaron Baker on "The Fosters." As Aaron, he's a love interest to main character Callie Adams Foster (Maia Mitchell) for the final two seasons. Though things didn't work out between them, the two stayed close friends, with Callie often confiding in him.
After "The Fosters" ended, Fletcher appeared in one episode of the Marvel series "Runaways" before playing Jake Barlow in the short-lived series "Tell Me Your Secrets." His sister, Theresa, has disappeared, and their mother Mary (Amy Brenneman) is trying to track down a woman she believes is involved. Talking about his character, Fletcher explained to TV Insider that Jake is ""more of the parent to her than she is the parent to him, especially after Theresa disappears."
Next, Fletcher played Sam Jordan in the post-apocalyptic series "Y: The Last Man." The series begins with a cataclysmic event where every mammal with a Y chromosome in the world suddenly dies, except for Yorick Brown (Ben Schnetzer) and his pet monkey, Ampersand. Sam also survives because he's a transgender man, and therefore doesn't have a Y chromosome. Fletcher is a fan of the original comic book and admitted to Logo that he was "very, very stoked" to play Sam, whom he describes as "an artist [...] very well put together and super understanding. Just an all-around good guy."
Fletcher's most recent role was playing a reporter on "The Sex Lives of College Girls," but as an actor who always seems to be juggling multiple projects, we can't wait to see what he's up to next.