That '70s Show Writer Drew On Real-Life Inspirations For The Sequel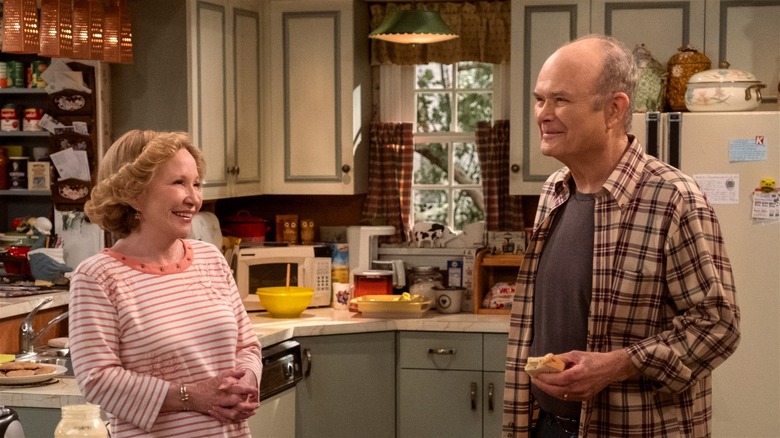 Patrick Wymore/Netflix
For a sitcom as beloved as "That '70s Show," any revival would always be held to a high standard. The original series certainly wasn't perfect, if Redditors' thoughts about the conclusion are any indication. But the enduring characters and basement shenanigans have made the show iconic. Fans deserved to see the next chapter of the Forman family, and "That '90s Show" came to deliver.
15 years after Eric's (Topher Grace) return from Africa, he and Donna (Laura Prepon) are happily married with a daughter. Leia (Callie Haverda) visits her favorite grandparents, Red (Kurtwood Smith) and Kitty (Debra Jo Rupp), in a summer she will never forget. She meets new friends, experiments with illicit substances, and even finds a high school romance with a Kelso (Mace Coronel). But while "That '90s Show" found success and was quickly renewed for Season 2, it wasn't always smooth sailing. Netflix initially turned down pitches for "That '90s Show," which included the concept of Eric's love child. Though it was a swing and a miss, creatives soon got it right with the help of one writer's personal connection to the material.
The idea for Leia came from Gregg Mettler's daughter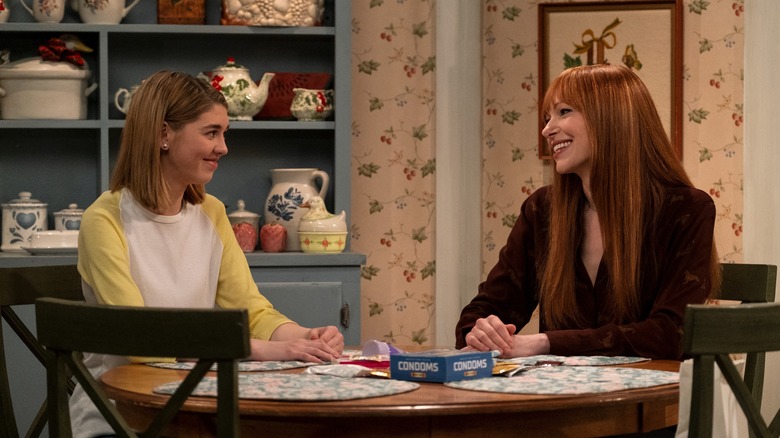 Patrick Wymore/Netflix
Finding the heart of "That '90s Show" wasn't the hard part of the series. Red and Kitty gathered wayward souls to their house — whether intentional or not — and ushered them into adulthood. Returning to the Forman's house was a given. It was just the rest of the story that needed figuring out. Like its predecessor, "That '90s Show" required a central character for fans to love. After penning the "That '70s Show" finale, writer Gregg Mettler joined original creators Terry and Bonnie Turner in this endeavor and found the perfect way to ground fans in a new decade.
"I went off and took a couple of weeks to think about the old show [and] think about where I found emotional connections ... There were a few things going on in my life at the time," Mettler explained to CBR. "My daughter was 15 years old, so that was sort of right in front of me all day long. I thought, 'Well, that would be kind of cool — to flip the perspective to a teenage girl this time.' Then I said, 'Oh my god, Eric would name her Leia,' and I got really excited." Everything seemed to fall into place after that. Instead of a lovechild, Leia became Eric and Donna's precocious daughter. "That '90s Show" isn't a carbon copy of the original but a fresh new take, with some delightful cameos sprinkled here and there.