Netflix Renews That '90s Show For Season 2 (& What That Teaches Us About Refreshing Old Franchises)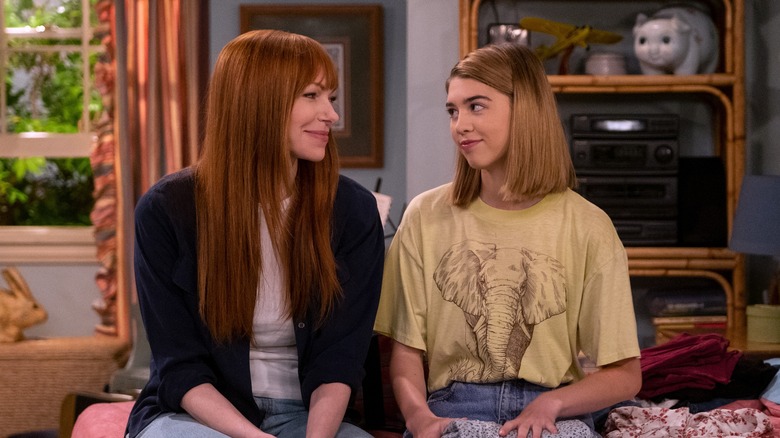 Netflix
Netflix is known for canceling great shows. So, whenever a new one comes along that captures people's hearts and imaginations, our automatic reaction is to brace ourselves for the worst possible news. For now, though, "That '90s Show" won't be one of the streamer's many casualties.
Set in 1995, "That '90s Show" chronicles the lives of a new group of teenagers as they hang out in the Forman's basement during summer break. The gang is made up of Leia (Callie Haverda), Gwen (Ashley Aufderheide), Jay Kelso (Mace Coronel), Ozzie (Reyn Doi), Nikki (Sam Morelos), and Nate (Maxwell Acee Donovan). However, the series also brings back most of the original cast members from the parent series, "That '70s Show," including Red (Kurtwood Smith), Kitty (Debra Jo Rupp), Eric (Topher Grace), and Donna (Laura Prepon).
The fan response to "That '90s Show" Season 1 was positive, as evidenced by its 73% audience score on Rotten Tomatoes. Furthermore, it seems that Netflix executives are happy with the show's numbers and audience engagement.
That '90s Show is heading into 1996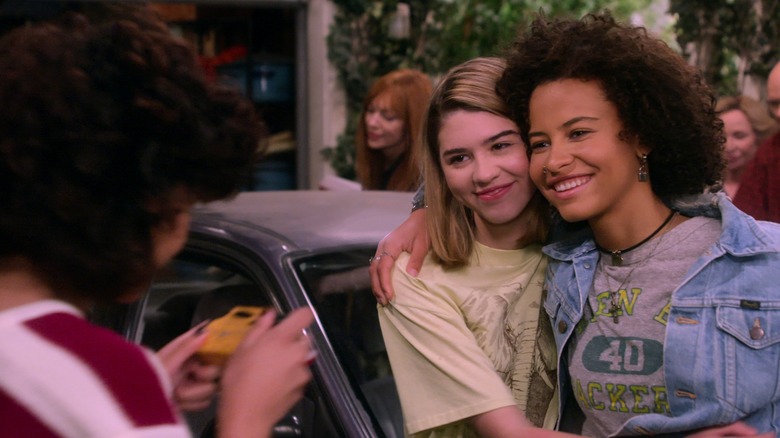 Netflix
According to Variety, "That '90s Show" has been greenlit for a second season over at Netflix. The welcome news comes after the streaming giant revealed that the series debuted in the Top 10 English TV list in over 35 countries, accumulating more than 41 million views in the process.
The creators of "That '90s Show" are over the moon about the news, according to showrunner Greg Mettler. "All of us at 'That '90s Show' were beyond excited by the warm, enthusiastic response to our first season," he said. "We can't wait to return to Point Place for another summer of laughs and surprises. Hello, 1996!"
Elsewhere, Tracey Pacosta, Netflix's vice president of comedy series, echoed Mettlet's sentiment, stating that they're thrilled about the franchise continuing to resonate with audiences all around the globe in modern times. With that in mind, what is it about "That '90s Show" that's made it a hit among modern viewers, and what can it teach us about rebooting old franchises?
Nostalgia is important, but don't rely on it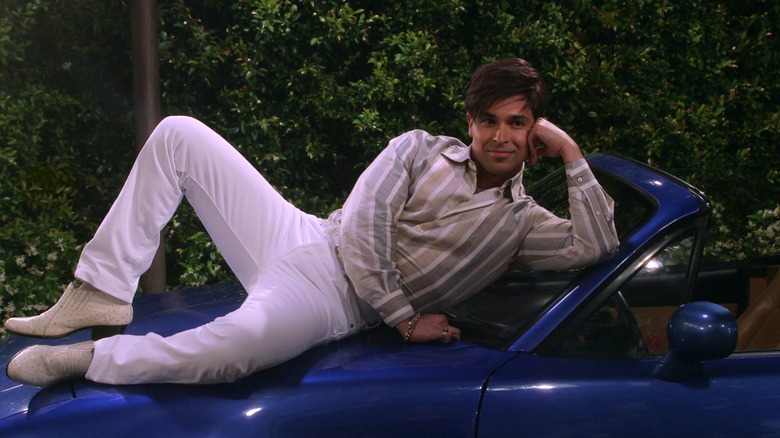 Netflix
"That '90s Show" is a sequel series, but it's also a reboot that's been designed to take this franchise into the future. But what makes the series so successful? To answer that question, let's turn to a master of creating awesome reboots — "Cobra Kai" co-creator Hayden Schlossberg. In an interview with The Hollywood Reporter," he discussed what makes shows of this ilk work. Basically, the goal is to honor the original franchise and introduce new characters who will enrich the story and resonate with younger viewers. That's where "That '90s Show" succeeds.
While Red and Kitty are a big part of the proceedings in every episode, the story primarily focuses on the newcomers as they experience the timeless coming-of-age woes that befell their '70s counterparts. They hilariously endure common experiences and problems that every young person can connect to, which allows the series to resonate with a fresh audience.
Of course, the "That '90s Show" doesn't completely reinvent the wheel. The new characters are still outsiders. Red still talks about putting his foot in people's butts. Fez is more ridiculous than ever before. Sitcoms are comfort food at the end of the day, and "That '90s Show" has found the trick to satiating the hunger of older viewers and newbies alike. Let this be a lesson to all future reboots: keep it nostalgic to a degree, but it's even more important to focus on the characters who'll guide the franchise forward.