Abbott Elementary Fans Are A Little Peeved They Didn't Get That Janine And Gregory Kiss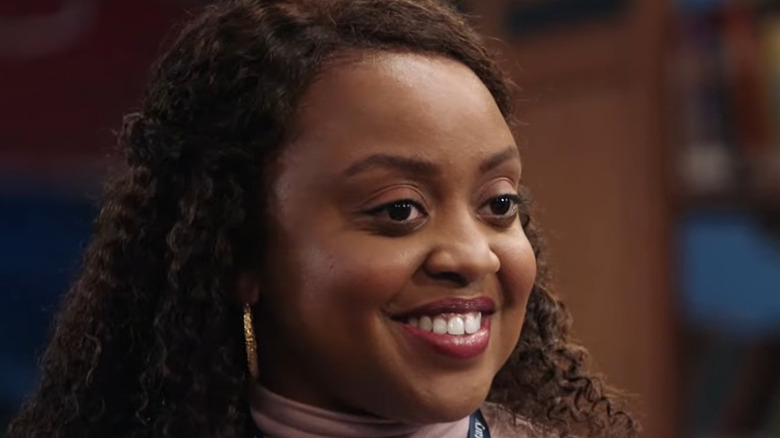 ABC
"Abbott Elementary" is ABC's latest groundbreaking sitcom. The mockumentary-style show takes place in an underfunded Philadelphia elementary school, following the staff as they try to give their students the best education possible. Although the series is relatively new, only halfway through its second season, it's already seen resounding success and acclaim. The first season earned seven Emmy nominations, including ones for cast members Quinta Brunson, Janelle James, Sheryl Lee Ralph, and Tyler James Williams. 
Brunson's character, Janine, serves as the de facto main character, though with such a talented ensemble, it's hard to pick out one character as the primary focus. Since its pilot episode, "Abbott Elementary" has teased fans with a potential romance between fellow teachers Janine and Wiliiams' Gregory. In a relationship akin to Jim and Pam from "The Office," Janine and Gregory admire each other from afar. They constantly come moments away from sharing their first kiss or declaring their intent, but 23 episodes in, and nothing's happened yet. 
This week's episode, "Holiday Hookah," brought the two closer than ever in a moment that fans thought for sure would end in a kiss. However, "Abbott Elementary" only continued the tease, and fans are going through it.
Abbott Elementary fans are more than ready for Janine and Gregory to kiss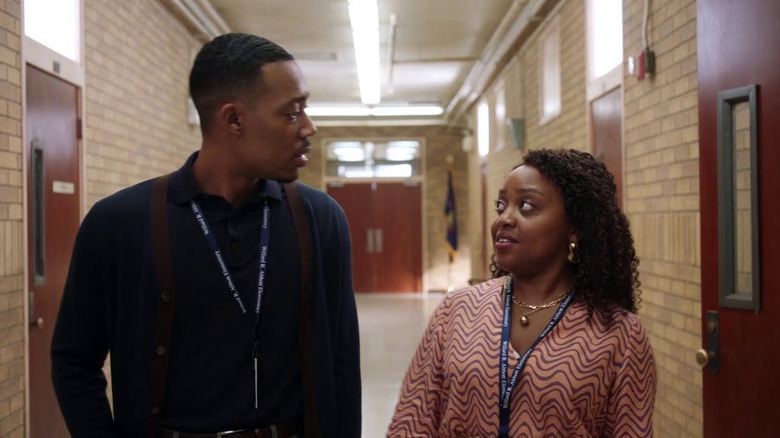 ABC
Audiences were shocked by the unbelievable tease at the end of this week's "Abbott Elementary" episode. Season 2, Episode 10, "Holiday Hookah," saw the teachers getting ready for winter break. Some of the staff went to a hookah bar, had drinks, and danced to celebrate. After dancing together, Janine and Gregory shared an intimate moment in the show, which would have ended with a kiss had Amber not interrupted it. 
Fans couldn't contain their disbelief on social media. @IamNoah4 wrote an all-caps message paired with a GIF of slamming on a desk, saying, "UGHHH WE WAS SO CLOSE TO A KISS." @_ebbsss_ has clearly had enough, stating, "Damnit, Amber interrupting the kiss I [have] been waiting to happen!!" Another user expressed how all fans were feeling, using an incredibly relevant GIF of Ava to say, "I've never wanted two people to kiss so bad in my life." Others voiced their frustration, wanting the teases to end and the characters to be together. @TWDJenn, @tee_teaches, and @fulCourtPressd all voiced similar opinions, demanding that "Abbott Elementary" gives the fans what they want: a Gregory and Janine kiss. 
Quinta Brunson, who pulls double duty on "Abbott Elementary" as writer and star, weighed in on the possibility of a Janine and Gregory romance. "We want to explore this relationship, but sometimes, all you're having is a crush," she told TV Insider. That may not be the answer that fans want to hear from the writer, but it's the one they got. Of course, Brunson wouldn't come out and reveal what they're working towards on the show, so fans can hold out hope that the two eventually get together.