Gregory And Janine Are Really Giving Abbott Elementary Fans Jim And Pam Vibes In Season 2 Episode 14
ABC
The U.S. version of "The Office" influenced a lot of modern sitcoms. Nowhere is that more evident than in the current smash hit, "Abbott Elementary." Certain things are obvious, like how the show follows a workplace filled with eccentric employees. There's also the mockumentary aspect of it, where the characters will speak directly to the camera from time to time to let their opinion known of a situation or crack a joke. And while zany situations may occupy a good chunk of the runtime, there's a sweet, emotional core at the center of both shows. 
Similarly to how "The Office" used the will they/won't they romance of Jim (John Krasinski) and Pam (Jenna Fischer) to hook viewers in, "Abbott Elementary" has its own relationship stringing its audience along. Janine (Quinta Brunson) and Gregory (Tyler James Williams) have played coy about their true feelings for one another, and while they've dated other people so far in the show, it's clear they like each other. And nowhere was that better demonstrated than in the most recent episode, appropriately titled "Valentine's Day."
Fans want to know when Janine and Gregory will get together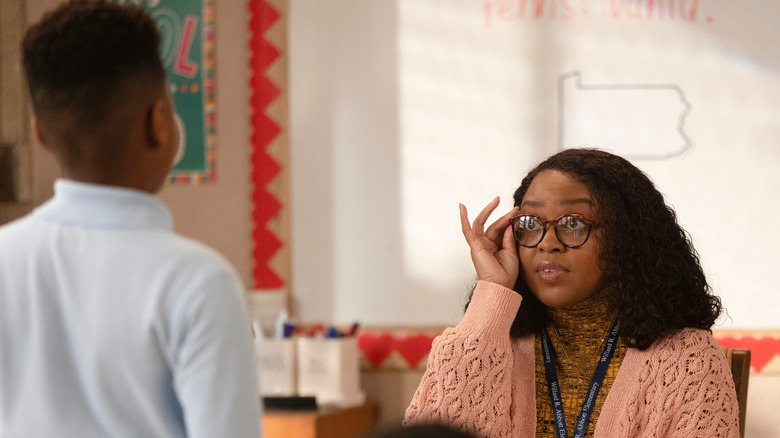 ABC
"Valentine's Day" further blew open the door for Janine and Gregory's romance to blossom. After misinterpreting something Janine said, Jacob (Chris Perfetti) accidentally reveals that Gregory has a crush on her. Janine asks others if this is true, and everyone seems to be aware of how Gregory really feels about her, despite the fact she's going out with his friend, Maurice (Vince Staples).
It moved the pendulum forward in the ever-growing romance between the two, and fans are on the edge of their seats to see what happens next, much like they were for many seasons of "The Office." On the episode's discussion thread on Reddit, u/Due-Time-8151 made the comparison, "Loved the episode – but they are giving serious Pam, Roy, Katie and Jim vibes! But we know how that ended up...so let's see!" The fact that the two haven't gotten together yet is too much to bear for some, like Twitter user @BluWave66, who said, "Reminds me of the torture watching Jim & Pam for years on The Office."
@evermorejackson even has an idea of how they should cement their love for one another when the time comes: "what if we get a jim and pam where for the last episode gregory confesses his feelings for janine and they kiss... quinta i know y'all already finished filming the last episode but here me out." "Office" fans may remember Jim and Pam first kissed in the Season 2 finale, "Casino Night." With the Season 2 finale of "Abbott Elementary" fast approaching, could a similar development take place in the not-so-distant future?