Cocaine Bear's Keri Russell Has No Doubts About The Next Star Wars Role She'd Like To Play - Exclusive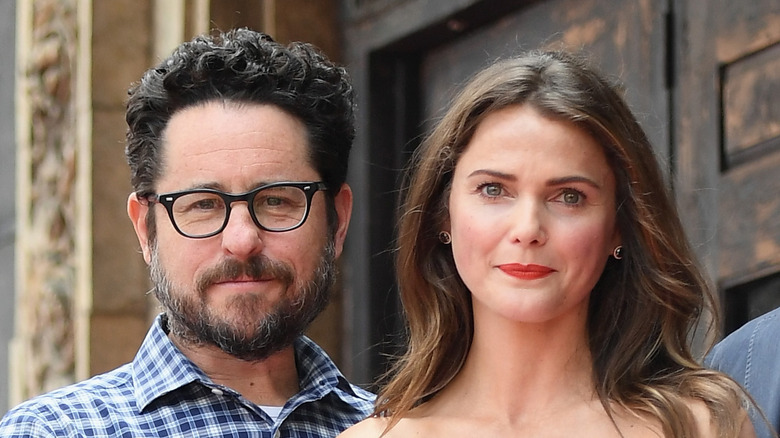 Matt Winkelmeyer/Getty Images
Given that her breakthrough role came in 1998 in the title role of the co-creators J.J. Abrams' and Matt Reeves' romantic drama series "Felicity," it shouldn't come as a big surprise that Keri Russell has reunited with both writer-directors in various projects over the years. Perhaps what's most interesting, though, is that the roles she has played for Abrams and Reeves are decidedly different than that of Felicity Porter on "Felicity" for four seasons on The WB from 1998 to 2002. 
In 2006, Russell appeared in a small but pivotal turn as doomed IMF Agent Lindsey Farris opposite Tom Cruise's Ethan Hunt in "Mission: Impossible III," which was directed by Abrams; she teamed with Reeves as Ellie, one of the human survivor leads opposite Gary Oldman's Dreyfus and Jason Clarke's Malcolm in Reeves' 2014 "Rise of the Planet of the Apes" sequel "Dawn of the Planet of the Apes." But that wasn't it for Russell's "Felicity" storytelling colleagues — Abrams asked her to join him for the third film in "Star Wars" sequel trilogy, "Episode IX – The Rise of Skywalker," which fulfilled a fantasy of hers to take a trip to "a long time ago in a galaxy far, far away."
In an exclusive interview with Looper to discuss her work on director Elizabeth Banks' new horror-comedy, "Cocaine Bear," Russell said she'd be willing to revisit the "Star Wars" universe should the opportunity present itself.
Keri Russell says she would play no other Star Wars role than Zorii Bliss
In "Star Wars: Episode IX – The Rise of Skywalker," Keri Russell stars as space pirate Zorii Bliss, a member of a gang of spice runners on the frozen planet of Kijimi. In the film, Zorii reunites with Poe Dameron (Oscar Isaac), a former fellow spice runner who is now one of the best pilots in the Resistance.
Russell told Looper that while the "Star Wars" universe has expanded to several different series on Disney and potentially more feature films — opening up the potential for her to play different roles — she'd be happy for another chance to slip back into the armor of her "Rise of Skywalker" character.
"I loved my part. I got to play the ultimate [role], a cool girl bounty hunter, with the cool ... It's in the vein of a Mandalorian sort. I loved the character I got to play. It was just the right amount," Russell said. "J.J. [Abrams] was so cool to ask me to do that. It was perfect for me. That was a dream: cool outfit, tough. I lived on the cool planet with the snow and all the bad s*** going on. I loved it. What was not to love?"
While it's unclear whether another trip to a different galaxy is in the cards for her, Russell faces plenty of challenges in "Cocaine Bear" as Sari, a mom desperately searching the Georgia woods for her missing daughter, Dee Dee (Brooklynn Prince), and her daughter's friend, Henry (Christian Convery) — after a 500-pound black bear ingests a brick of cocaine and goes on a rampage against all humans as it seeks to fuel itself with more of the illegal substance.
Also starring Margo Martindale, Jesse Tyler Ferguson, O'Shea Jackson Jr., Alden Ehrenreich, and Ray Liotta in a posthumous role, "Cocaine Bear" is new in theaters.