The Masked Singer's Night Owl Only Had A Day To Get Ready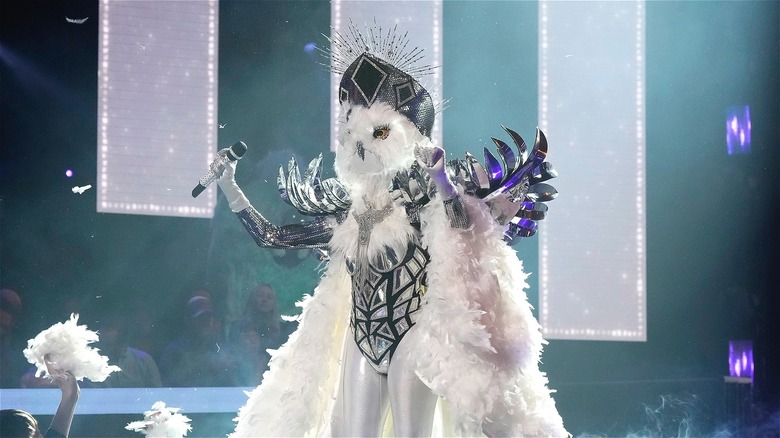 Michael Becker/FOX
One might suspect that contestants on "The Masked Singer" are given at least some time to practice, mainly because they have to sing in an ornate costume in front of a large audience, but it seems like that isn't always the case. Currently in Season 9, "The Masked Singer" has a whole new crop of performers, and the costumes run an incredible gamut of fantasy figures like gnomes, food items like a California sushi roll, and plenty of animals like squirrels and owls. Though the costumes are incredible and unique, the main draw of the show is to find out who is the celebrity behind the mask.
When a celebrity is finally figured out or voted off, they are revealed to the audience. So far, Season 9 has had some fairly shocking surprises, with the one of the very first people voted off being the legendary Dick Van Dyke, who was dressed as a gnome, and the country music star Sara Evans, who was dressed as a mustang. The most recent episode, which focused on the musical group "ABBA," saw another two voted off, which were the Rock Lobster and Night Owl. However, it seems as if the person who played the Night Owl only had one day to prepare, though for a very good reason.
The celebrity who was suppose to be Night Owl tested positive for Covid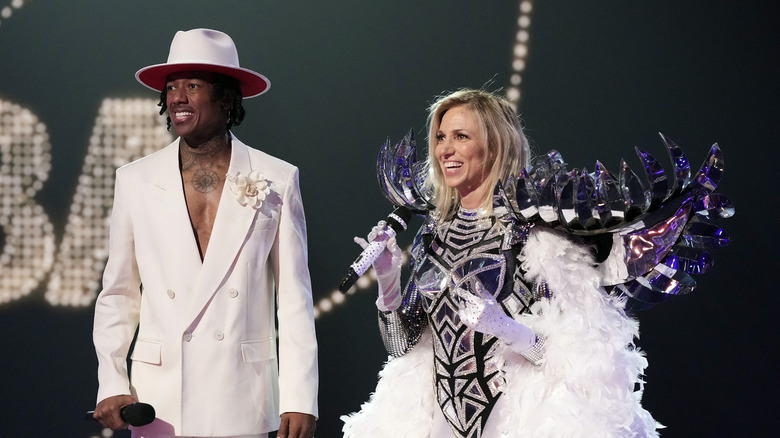 Michael Becker/FOX
Rock Lobster was revealed to be comedian Howie Mandel; Night Owl wasn't able to survive to the next round either and was exposed as famous singer Debbie Gibson. Made popular by her hits in the 1980s like "Foolish Beat" and "Lost in Your Eyes," Gibson was a last-minute addition to the cast of "The Masked Singer," and it was due to a medical issue. As reported by Variety, it seems as if the person who was going to be Night Owl tested positive for Covid, and Gibson was tapped to be a last-minute fill-in.
Gibson told the publication, "I didn't really have much time to decide to do it. I had 14 hours from the time I was landing in Las Vegas from a flight back from New York, drove out to LA and was on set by 8 in the morning. I'm more adventurous than people might know. For me, it was a special moment, as the go-to girl to save the day. I had no time to overthink or prepare." She added that she is a big fan of "The Masked Singer" and that her ultimate goal was just to jump in and have a little bit of fun, which she says she achieved during her short tenure on the show.