American Pickers' Mike Wolfe And Frank Fritz Would Constantly Fight About This On The Road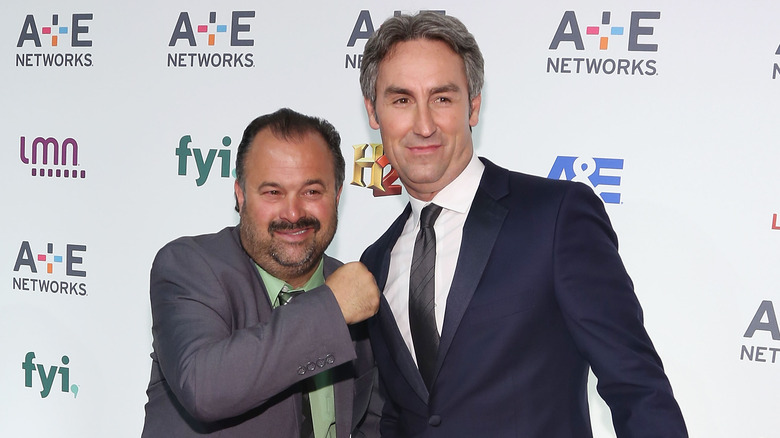 Taylor Hill/Getty Images
The beloved reality series "American Pickers" has been chugging along on the History channel for over 12 years, endearing itself to millions of fans across America with its unique blend of road-trip-style antiquing. Most of the series follows Mike Wolfe and Frank Fritz as they drive across the continental United States in search of rare items. For the most part, they seemed like incredibly close friends: with their banter and chemistry slowly growing into one of them the most engaging aspects of the show.
The show's premise hadn't changed one bit since the series first premiered in 2010, though it did experience a major shakeup in 2020 when longtime co-host Frank Fritz exited the series without warning. Although Fritz's absence was initially attributed to a back injury and extensive surgery, in the months and years that followed his departure, it's been reported that Fritz's exit from the series was related to an ongoing feud between himself and Wolfe.
Unsurprisingly this news came as quite a shock to longtime fans of the series since Fritz and Wolfe had seemed like the best of friends for so many years on-screen. Though funnily enough, Wolfe himself had previously admitted there was one thing they fought about constantly on the road.
Fritz and Wolfe argued often about music
While participating in a Q&A session in LeClaire, Iowa, in 2012, Mike Wolfe admitted that his biggest arguments with Frank Fritz usually stem from what type of music they're playing in the car. "I like country music, and he likes big hair music," said Wolfe, nodding at Fritz to his left. "He likes Dokken, The Scorpions ... I'm more like Lefty Frizzell, Hank [Williams], Johnny Cash." After Wolfe quipped that Fritz is also a fan of the much heavier (and more contemporary) Slipknot, his then-co-star denied this, clarifying that he's more of an '80s hair metal guy who especially likes KISS and Van Halen, among other bands.
Although this anecdote certainly paints a lively picture of the duo's numerous cross-country road trips, there's no question that their recent feud is much more heartbreaking. Fritz's 2021 interview with The Sun indicates that he and Wolfe had a falling out due to the latter's coldness in the months following his back surgery. Meanwhile, Wolfe alleged that Fritz's absence from the show was not personal and related to the latter's ongoing battle with addiction.
Given all that drama in recent years, fans of "American Pickers" no doubt wish that they could go back to the days when the biggest argument between Frank Fritz and Mike Wolfe was just about music.