Sons Of Anarchy's David Labrava Says Creator Kurt Sutter Made The Job 'Easy'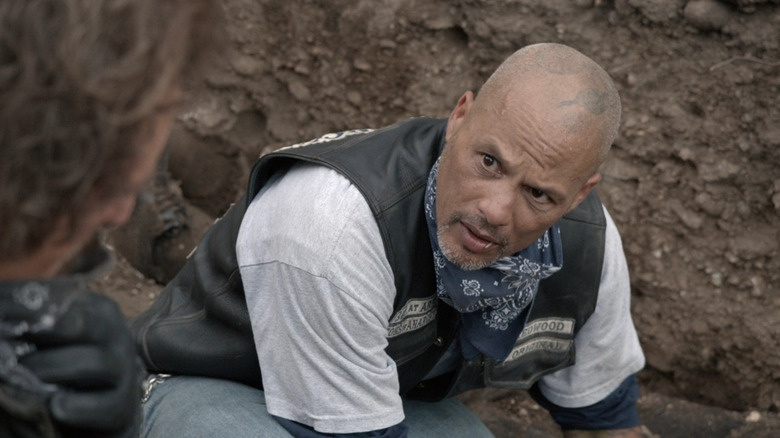 FX
One would think that stepping into a major role in a popular television series would be overwhelming, especially for someone with zero experience. But, according to David Labrava, "Sons of Anarchy" creator Kurt Sutter made this first-ever gig easy for him. Fans know Labrava's character, Happy, as the tough-as-nails hitman for the featured motorcycle club of Charming, California. But before he joined "Sons of Anarchy," Labrava made a living as a tattoo artist and a mechanic. He also lived the life of a real outlaw, being a former member of the infamous Hells Angels motorcycle club. 
Despite being arrested on felony drug charges in 2008, Labrava caught the eye of Sutter, who hired him to be a technical consultant on set. That title didn't last long, as Labrava was plucked from the crew by Sutter to join the cast. He was featured in the pilot episode, which ended up being just the start of his 71-episode run. Though this jaw-dropping jump from consultant to cast would seem too nerve-wracking for the average person, Labrava said Sutter made the transition simple.
Sutter gave Labrava his first break in acting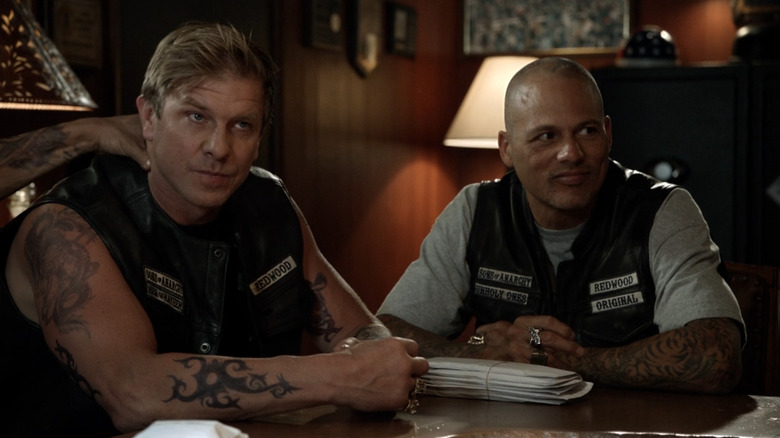 FX
If there was one crew member to pull from behind the camera to push in front of it on FX's "Sons of Anarchy," David Labrava was surely the right choice. Creator Kurt Sutter took the consultant's past experience as a member of Hells Angels into account when he gave him the role of Happy. When speaking with Collider, Labrava explained how Sutter first described the character to him and the reason for the name Happy. "I was like, 'Why didn't you call me Psycho?' And he was like, 'Because your name is Happy. You're an assassin for the club, and you're never happy. It's ironic,'" he said. 
Although simple descriptions like this may have calmed Labrava's nerves somewhat, he said, Sutter went beyond simply the origin of a character's name. Labrava said any on-screen newcomer should feel lucky if they have Sutter as a mentor. "He's wonderful," Labrava said. "I'm not just placating that. It makes the job easy when somebody knows exactly what they want to see and exactly what they don't want to see, and exactly how it should go, and the tone of the scene, and every bit of it. It makes the job much easier." 
After "Sons of Anarchy" was behind him, Labrava continued to portray Happy in the spin-off show, "Mayans M.C." However, he has since been focusing on writing and directing. As for working within that part of the industry, he sees Sutter as equally helpful as he was when he was acting. "Without a doubt, he's my writing guru," he confessed. "He has helped me immensely. He has given me incredible breaks, and I'm so appreciative. It's no joke."