Kate Flannery Loved The Office's Move To Peacock Because Of The Deleted Scenes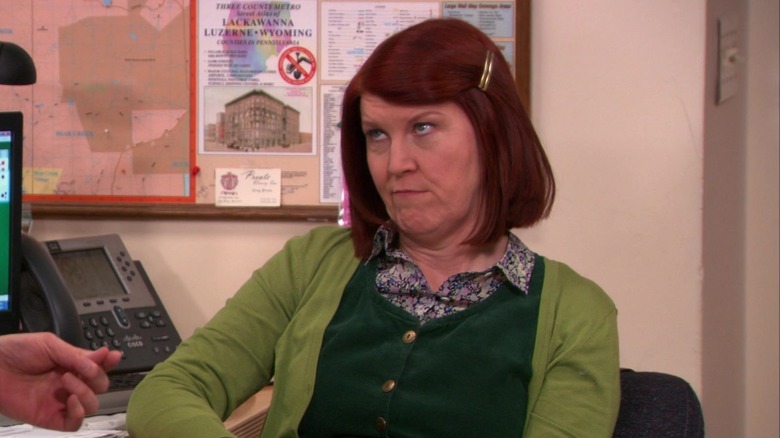 NBC
After watching every episode of "The Office" repeatedly for so many years after the series finale aired, fans probably didn't think there was anything more to get out of their beloved mockumentary-style workplace comedy. So it was definitely exciting for certain fans when extended "Superfan" episodes landed on Peacock, and Kate Flannery, who plays Meredith Palmer, was one of them.
When "The Office" vacated from Netflix, it wasn't an easy change for viewers. The move to Peacock was rough for some, but thankfully, the streamer decided to sweeten the deal regarding what they had to offer in terms of "The Office" content. The decision to release the Superfan episodes, a series of extended cuts of entries utilizing deleted scenes, was a great way to reward fans for their years of devotion to the NBC comedy and only added to the already entertaining experience of watching the Emmy-winning series over and over again. From never before seen Michael Scott (Steve Carell) apology videos to proof Phyllis Vance (Phyllis Smith) had a crush on Jim Halpert (John Krasinski), there are plenty of worthwhile moments lovers of the show will not want to miss. The momentous occasion caused quite a stir with everyone, and Flannery wasn't shy about telling people how she felt about the move between streamers.
There is a lot Meredith in the Superfan episodes of The Office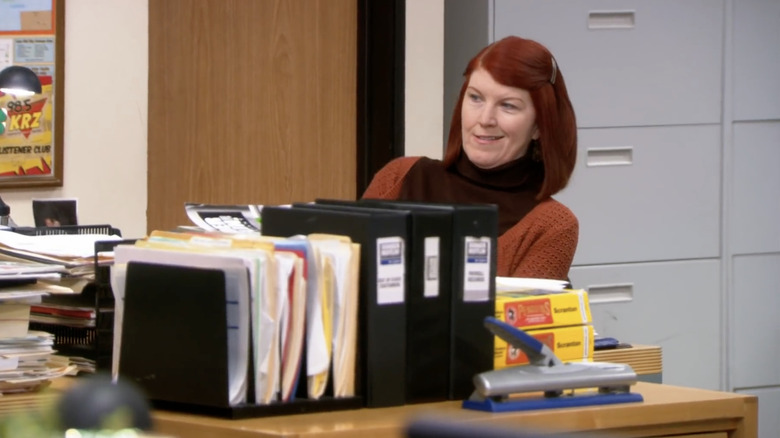 NBC
While some people were disappointed that "The Office" left Netflix, Kate Flannery had a much different reaction, especially when she knew that it wasn't just the regular episodes coming to Peacock. The actor was very excited the Superfan episodes would be available and was looking forward to fans seeing the extra content. "I remember shooting them, but I don't know how they fit into the episodes," Flannery said in an interview with Nerds & Beyond. "It's gonna feel like this thing you've seen a million times and then some things are gonna be longer, and it's gonna feel like a dream. In a good way." 
She also talked about how she was looking forward to the fact that her character is presumably featured more, along with Pam Beasley (Jenna Fischer) and Toby Flenderson (Paul Lieberstein). "I'm excited, for selfish reasons, but I'm also excited for the Pam stuff... I'm excited for all of it. I'm excited for Toby, too." And many may not realize that she has done more for the Superfan agenda than just hype it up to fans.
When it was time to prepare the Superfan episodes, ADR work had to be conducted. Flannery was called in by the show's original editor Dave Rogers to get all that extra Meredith ready for fans, and playing the persona again was easier than expected. "It was so crazy to think that all these years later we can just get right back in there, and the machine still works," Flannery revealed in an interview with Give Me My Remote. Thanks to her efforts, fans can enjoy even more wild Meredith moments on Peacock.