Amanda Seyfried Remembers Feeling 'Totally Seen' By Hugh Jackman On Les Misérables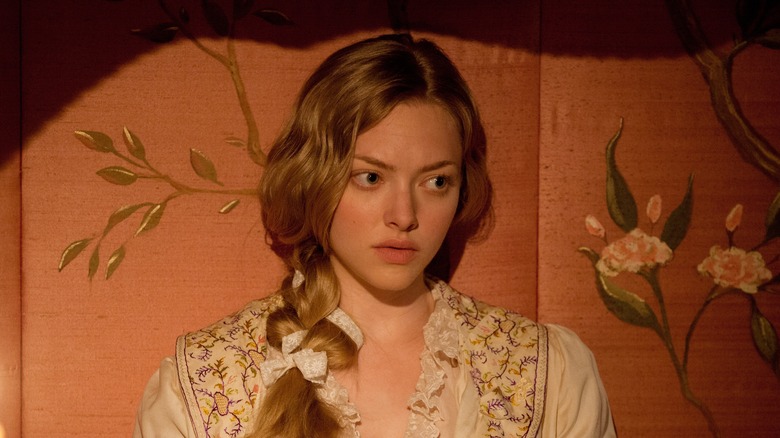 Universal Pictures
Amanda Seyfried is a little hard on herself when it comes to her role in 2012's star-studded movie musical "Les Misérables." As the naïve, lovesick Cosette, Seyfried earned solid reviews for her ingenuous performance, as well as for her ability to utter breathy high notes. However, in the years since, the "Mean Girls" actress has criticized her singing in the movie musical, even claiming that the memory of it affects her ability to sleep. "In my career I have had a lot of moments where I just felt complete regret," she said in a 2021 interview with Variety. "I wish I could redo 'Les Misérables' completely because the live singing aspect, I still have nightmares about it."
Certainly, Seyfried's casting next to vocal powerhouses like Hugh Jackman and Broadway's Samantha Barks drew unfair comparisons, but Russell Crowe ended up receiving the brunt of viewers' criticism, whereas Seyfried emerged from the movie relatively unscathed. And now, Seyfried is crediting some of her "Les Misérables" success to her co-star, Hugh Jackman.
Seyfried was nervous about singing live on set
In a recent interview with Vanity Fair, Seyfried reiterated that she had been very self-conscious about her singing during the filming of "Les Misérables." As director Tom Hooper did not use pre-recorded tracks during filming, Seyfried had to rely on her live singing voice while on set. But thankfully, Jackman — who played her on-screen surrogate father, Jean Valjean — was on hand to guide her through the process.
"I just remember [Jackman] being so warm, and him knowing that I was struggling and just feeling like he was there for me," Seyfried said. "When you trust your partner like that, even if you're feeling like sh*t, something real comes through and I'm able to speak-sing."
In the end, "Les Misérables" had a lot of speak-singing, contributing to the gritty feel that Hooper sought to evoke with his portrayal of 19th-century Paris. But as for the intimate scene between Seyfried and Jackman that Variety replayed for Seyfried, the actress called it beautiful while complimenting Jackman's compassion. "I just felt totally seen by him," she said.
So, perhaps Seyfried really has changed her tune when it comes to "Les Misérables." Or, at least, her experiences have given her the confidence to sing her way through "Mamma Mia! Here We Go Again."