Jonathan Majors When He First Donned Ant-Man 3's Kang Suit: 'Now We're Kangin'
As soon as Jonathan Majors was introduced in the "Loki" Season 1 finale as He Who Remains — one of the less violent and more rational of the Kang variants – MCU fans knew that he was going to play a major role in Phases 5 and 6 going forward. Ever since "The Avengers: Endgame" wrapped up Thanos' (Josh Brolin) decade-long arc as the Mad Titan, fans were wondering who would be able to top supervillain Thanos, who had wiped out half the universe.
While promoting "Ant-Man and the Wasp: Quantumania," Marvel Studios President Kevin Feige answered that question, telling EW that "[Majors is] the highest-testing villain we've ever had in any of our friends and families [screenings]. That's really saying something with a movie like this. Even early on without the effects, Jonathan is his own effect."
While it's difficult to imagine the pressure on Majors knowing that he's essentially the MCU's main villain for the next several films, he seems to be taking it all in stride, even joking that after starring opposite "Sexiest Man Alive" Michael B. Jordan in "Creed III" and Paul Rudd in "Ant-Man and the Wasp: Quantumania," he feels he's at "the gateway to becoming the sexiest man alive" himself. Even so, his recent appearance on "The Late Show with Stephen Colbert" suggests that he even felt the gravity of the moment when he first put on the Kang costume.
Majors will never forget the moment he put on the Kang suit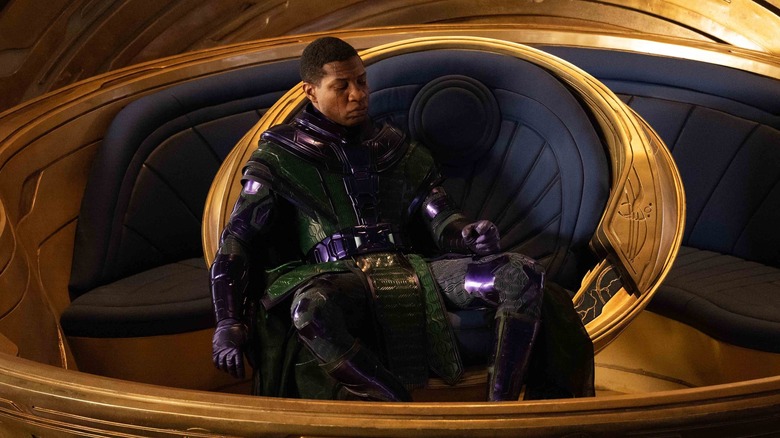 Marvel Studios/Disney
While talking about "Ant-Man and the Wasp: Quantumania," Jonathan Majors tried to describe to Stephen Colbert what it was like to put on the Kang the Conqueror suit for the first time. "It was an event, man. It was a very serious business, you know? I saw it, everyone — I knew what the responsibility, the potential was, at least," he said. "And I remember putting it on, and I put it on and I was like, 'Oh! Now we are Kanging. This is it.' And the freedom with that, everything you do in that costume is Kang. There's a responsibility to that, there's a playfulness. And it's a moment I will never forget, definitely up there on my journey."
Majors has had quite a journey so far, studying at the University of North Carolina School of the Arts before heading to the Yale School of Drama. A part as Young Ken Jones in Dustin Lance Black's miniseries "When We Rise" meant he left school his last year, but it's definitely not a decision he seems to regret. With an Emmy nomination for his role as Atticus Freeman in "Lovecraft Country" as well as critical recognition for many of his other performances, Majors is definitely an actor who commands your attention — both in and out of the Kang suit.