TLOU's Jeffrey Pierce Believes There's Enough Story In Part 2 For A Season 3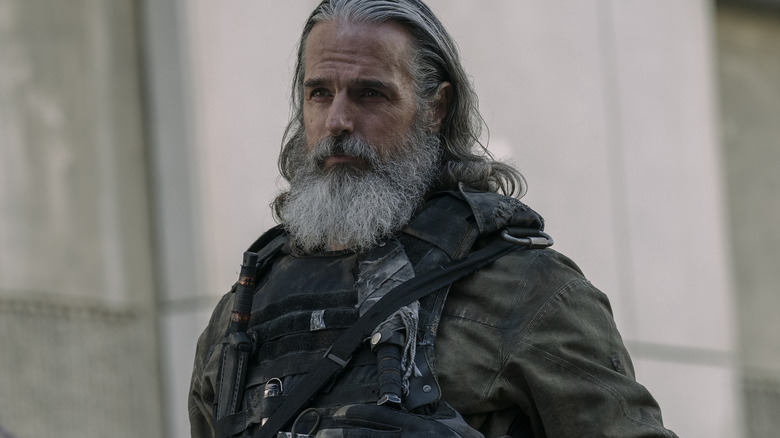 Liane Hentscher/HBO
HBO's riveting adaptation of "The Last of Us" has captivated fans quicker than a parasitic cordyceps fungus with record breaking viewership. The series faithfully recreates powerful scenes from the beloved video game, with outstanding casting including Pedro Pascal as Joel and Bella Ramsey as Ellie. "The Last of Us" also features Jeffrey Pierce as a new character named Perry, though gamers will recognize his voice from the best-selling game as Joel's brother Tommy. In "The Last of Us: Part 2," Tommy plays a major role in the story, and the actor believes the tale will actually take more than one season to properly tell on television screens.
Without spoiling any of the nitty gritty details from the harrowing second installment, "The Last of Us: Part 2" continues the gripping survivalist story of Ellie and Joel. It opens the apocalyptic world up to a plethora of new locations, friends, enemies, and even other forms of the Infected. As the next chapter unfolds, Ellie and Joel must face the unavoidable consequences for their violent actions, and find the ugly truth in revenge.
Given Pierce's experience, his insights are especially interesting as they may indicate where the series could be heading next. The unforgiving and sprawling narrative has plenty of meat on its bones to warrant an additional season, as Pierce himself told The Direct.
Another season is necessary to tell the larger story
After a heart-pounding play-through of "The Last of Us: Part 1," fans couldn't wait to find out what was next for Ellie and Joel. The enthralling game leaves off on a nail-biting cliffhanger that's revisited in "The Last of Us: Part 2," with an even bigger story. To compare, the first part runs at about 15 hours of gameplay while the second takes about 24 hours, though that's without essential breaks from the heartbreaking storyline. 
Ellie (voiced by Ashley Johnson in the game) and Tommy become quite close in "The Last of Us: Part 2," after suffering an unimaginable loss. With Joel (voiced by Troy Baker) and Ellie living in Jackson, Tommy also becomes a frequent confidant for both characters. Considering Pierce's larger role in the sequel, his comments to The Direct, after the announcement of "The Last of Us" Season 2, shines some light on the future possibilities of the series. "Yeah, I can't wait to see what they do with it," the actor said. "I think they'll stretch it beyond a second season, because there's just so much story to tell in the second game."
The colossal follow-up unexpectedly shifts perspective halfway through, giving players control of a completely new character. This teaches a harsh lesson in empathy with the signature, unflinching brutality of "The Last of Us" on full display. These elements, along with the larger story, will require more than one season to fully tell, as Pierce astutely points out.