Jonathan Majors 'Definitely Took Some Shots' At Michael B. Jordan In Creed III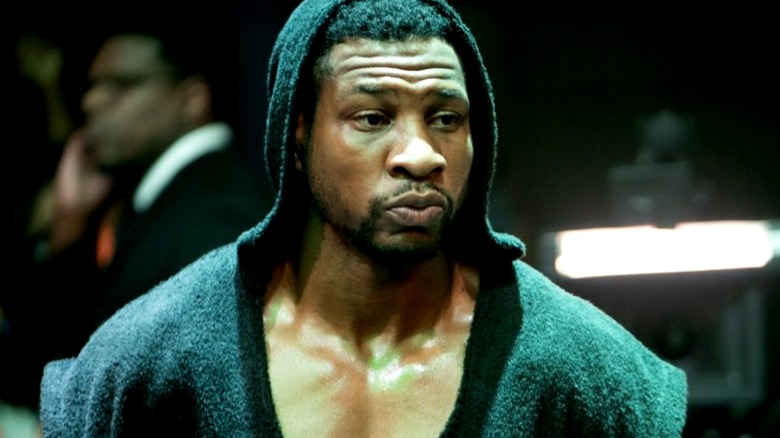 MGM
Jonathan Majors is having a pretty, uh, major moment right now. In addition to being heralded as the best part of "Ant-Man and the Wasp: Quantumania" and as a spiritual successor to Thanos as the Marvel Cinematic Universe's next Big Bad, Majors has been lighting up the press trail for his newest batch of films. The actor has been by all accounts delightful, having talked about everything from consuming 6,100 calories a day for "Magazine Dreams" to getting punched by Paul Rudd in "Quantumania." The actor even compared Rudd to his "Creed III" co-star, Michael B. Jordan, saying, "I think Paul Rudd hits in softer spots which hurts more ... and Mike hits harder. Mike hits hard" (via NME).
Of course, this is not to say that the Yale Drama grad can do no wrong. In fact, there may be a controversy on the horizon that threatens to break Majors fans' hearts. While filming "Creed III," Majors may have punched Michael B. Jordan.
It was hard for Majors to hold back in the boxing scenes
In a new interview with Michael B. Jordan on "Good Morning America," host George Stephanopoulos revealed that Jonathan Majors had recently stopped by and expressed joy in being able to throw punches at Jordan on set. According to Stephanopoulos, Majors had told him, "It's kind of gratifying when you're in a scene, when you get to take a shot at your director." Michael B. Jordan, of course, pulled double duty as both director and co-star for this latest "Creed" installment.
Jordan, for his part, laughed off Majors' remark and acknowledged that he and Majors frequently found themselves deep in character during the boxing segments of the film. "You know, sometimes it's really hard to hold back a little bit, so he definitely took some shots," added Jordan. "But it paid off." 
Considering Majors' seriously jacked character in "Creed III," those shots couldn't have been light ones. Maybe we should all just be grateful that Michael B. Jordan is still in one piece.