Michael B. Jordan Explains Why IMAX Was A Must For Creed III In Order To Elevate The Series
The "Creed" franchise, the spiritual successor to the "Rocky" series, has really taken on a life of its own. "Creed III" will be the very first movie in the series that will not feature Sylvester Stallone as Rocky Balboa. Stallone himself explained to The Independent that the film wouldn't really benefit from Rocky being featured in it, all the while clarifying that he remains open to taking part in any potential sequels. 
The highly-anticipated film is scheduled for release in movie theaters in the U.S. on March 3, 2023. "Creed III" will revolve around the fight between protagonist Adonis Creed (Michael B. Jordan) and Damian Anderson (Jonathan Majors), Creed's childhood friend and former prodigy. While it is shaping up to be the protagonist's most personal face-off to date, the movie also holds special significance for Jordan himself. Not only does it mark his directorial debut, but it is also going to be the first sports movie shot with IMAX cameras. 
Jordan used IMAX to make Creed III stand out from the rest of the series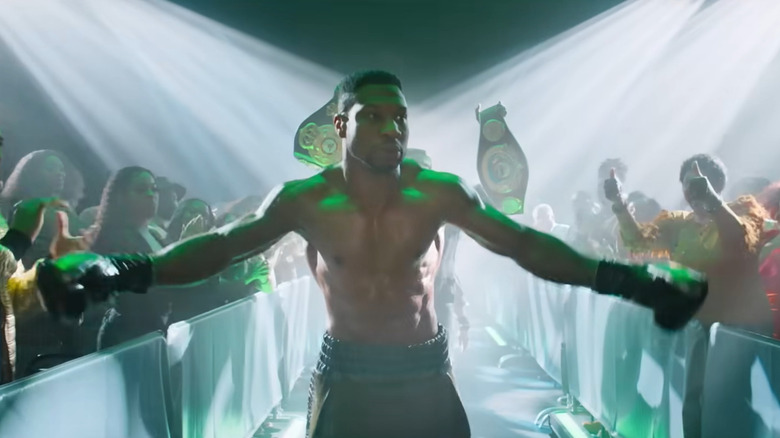 MGM/YouTube
Directing a movie all while also playing the main character is certainly no easy feat to accomplish. In a Fandango interview with Michael B. Jordan and other "Creed III" cast members, the actor-director opened up about some of the challenges he faced while filming the movie and the decision to shoot it in IMAX. "It was, in my mind, the only way I could've done it," Jordan said when referring to the choice of cameras. 
The decision to go with IMAX for "Creed III" was motivated by trying to make the latest installment in the franchise stand out from the previous "Creed" and "Rocky" movies. "All the 'Rocky' films, all the 'Creed' films before this, they've shot punches a million different ways, how do we do something different?" Jordan asked. The answer to that question was, as we now know, IMAX cameras: "Being able to really feel like you're in the ring with the fighters was a challenge that I wanted to see if we can pull it off, and the only way to do that was with IMAX."
Judging by the "Creed III" trailers, it looks like Jordan and his crew did, in fact, pull it off, with the anime-inspired fight scenes revealed so far certainly setting themselves apart from the rest of the franchise in terms of both visuals and choreography.