David Spade Recalls Intense Stress On SNL That Made Him Violently Ill
As is indicated in its title, perennial sketch comedy show "Saturday Night Live" films in front of a live studio audience, meaning that its cast is not just under pressure to be funny, but to do so without the benefit of filming multiple takes. Given that these in-the-moment performances are not just for the live audience's benefit as in a typical staged sketch show, but broadcast to exponentially more viewers on TV, appearing on "SNL" is uniquely challenging for its performers, which occasionally shows.
For example, among a number of celebrities banned from "SNL" was legendary comic Andy Kauffman, whose boundary-pushing style apparently didn't connect with the majority of live viewers, leading to a stunt that legitimately resulted in his permanent departure. Meanwhile, former cast member Bill Hader once shared his "SNL" struggles in an interview, detailing how anxiety over his high-profile TV gig would cause him to experience a lack of sleep and panic attacks.
As it turns out, cast members from earlier eras too have struggled with the rigors of "Saturday Night Live," including David Spade, who recounted during a podcast conversation a day that he almost had to back out of an episode over a sudden illness.
David Spade almost had to step away from hosting SNL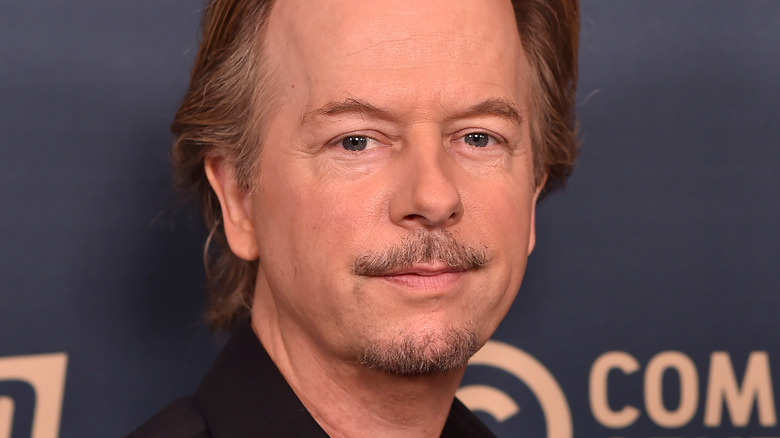 DFree/Shutterstock
On February 22, "Fly on the Wall" podcast hosts Dana Carvey and David Spade interviewed Marci Klein, who produced "Saturday Night Live" during each of their tenures as cast members. Early on in their conversation, the trio begins to discuss the challenges unique to hosting "SNL," given that an episode's host typically appears in the majority of its live sketches, whereas regular cast members are more often only in a fraction of them.
At the 4:00 mark, Klein recalls a time that she felt relieved upon learning Spade was hosting, given that his "SNL" experience meant he was already accustomed to the series' singular needs. Then, at the 5:45 mark, Spade recounts once appearing in so many sketches as a host that he had to participate in a nine-hour long dress rehearsal. When that rehearsal was coming to a close, Spade suddenly felt ill, which he felt was either food or stress induced.
Spade was ultimately out of commission for so long that Klein and series creator Lorne Michaels began contemplating airing a rerun in the episode's place should Spade remain unable to perform his hosting duties. Fortunately for the cast and crew, Spade ended up getting his illness out of his system and appearing onstage that night, with the audience most likely none the wiser to the ordeal he had just overcome.