The Rookie Season 5, Episode 16, Has Fans Dying To Know More About Lucy's Necklace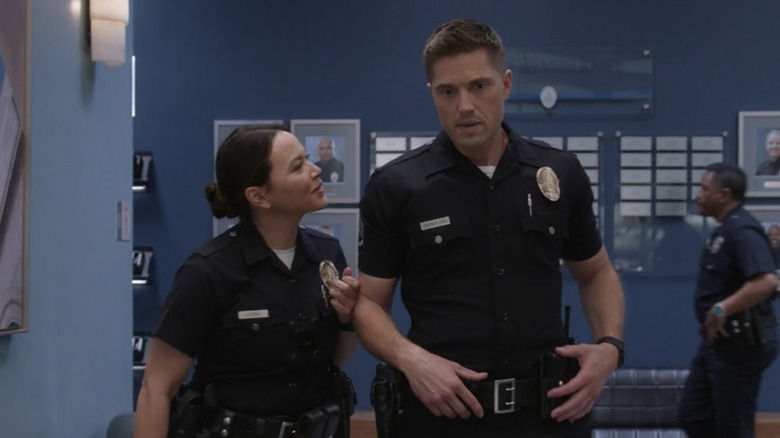 ABC/Hulu
Season 5, Episode 16, of "The Rookie" is a Valentine's Day episode for the ages, one that saw John Nolan (Nathan Fillion) and company tackling the classic Valentine's dilemma of tracking down a meth lab and dealing with an outbreak of Ebola in Los Angeles.
While Nolan and the rest of his cohorts in the LAPD are trying to enjoy a peaceful and romantic Valentine's Day on the job (and spend a particularly enjoyable scene gossiping over the radio about their respective love lives), the playful atmosphere is punctured swiftly when they get word of three people exposed to Ebola who have escaped quarantine and are running amok through LA. On top of that, another part of the team is working furiously to track down a militant group they believe is cooking meth inside of a truck — one which could explode at any moment.
While this might sound like the most chaotic Valentine's Day celebration you'll ever see, there are a few genuinely heartwarming moments throughout the episode that focus on the most popular couples on "The Rookie." Indeed, fans online could not contain their excitement at one particular moment involving Lucy Chen (Melissa O'Neil), Tim Bradford (Eric Winter), and a necklace.
Fans want to know what the charm on the necklace means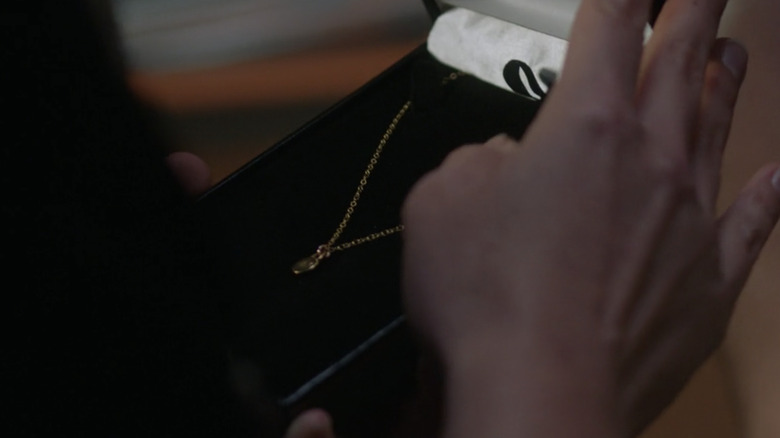 ABC/Hulu
As they're one of the newest couples on "The Rookie," the episode makes quite a lot of the fact that Lucy Chen and Tim Bradford are celebrating their very first Valentine's Day together — a day which, of course, they spend the majority of arguing. The argument concerns Tim's recent move into the Metro division (which Lucy helped him procure), though they later reconcile when Tim gives Lucy a small gold necklace — a necklace that fans online are dying to know more about since it's shown only briefly.
"Me trying to figure out what the necklace is because it's going to keep me up at night and all of next week until Tuesday," tweeted @ChenfordStan8 alongside blurry images of the necklace in question. 
"I just came onto twitter expecting someone to tell me what the heck the necklace was and literally no one knows. I'm dying," echoed @kylaurennnn.
Much of the curiosity surrounding this necklace is directed at the small gold charm hanging from it, which fans have conflicting views about. Some, like @ChristinaCloud2, say it's just a circle, or maybe a heart, while others, like @coli_fata, say it looks like a lock. Whatever the charm might be, it's clear that fans online believe it has some sort of significance to the relationship between Tim and Lucy. Unfortunately, it seems like they'll have to wait to see what that charm actually is because Episode 16 simply doesn't have a good close-up shot of this mysterious necklace.