Blue Bloods' Stephanie Kurtzuba Was Only Supposed To Be In A Couple Of Episodes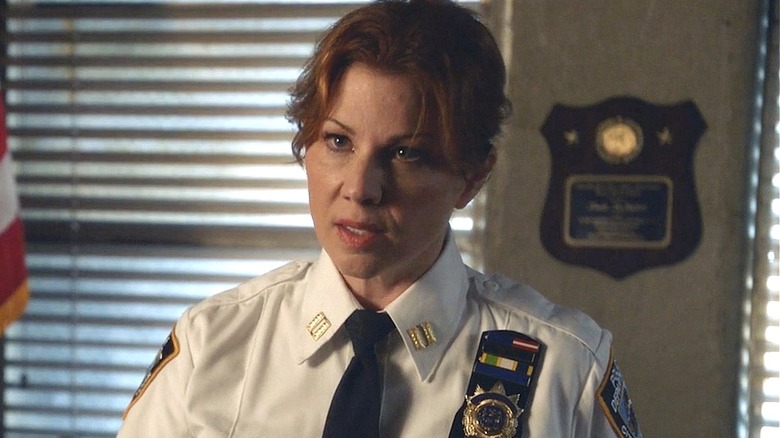 CBS
With more than 260 episodes in the books, "Blue Bloods" continues to be one of the more unsung hits in the modern television landscape. That's largely thanks to the series' fanbase which, despite not boasting Nielsen-busting numbers, have remained steadfast in their resolve to check in with the crime-busting, and dinner-loving antics of the Reagan family week in and week out.
While the Reagans are and always will be the frontline characters in the "Blue Bloods" landscape, series creatives have excelled over the years at populating the family's orbit with a first-rate crew of allies and antagonists. And when it comes to the latter category, few supporting characters have served the series narrative quite as well as Captain Paula McNichols. Portrayed by Stephanie Kurtzuba, McNichols first appeared in Season 10 of "Blue Bloods" as Eddie Janko-Reagan's (Vanessa Ray) no-nonsense, Reagan-hating boss.
Though the pair occasionally found common ground, McNichols turned up to play the perennial thorn in Eddie's side a couple more times between Seasons 10 and 12. She's played that part in a big way throughout Season 13 of "Blue Bloods" as well, with McNichols now calling the shots in Eddie's station house as the captain. Seems, however, that was not always the plan for McNichols, as Kurtzuba admitted the character was only supposed to be around for a couple of episodes.
Kurtzuba has made McNichols a recurring character to remember on Blue Bloods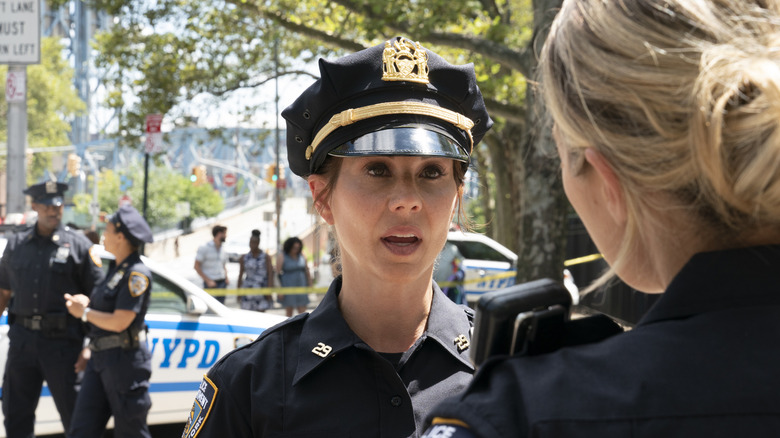 Patrick Harbron/CBS
Stephanie Kurtzuba made the above admission during a recent appearance on the MovieJunk podcast. "The Irishman" and "Tulsa King" star did so after gushing over how cool it is that she's getting recognized on the street by "Blue Bloods" fans despite her infrequent appearances. And Kurtzuba indeed went on to confirm that her arc on the series was initially supposed to be much shorter.
"I was invited on in Season 10 to do just a couple of episodes ... that was the plan," Kurtzuba said. "And they invited me back in [Season] 12, and I just went in for one-and-done." The actor then claimed that "Blue Bloods" showrunner Kevin Wade had his casting team reach out to see if Kurtzuba would be open to upping her episode count after that Season 12 spot. Per Kurtzuba, the casting agents told her reps, "We really like Stephanie. She fits really well in the dynamic we've established on the show and we want to bring her back a lot more next season."
As Kurtzuba noted, booking the recurring gig on "Blue Bloods" was a no-brainer. "I was really lucky [to] have been invited in [to the show's esteemed cast]," she told MovieJunk With a handful of appearances in Season 13, the actor continues to develop her hard-nosed character in genuinely compelling ways. McNichols is, naturally, still a thorn in the side of Eddie Janko-Reagan. But under their new working conditions, the ice is melting ever so slightly. With any luck, that means "Blue Bloods" fans will be seeing a lot more or McNichols moving forward.