What Happened To Zuum After Its Failed Shark Tank Attempt?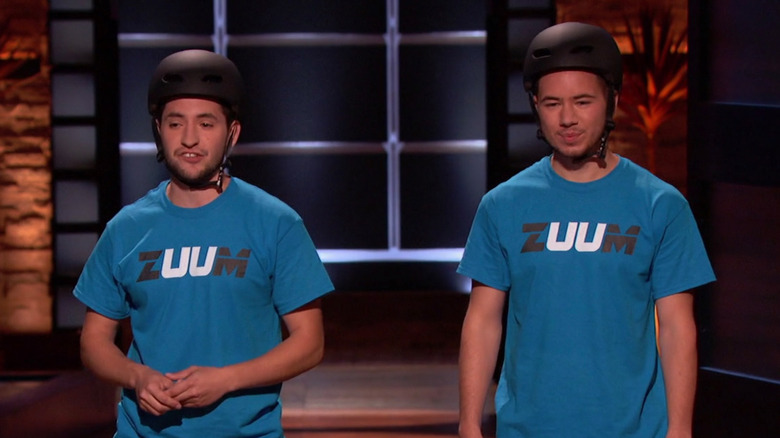 ABC/Hulu
One recurring category of products featured on "Shark Tank" is personal transportation devices. Over the show's 15 seasons, the sharks have considered investing in everything from Inboard Technology's motorized skateboards to Drive Suit's wearable vehicles to Slyde Handboards' enhanced bodysurfing boards.
A major reason why so many of these products have appeared on the show is because of the rising popularity of devices like electric scooters and motorized bikes, which has inspired entrepreneurs to try to come up with the next big thing. Chico Guerra and Mason Buechler were two such entrepreneurs. They went into the tank to pitch their company, Zuum, during the show's 11th season, with their episode airing on January 5, 2020.
Zuum shoes are described as "the Tesla of electric skates" (via Zuum Technologies), or as Guerra put it, they're "individual self-balancing platforms for your feet." They go up to an average of eight miles per hour, and their battery life lasts for an hour.
Guerra and Buechler asked for a $125,000 investment in exchange for a 20% equity stake in their company. However, Zuum's situation was a somewhat unique one, as far as "Shark Tank" pitches go. Guerra and Buechler didn't invent the balancing-shoe technology. That was a Chinese inventor. Guerra and Buechler set up Zuum to distribute Zuum shoes in the US. As the sharks quickly determined, Guerra and Buechler didn't have exclusive rights to the technology, either. In the end, the sharks all declined to invest, for different reasons. Mark Cuban and Kevin O'Leary didn't like their business plan. Lori Greiner thought there was too much big-brand competition from Segway. Barbara Corcoran didn't think they were passionate enough. And Robert Herjavec just didn't trust them with his money. 
So, did the sharks make a mistake?
Zuum shoes are still rolling on today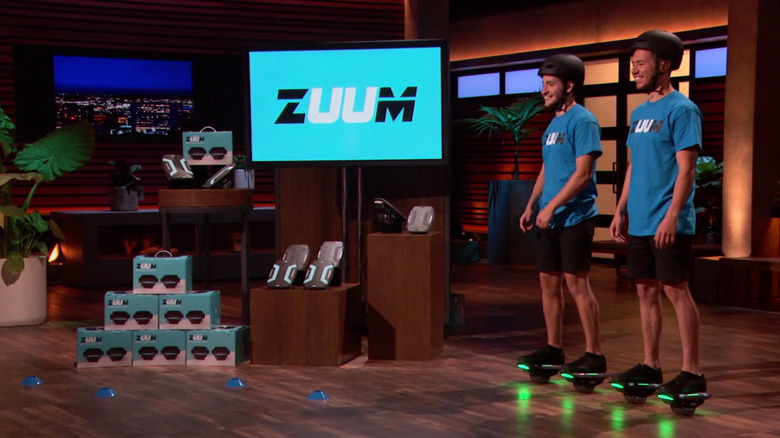 ABC/Hulu
First, some context. Per Footwear News, the company was founded in 2018. As Guerra explained during their pitch, the duo launched a Kickstarter to raise money for manufacturing in January 2019. That campaign raised $25,000. By the time they went into the tank, they had been around for less than two years. 
At that point, Guerra and Buechler's business plan was relatively simple. Had one of the sharks given them the $125,000, they would have used it to purchase inventory in order to fulfill orders. They also wanted to begin offering customizable Zuum shoes. All of their sales were to be done online, both from their website and from Amazon.
Today, it doesn't appear that the customization plan has come to fruition. However, Zuum shoes are still available at their website, Zuum Technologies, where they're currently on sale for $220, down from their usual price of $300. While Zuum Technologies is still in business, it doesn't appear to be a much bigger business than it was in 2020.