Kevin Costner's BTS Filming Drama Allegedly Upset Some Yellowstone Co-Stars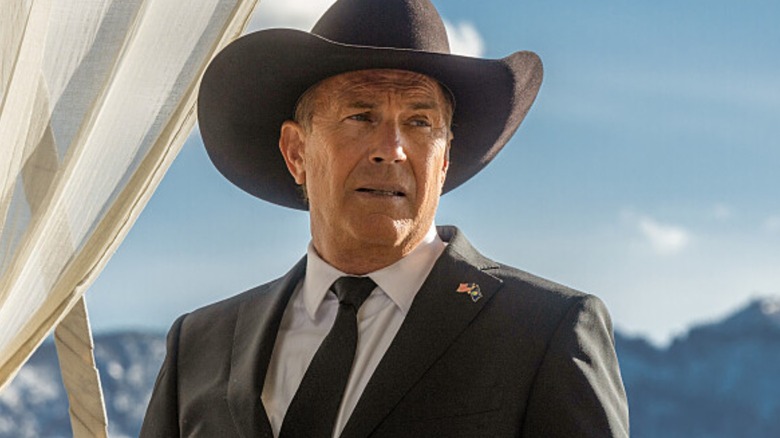 Paramount Network
Kevin Costner is a prime example of the trait of commitment when it comes to both the artistry and craft of film acting. After struggling in Los Angeles with a series of odd jobs, the performer won roles in several B-movies before making it big with roles in the hit films "The Untouchables," "Bull Durham" and "Field of Dreams" in the late '80s. After dedicating his life's work to providing compelling storytelling, the actor sat in the director's chair for 1990's "Dances with Wolves" and went on to win two Academy Awards for best director and best picture as one of the Western film's producers.
After years of box office triumphs, and a few infamous flops ("Waterworld," "The Postman"), Costner turned his skills to the small screen with his role as family patriarch John Dutton III in Taylor Sheridan's "Yellowstone." His performance is one of the boldest and most enigmatic of his long career, with his co-stars at one time offering praise for his on-set behavior. But these compliments grew few and far between as the fifth season of the drama unfolded and Costner's behind-the-scenes actions allegedly upset some of his fellow performers.
Costner's scheduling demands caused disruptions to his co-stars' filming timetables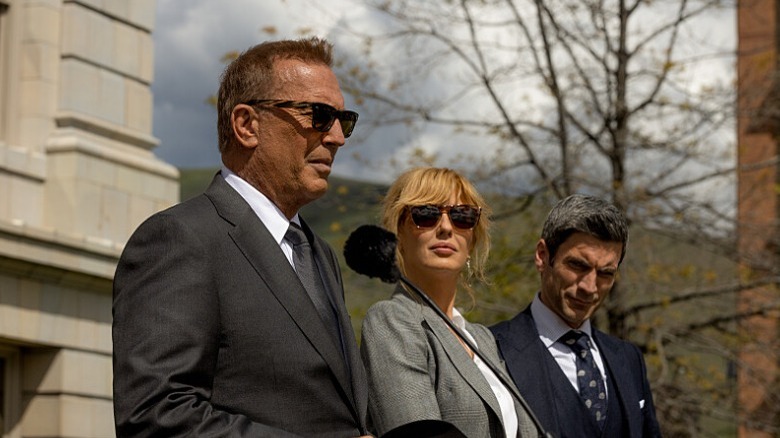 Paramount Network
According to Puck, Kevin Costner caused derision amongst his co-stars thanks to some demanding on-set behavior while filming Season 5 of "Yellowstone." According to the publication, Costner negotiated that the fifth season would be filmed in two distinct parts that offered an abbreviated filming schedule in each segment. This was apparently done to suit the star's shooting requests irrespective of his fellow actors and their schedules and commitments. 
The issue grew stronger once the star of "The Bodyguard" came down with COVID-19 during principal photography. It is alleged that the actor refused to prolong his shooting schedule to make up for the delay due to his illness. Instead, Costner noted to the cast and crew that his window for filming had come to an end, and thus forced his fellow actors to reconvene months later to shoot his scenes again — thereby eating into their schedules.
This is also the claim made by Taylor Sheridan, but Costner disputes the allegations entirely and acknowledged he was only following the terms of his contract. Per Marty Singer, one of Costner's attorneys: "The idea that Kevin was only willing to work one week on the second half of Season 5 of 'Yellowstone' is an absolute lie. It's ridiculous — and anyone suggesting it shouldn't be believed for one second." The litigator then added how the actor has always been impassioned about the series.
Things are murky between Costner and Yellowstone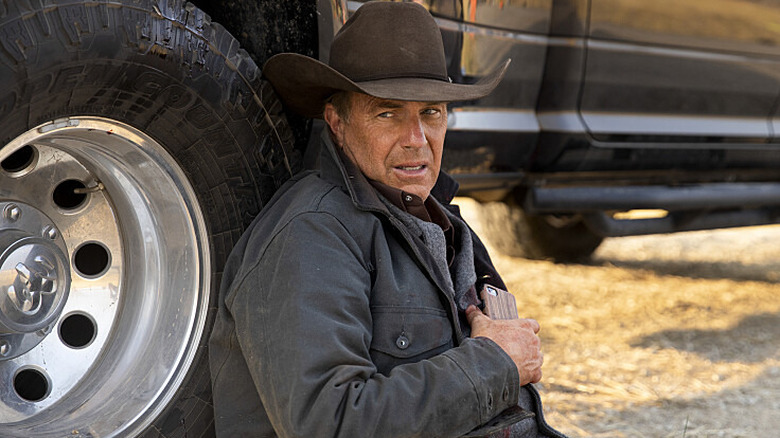 Paramount Network
The behind-the-scenes "Yellowstone" filming schedule controversy is just one element of a greater portrait regarding Kevin Costner's strained relationship with Taylor Sheridan's production. A report from Deadline indicated that Sheridan was frustrated by Costner's limited availability for "Yellowstone" due to his commitment to his own series of "Horizon" movies. The report further alleged that Paramount was moving to conclude "Yellowstone" at the end of its fifth season before developing yet another spin-off — this time with Matthew McConaughey as the lead rather than Costner. 
Deadline's report paints a grim picture regarding the future of Costner's segment of the "Yellowstone" franchise, though several other reputable sources have muddied the waters. Such a strategy conflicts with what star Cole Hauser previously told Entertainment Tonight about the longevity of the series and suggests that the issues surrounding Costner may have precipitated Sheridan ending "Yellowstone" early. However, The Hollywood Reporter has noted that it spoke to sources who indicated that Costner departing would not mark an immediate ending to the series. Meanwhile, Paramount Network has suggested that both "Yellowstone" and Costner's time on the show are due to continue. "We have no news to report," a Paramount Network spokesperson said to Deadline in response to its report. "Kevin Costner is a big part of 'Yellowstone' and we hope that's the case for a long time to come."