The Only Two TV Credits President Jimmy Carter Booked (One Was A Beloved Sitcom)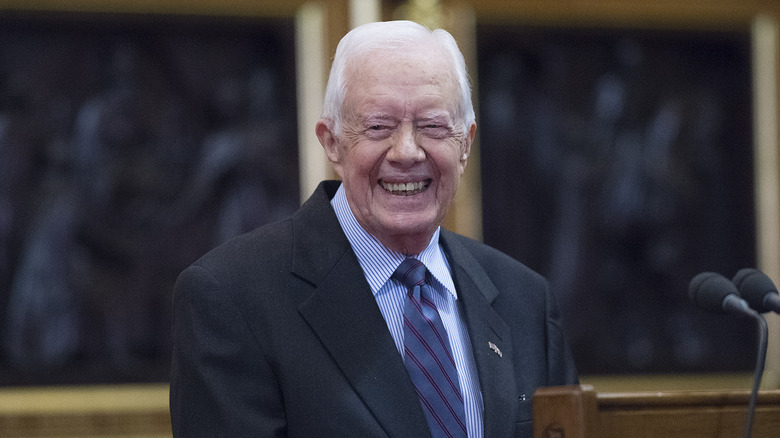 Wpa Pool/Getty Images
Former President Jimmy Carter has a long list of political credits to his name. During his four years in office from 1977 to 1981, he not only negotiated two treaties between the U.S. and Panama but ended a decades-long war between Egypt and Israel. Though he faced high unemployment rates during his time in office, he also restarted the country's diplomatic relationship with China and signed an arms reduction treaty with the Soviet Union. 
But Carter, America's oldest living president, wasn't just a political force. The prolific professor, diplomat, author, and non-profit founder was also an occasional player in the world of Hollywood — just like Ronald Reagan, who eventually beat Carter in the 1980 presidential election. Though Carter recently entered hospice care after years of surviving health scares, he actually had two high-profile roles during his heyday — one being on a major '90s sitcom. And the role couldn't have been more perfect.
Carter made a hilarious appearance on Home Improvement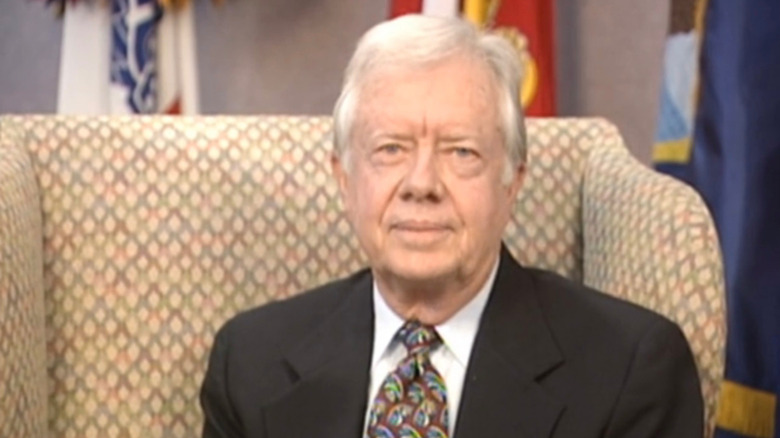 ABC
Former President Jimmy Carter has only two major TV credits to his name, but both are fairly appropriate for the political figure. In the 2000 PBS docuseries "The American President," Carter became the subject of the doc's investigation into America's highest office. Though the series covered many past presidents who had already passed away, Carter — in addition to George Bush, Gerald Ford, and Bill Clinton – was able to play himself.
But while Carter's appearance in "The American President" was illuminating, he entertained viewers even more with his appearance in the classic '90s sitcom "Home Improvement." In a 1994 episode titled "The Eve of Construction," the former president once again appeared as himself, but with a plug for Habitat for Humanity — his longstanding passion project. After Tim (Tim Allen) competed with Al (Richard Karn) and Jill (Patricia Richardson) to see who could build a Habitat for Humanity faster, Carter said in a videotaped message, "Al and Jill, the house you built is a perfect example of what can happen when good people band together for a common goal. And Tim ... well, what can I say? Crews are working around the clock to repair the house you built."
It was a hilarious slight against Tim and a typically diplomatic chiding from the personable former president. In other words, it was yet another perfect footnote for Carter's long and impressive career.