What Has Wallace Langham Been Up To Since Leaving CSI: Vegas?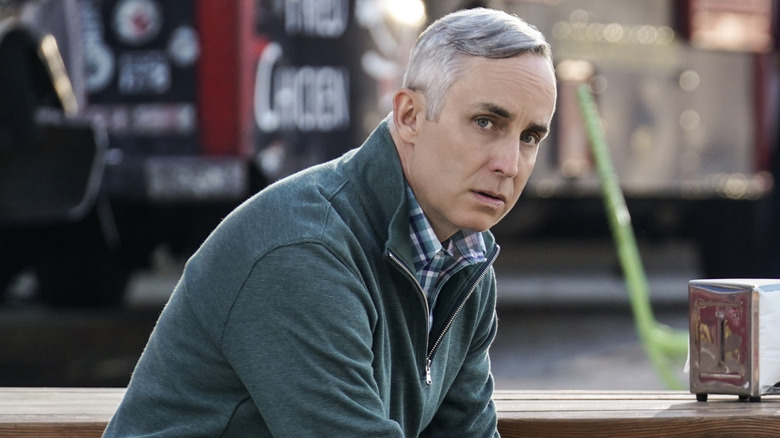 Cliff Lipson/CBS
"CSI: Vegas" deserves credit for bringing back many fan-favorite "CSI" characters from the original series, but there's no denying that they tend to not stick around for very long. The sequel series underwent a fairly radical shift in cast members in the transition from its first season to its second, with many veteran members of the franchise who initially returned taking their leave once again. Just one of the various faces to make their departure after "CSI: Vegas" was Wallace Langham, who portrayed CSI Technician David Hodges throughout the original series and recurred in the revival.
While Langham has seemingly moved on from the "CSI" franchise in full since he left "CSI: Vegas" in 2021, the actor hasn't been resting on his laurels. In fact, the TV star has gone on to appear in a recurring and guest star capacity across several other notable TV shows, along with another major credit as a member of the main cast for a beloved HBO drama.
Langham has stayed busy
Wallace Langham's post-"CSI: Vegas" credits run the gamut from lighthearted comedies to gritty crime dramas. To start, the actor guest starred in an episode of "Grand Crew," NBC's wine-night-centric sitcom starring names like Echo Kellum and Nicole Byer. He also continued his recurring role on Apple TV+'s "Physical" as Auggie Cartwright, the brand owner for main character Sheila's aerobics business.
Interestingly enough, while Langham may have departed one procedural franchise in the form of "CSI: Vegas," he popped up on another giant of the genre soon after. The actor ended up making a guest appearance in a Season 1 episode of "The Rookie: Feds," though his character decidedly wasn't on the side of justice for this go-around. Langham guest starred in the "The Rookie: Feds'" shocking fall finale as Allen Brady, a man who the FBI team soon learns is embroiled in a treasonous conspiracy.
Finally, there's Langham's meatiest credit of all since his time on "CSI: Vegas." The actor joined the cast of HBO's "Perry Mason" for its second season. Starting with this installment, he stars in the period piece crime drama as attorney Melville Phipps, who crosses paths with the show's titular lawyer as legal counsel to a rich oil baroness. Suffice to say, Langham has demonstrated quite a bit of acting range since his exit from the "CSI" franchise. As for what other major appearances the star has lined up, only time will tell.