Where You've Seen The Cast Of Perry Mason Before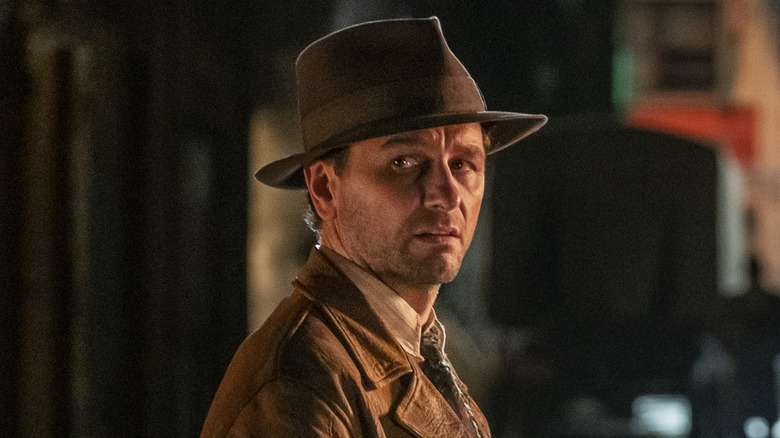 HBO
Every good hero needs an origin story, and almost a century after his first appearance in Erle Stanley Gardner's pulp novel, "The Case of the Velvet Claws," Perry Mason is getting one of his very own. The famed literary and televisual gumshoe-turned-defense attorney has appeared in 82 novels, a handful of short stories, several TV films, and, most famously, the CBS legal drama series in the '50s and '60s starring Raymond Burr.
A few years ago, HBO Max decided that the protagonist of the third all-time best-selling book series had enough lingering cultural cache to warrant an origin story. The first season of the new "Perry Mason," starring Matthew Rhys as the eponymous flatfoot, premiered in June of 2020 to generally favorable reviews with critics praising the show's performances, 1930s production design, and engaging mystery. The show was nominated for two Primetime Emmy awards during its initial eight-episode run — lead actor for Matthew Rhys and supporting actor for John Lithgow — and the series premiere garnered HBO's highest ratings since 2018.
Boasting a star-studded cast of familiar faces and the scriptural stylings of "The Knick" writers Jack Amiel and Michael Begler, Season 2 of the mystery series is set to premiere on HBO Max on March 6th of 2023. Before Perry Mason hits the streets of LA to solve his next mystery, we're helping you solve the mystery of where you've seen the cast of "Perry Mason" before.
Matthew Rhys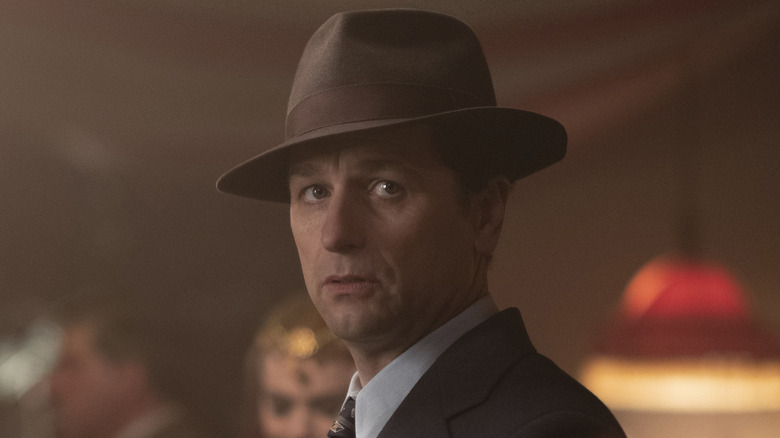 Merrick Morton/HBO
Emmy-award winner Matthew Rhys is the latest in a long string of actors to take on the role of Depression-era private eye Perry Mason. In an interview with GQ following the premiere of Season 1, Rhys revealed that, as a fan of noir, playing such a famous hardboiled detective was like "living out an exotic American childhood dream."
Born in Cardiff, Wales, Rhys made his acting debut in the 1997 British film "House of America." In 2003, he brushed shoulders with another famous TV detective when he performed on an episode of "Columbo." The following year, he landed one of his first major roles, playing the lead role of Nick Edwards in the crime comedy "Fakers." In 2008, he played Welsh poet, Dylan Thomas, in the romance film "The Edge of Love."
In 2013, he began starring in the FX espionage thriller "The Americans" alongside his real-life partner Keri Russell. For his performance of Russian spy Philip Jennings, Rhys was nominated for three Primetime Emmy Awards, winning his first in 2018. During his time on "The Americans," he also appeared in the Bradley Cooper comedy-drama "Burnt" and played Daniel Ellsberg in the 2017 biographical drama "The Post" alongside Meryl Streep and Tom Hanks.
After the "Americans" ended in 2018, Rhys played Lloyd Vogel in the 2019 film "A Beautiful Day in the Neighborhood," reuniting with his "The Post" co-star Tom Hanks. He has also lent his voice to episodes of the animated shows "Archer," "BoJack Horseman," and "Tuca & Bertie." In addition to his role on "Perry Mason," Rhys voices Riley Greene on "Gremlins: Secrets of the Mogwai" and has an unspecified role in the comedy thriller "Cocaine Bear."
Shea Whigham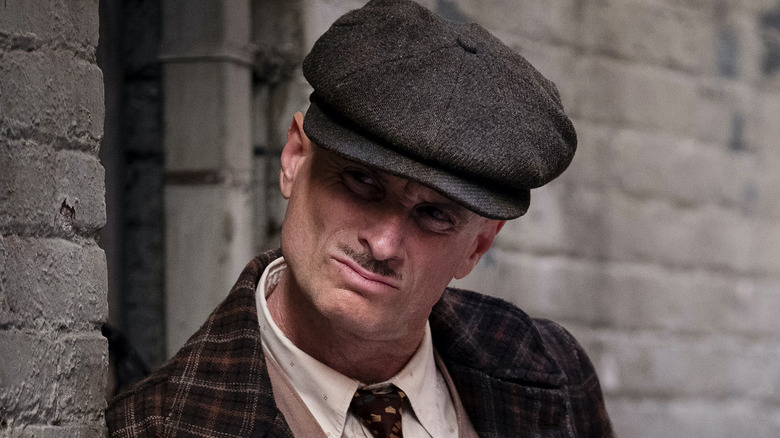 Merrick Morton/HBO
Veteran character actor Shea Whigham plays Perry Mason's partner Pete Strickland. Talking with reporters from Collider, Whigham discussed his role in "Perry Mason" and revealed that some of his favorite roles are in period pieces like the 1930s-set mystery series.
Whigham got his start in the New York theatre scene in the late '90s and, after graduating from SUNY Purchase, started a theatre company, the Rorschach Group with his college roommate (via TJC). After working as an actor in New York for several years, Whigham got his big break when he was cast in the war drama "Tigerland" alongside Colin Farrell.
Whigham has worked regularly in film and television ever since, mostly as a character actor in smaller, supporting roles. In 2009, he played Stasiak in "Fast & Furious," a role he would reprise in "F9: The Fast Saga" in 2021. In 2012, he appeared in the David O. Russell comedy-drama "Silver Linings Playbook" and the following year worked with Martin Scorsese in "The Wolf of Wall Street."
On television, Whigham has lent his talents to several prestige dramas. He played Eli Thompson on the mafia drama show "Boardwalk Empire," and appeared in the 3rd season of the HBO crime anthology series "True Detective." In 2017, he played Moe Dammick in the third season of the FX crime anthology show "Fargo" and played Agent Duffy in two episodes of "Narcos."
Most recently, Whigham appeared in the miniseries "Gaslit" as G. Gordon Liddy, and in the Netflix action thriller "The Gray Man." He is also announced for a role in the upcoming "Mission Impossible: Dead Reckoning."
Eric Lange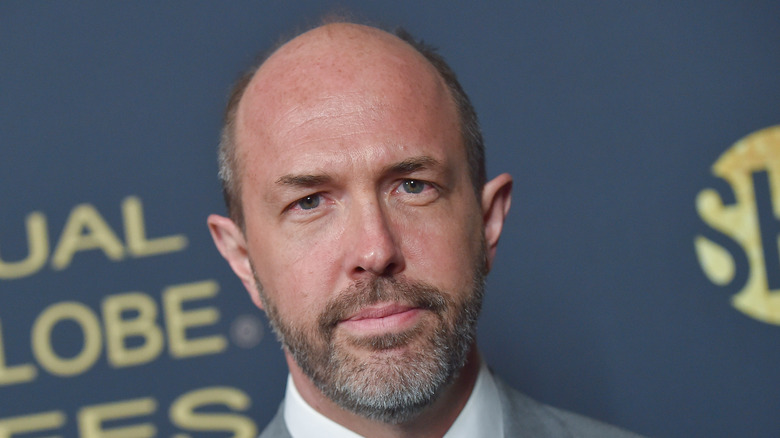 DFree/Shutterstock
Every private eye needs some contacts in their local police department, and Perry Mason has LAPD homicide detective Gene Holcomb, played by Eric Lange. Lange was a recurring cast member in Season 1, but he has been promoted to a series regular for the show's second season.
In the early 2000s, Lange worked primarily in television, appearing in one-episode roles in shows like "Firefly," "The Shield," "The West Wing," and "The Bernie Mac Show." In 2006, he played Bob Edwards in the crime biopic "The Bondage" and landed roles in "NCIS" and "CSI: NY."
In 2009, he had a sizable role in the 5th season of "Lost," where he played the ruthless DHARMA Initiative researcher Stuart Radzinsky. In 2009, he was cast as Erik in the IKEA-sponsored web-series "Easy to Assemble," and the following year joined the cast of the Nickelodeon show "Victorious." In the late 2010s, he appeared in a number of high-profile film projects including 2017's "Nightcrawler" and the neo-western thriller "Wind River."
Lange's career has been clicking recently, with appearances in the crime series "Narcos," alongside his Parry Mason co-star Shea Whigham, and its spin-off "Narcos: Mexico." In 2020, he played Senator Denton in "Antebellum" and Peter Quail in "The Empty Man." His most recent role was as Ralph Seeger in the Netflix action comedy "Day Shift." In addition to Season 2 of "Perry Mason," he is set to appear in the mystery film "Caddo."
Juliet Rylance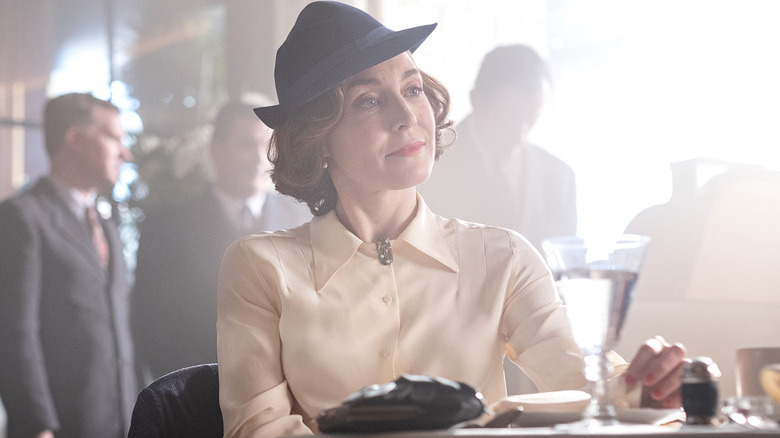 Merrick Morton/HBO
One of a handful of characters plucked from the Erle Stanley Gardner novels on which the show is based, Della Street is played by British actress Juliet Rylance. Della Street is the secretary of Mason's employer, E.B. Jonathan. In an interview with Gold Derby, Rylance revealed her excitement to reunited with writers Amiel and Begler, with whom she previously worked on the period medical drama "The Knick." 
Rylance's Hollywood career is relatively nascent, but she's already made quite a name for herself. A Royal Academy of Dramatic Art graduate, Rylance got her start in British theatre appearing in productions at Shakespeare's Globe in London and on Broadway. Her first major film role was in the 2012 horror film "Sinister." She followed up this debut with a part in the beloved Greta Gerwig and Noah Baumbach indie dramedy "Frances Ha" the same year.
In 2014, she played Eva in the comedy-drama "Days and Nights," the directorial debut of her former theater co-star Christian Camargo. The following year, she played chemist Marie Curie in the TV miniseries "The Mystery of Matter: Search for the Elements." Her first television role, however, came the previous year when she joined the cast of "The Knick," as Cornelia Robertson. In 2016, she played Alison Hawthorne-Price in the crime drama "American Gothic." Her most recent role was in the 2022 drama "Jill."
Chris Chalk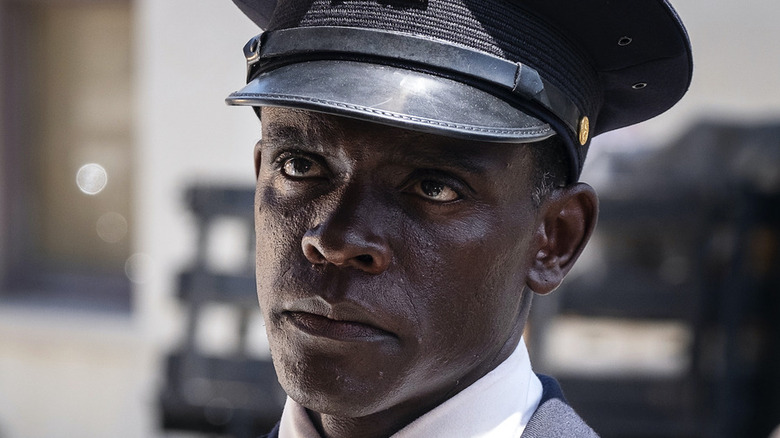 Merrick Morton/HBO
Another one of Mason's constabulary contacts is LAPD beat cop Paul Drake, played by Chris Chalk. Despite being a normal boy in blue, Drake shows a keen eye for detective work and is of great help to Mason in Season 1. In an interview with Esquire, Chalk confessed he didn't have much initial interest in the "Perry Mason" reboot, but after reading the script and meeting with the production team, he jumped at the opportunity to play a well-rounded Black character that was different from a lot of similar roles he had played where the character is just "a prop for white growth."
Chalk got his start in the New York theater scene before transitioning to film with a small role in the 2005 film version of the musical "Rent." Since then, he's appeared in small roles in shows like, "Law & Order," "Nurse Jackie," and "Justified." He also did some voiceover work for the video game "Grand Theft Auto IV." In 2013, he played a part in Steve McQueen's "12 Years a Slave," which won the Academy Award for best picture.
Chalk's major television roles include Tom Walker in the espionage thriller "Homeland," and Gary Cooper in the Aaron Sorkin drama "The Newsroom." He's also played Lucius Fox in the "Batman" prequel series "Gotham." In 2017, he played Officer Frank in Kathryn Bigelow's historical drama "Detroit," and in 2019 played Colonel Abdel Ahmed in "The Red Sea Diving Resort." His recent roles include Marcus in the crime drama "Shining Girls," and Ben in the 2021 blockbuster "Godzilla vs. Kong." In addition to Season 2 of Perry Mason, he is set to appear as Chance Charles in the upcoming film "Our Deadly Vows."
Tatiana Maslany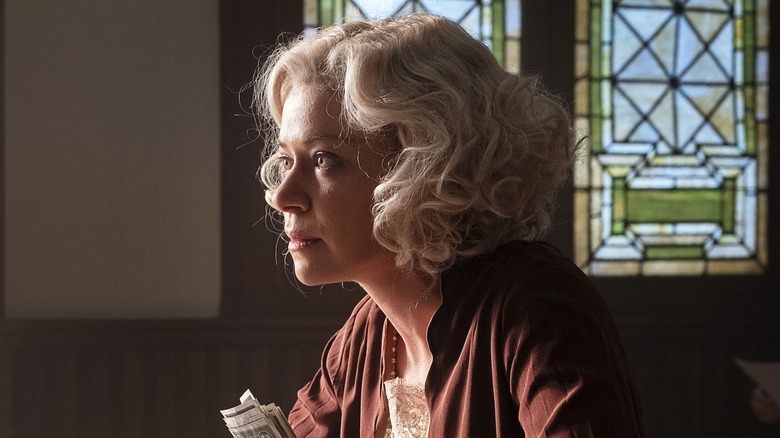 Merrick Morton/HBO
The role of the Radiant Assembly of God preacher and leader Sister Alice McKeegan is played by Canadian actress Tatiana Maslany. Although it seems unlikely Sister McKeegan will return to "Perry Mason" after the conclusion of Season 1, in an interview with Gold Derby, Maslany said that she loved playing such funny and interesting character and that, "It was a joy to step into her shoes."
Maslany got her start on the Canadian TV show "2030 CE." She worked regularly in television until she landed a role as the voice of a dead girl in David Cronenberg's 2007 crime film "Eastern Promises" which kickstarted her Hollywood career. She would go on to appear several films in the coming years including "Defendor" in 2009 and "The Vow" in 2012. In 2013, she landed the lead role in the BBC sci-fi drama "Orphan Black," as Sarah Manning — as well as her numerous clones — for which she won a Primetime Emmy Award for outstanding lead actress in 2016.
A year after the end of "Orphan Black," she co-starred with Nicole Kidman in the crime drama "Destroyer" and lent her voice to the animated comedy show "Animals" on HBO. After her role on "Perry Mason," Maslany returned to the "Orphan Black" world, joining the cast of the podcast series "Orphan Black: The Next Chapter." She also plays the lead role in the Marvel show, "She-Hulk: Attorney at Law" which wrapped up its first season in 2022. She is set to star in the upcoming sci-fi horror film "Green Bank" which is currently in pre-production, and the TV series "Invitation to a Bonfire," which is scheduled for release this year.
John Lithgow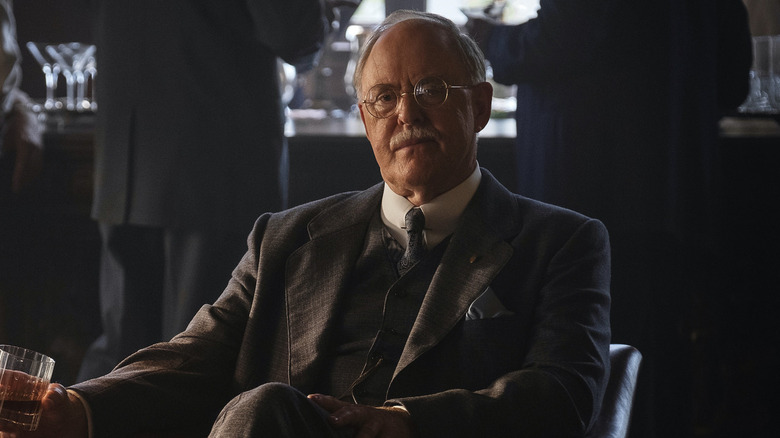 Merrick Morton/HBO
John Lithgow plays Perry Mason's employer, struggling attorney E.B. Jonathan. Unfortunately for fans of this illustrious actor, Lithgow is not scheduled to return to "Perry Mason" for Season 2, but in an interview with Awards Focus, he had nothing but good things to say about his time on the show stating that because of the excellent writing, "everything came easy."
Lithgow's decades-long career spans theater, film, television, and literature. He's won six Emmy Awards, two Tony Awards, has been nominated for four Grammy's, and has been nominated for an Academy Award twice. His on-screen career began in 1972 with a role in "Dealing: Or the Berkeley-to-Boston Forty-Brick Lost-Bag Blues," and he made his Broadway debut the following year in "The Changing Room," which netted him his first Tony. Early in his film career, Lithgow has cast Bob Fosse's "All that Jazz," Brian De Palma's "Blow Out," and the George Roy Hill comedy-drama "The World According to Garp." In the '80s, he added Rev. Shaw Moore in "Footloose" and George Henderson in "Harry and the Hendersons" to his resume. From 1996 to 2001, he played Dick Solomon on the sitcom "3rd Rock from the Sun," which won him his first three Emmys for best actor in a comedy series.
Lithgow has remained just as prolific in the new millennium, providing the voice of Lord Farquaad in "Shrek" and playing Arthur Mitchell in the fourth season of "Dexter." In 2014, he appeared in Christopher Nolan's sci-fi epic "Interstellar," and he played Winston Churchill in the first three seasons of Netflix's "The Crown." He is set to appear in the upcoming Martin Scorsese film "Killers of the Flower Moon."
Sean Astin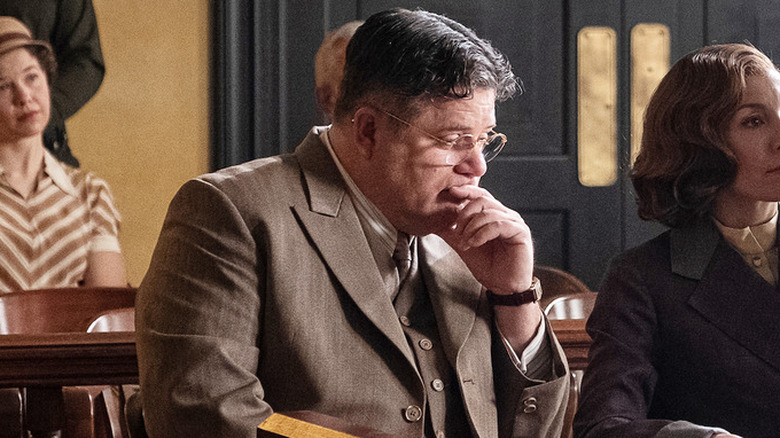 Merrick Morton/HBO
Sean Astin is set to play Sunny Gryce in Season 2 of "Perry Mason." At the moment, not much is known about the role Astin will take on, but according to reporting from Variety, Sunny is "the embodiment of the American Dream ... to a fault."
Astin's first major film role came early in his career when he played Mikey in the 1985 film "The Goonies," alongside several other big names in Hollywood including Josh Brolin, Corey Feldman, and Ke Huy Quan. In 1992, he appeared in the comedy film, "Encino Man," and the following year, played the title role in the sports drama, "Rudy." He continued to work regularly during the 1990s, appearing in a TV film version of the Kurt Vonnegut short story "Harrison Bergeron," and in "Courage Under Fire," with Denzel Washington. In 1994, his short film "Kangaroo Court" was nominated for an Academy Award for best short film.
In 2001, he landed what is perhaps his best-known character — Samwise Gamgee in "Lord of the Rings: The Fellowship of the Ring," a role he would reprise in the two subsequent films in the franchise. After "The Lord of the Rings," Astin appeared in the Adam Sandler comedies "Click" and "50 First Dates" and had a main role in the 5th season of "24." In 2017, he played Joyce Byer's boyfriend Bob Newby in Season 2 of Netflix's "Stranger Things." He has numerous upcoming projects, including a sequel to "The Goonies," which is currently in development.
Jen Tullock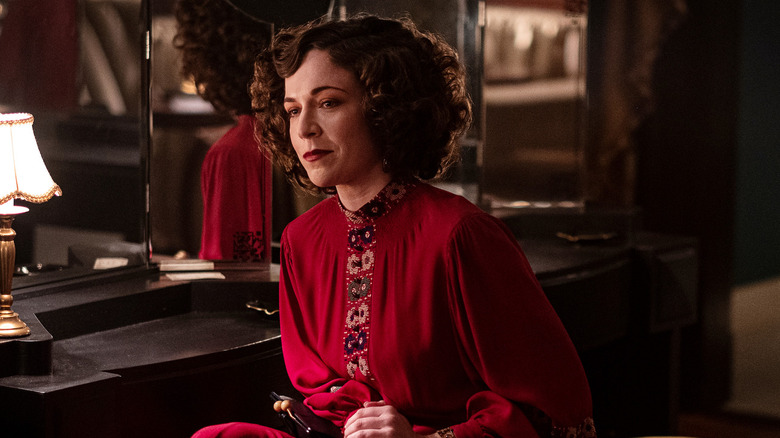 Merrick Morton/HBO
Another addition to the Season 2 cast of "Perry Mason," Jen Tullock is set to play Anita St. Pierre, a romantic interest for Della Street. When talking about the role in an interview with Hollywood Reporter, Tullock, who is openly gay in real life, discussed the "enormous responsibility" she felt at portraying a period lesbian romance.
Tullock has been in the industry since at least 2011. She started off acting in short films and appeared in the 2014 indie web comedy "Lofty Dreams" and writing and starring in the online series "Disengaged" before appearing in a Season 9 episode of Larry David's "Curb Your Enthusiasm." She's also in an episode of "SMILF."
She made her feature film debut in the 2018 Netflix drama "6 Balloons." The following year, she acted in the comedy-drama "Before You Know It," which she co-wrote with her "Disengaged" co-star Hannah Pearl Utt. The film was nominated for the Grand Jury Prize at the Sundance Film Festival. The following year she starred in the interactive murder mystery series "The Coop."
Before being cast in "Perry Mason," Tullock played Wendy in the Apple TV+ film "Spirited" last year. She also plays the sister of Adam Scott's lead character in the acclaimed Apple TV+ sci-fi suspense "Severance."
Wallace Langham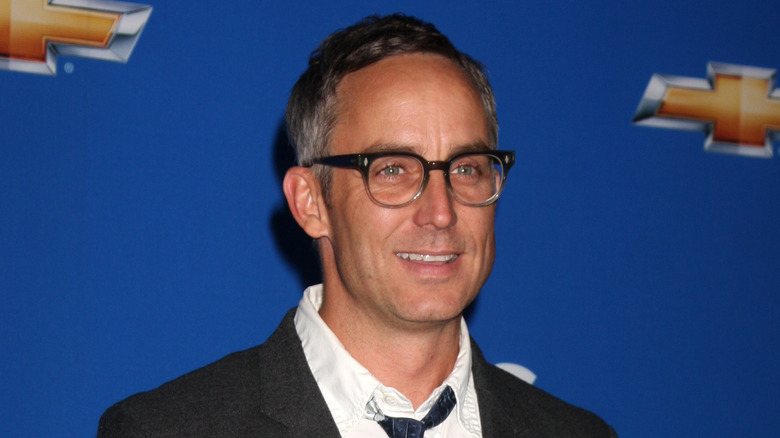 Kathy Hutchins/Shutterstock
Wallace Langham will also join the "Perry Mason" cast in March as a recurring character. He is set to play Melville Phipps, the attorney for a wealthy oil baroness.
Langham has stayed busy since beginning his career in 1985 and boasts 135 movie and television credits. Originally known as Wally Ward, his first role in a major project came about in the John Hughes comedy "Weird Science." In 1986, he appeared in seven episodes of "Fast Times," the television adaptation of "Fast Times at Ridgemont High." During the late '80s and early '90s, he worked primarily in TV, appearing in numerous shows including "The Twilight Zone," "Matlock," and "21 Jump Street."
From 1992 to 1998, Langham played Phil on "The Larry Sanders Show," alongside Gary Shandling and Jeffery Tambor. He landed his most famous role in 2003 when he joined the cast of "CSI" as David Hodges. He appeared in 247 episodes of the police procedural and reprised the role in "CSI: Vegas" in 2021. He's no slouch in the film front either. His film roles include appearances in "Little Miss Sunshine," "The Social Network," "Hitchcock," and "Draft Day."
Langham's more recent roles included Dr. Granger in the Oscar-nominated "Ford v Ferrari," and small roles in shows like "The Boys," "Veronica Mars," and "For All Mankind," Before being cast in Season 2 of "Perry Mason," Langham played Auggie Cartwright in the Apple TV+ comedy-drama, "Physical."
Paul Raci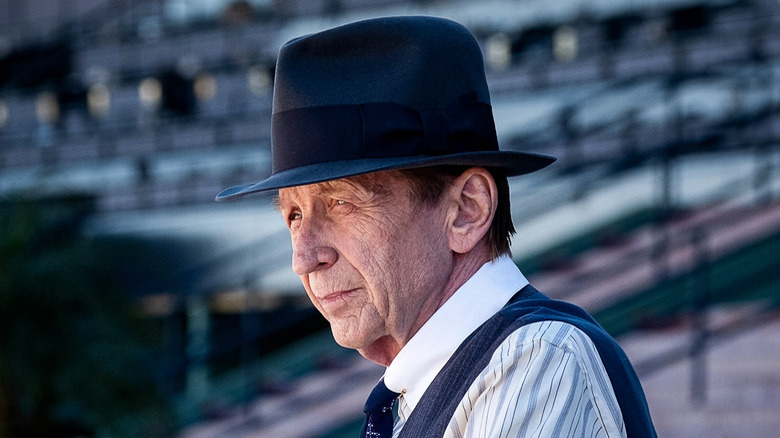 Merrick Morton/HBO
Lydell McCutcheon, a rich LA power broker is played by character actor Paul Raci. Raci was added to the Season 2 cast in January of this year.
Raci got his start in the industry playing a waiter in 1987's "Rent-a-Cop." His television debut came in 1992 when he appeared in two episodes of "Baywatch." He appeared mostly in small roles in film and television, including the role of Bob Silver in the 2004 boxing drama "Fighting Tommy Riley." In the mid-2000s, he popped up in featured roles in several television shows including "Scrubs," Heroes," and "Parks and Recreation."
More recently, Raci appeared in the Zach Galifianakis comedy series "Baskets," and the Billy Bob Thornton legal drama "Goliath." His biggest role to date was Joe, the deaf leader of a rehab clinic in the critically acclaimed 2019 film, "The Sound of Metal." For his performance, Raci was nominated for the Academy Award for best supporting actor. His most recent role before joining the cast of "Perry Mason" was in the 2022 Western film "Butcher's Crossing." His upcoming projects include "The Secret Art of Human Flight," and "The Mother," both of which are currently in post-production.
Stephen Root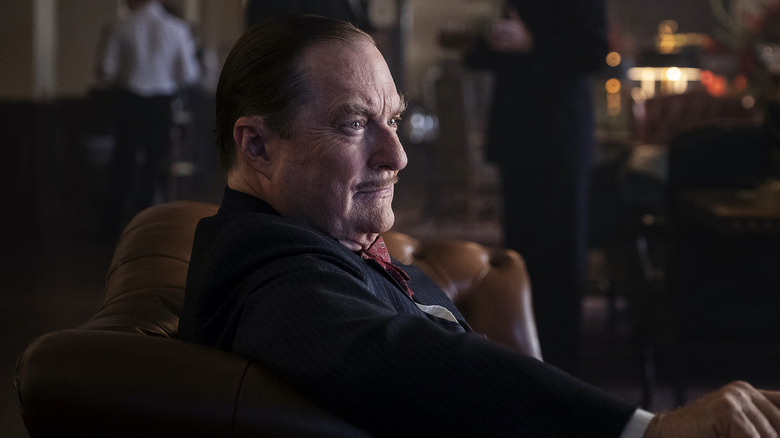 Merrick Morton/HBO
The Los Angeles County district attorney Maynard Barnes is played by another versatile and long-working character actor, Stephen Root. With more than 250 credits to his name, beginning with a brief role as a DEA agent in "Crocodile Dundee II," we'd be surprised if you didn't recognize him from something.
In 1991, he appeared as Captain K'Vada in two episodes of "Star Trek: The Next Generation" and played two different characters in the original "Night Court" the following year. His film appearances in the 1990s include "Robocop III," "Dave," and "Night of the Scarecrow." Root also went on to appear as Mr. Lager, the bank manager who fields Kramer's greeting complaints, in "The Invitations" episode of "Seinfeld." He also had a starring role as eccentric media mogul Jimmy James in the '90s sitcom "NewsRadio." You might also recognize his voice from the animated comedy "King of the Hill," in which he voiced multiple characters.
One of Root's most famous roles came along in 1999 when he played the terminally overlooked pencil pusher Milton in the cult comedy classic "Office Space." The following year he played the radio station man who first records the Soggy Bottom Boys in the Coen Brothers' film "O Brother, Where Art Thou?" Another iconic role arrived in 2004 when he played Gordon in the sports comedy "Dodgeball: A True Underdog Story." In 2021, he reunited with Joel Coen to play Porter in "The Tragedy of Macbeth."
Root's career shows no signs of slowing down. He currently plays Monroe Fuches in HBO's dark comedy series "Barry," which wrapped its third season in 2022. He has several projects in development, including a "King of the Hill," revival.