Mila Kunis Had To Reclaim Her Jackie Voice For That '90s Show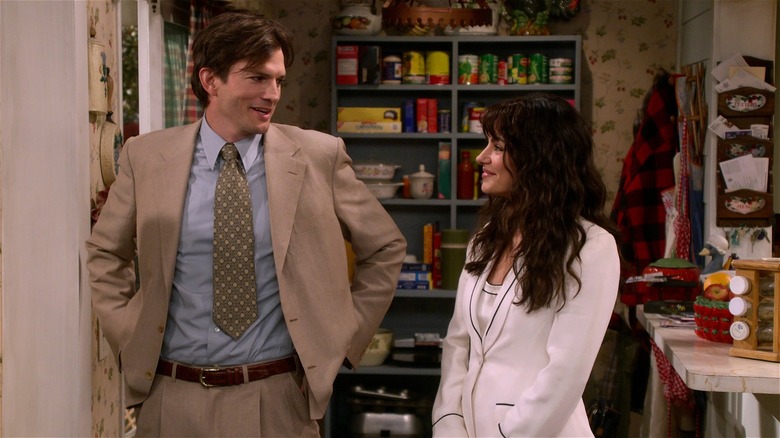 Netflix
Television show revivals are dime a dozen in recent years, but occasionally, some shows live up to the original. Netflix's sequel to "That '70s Show" takes place a decade and a half following the series finale, aptly entitled "That '90s Show." Following the exploits of Eric (Topher Grace) and Donna's (Laura Prepon) daughter, Leia (Callie Haverda), there were many things that fans of the original were excited for. Red (Kurtwood Smith) and Kitty (Debra Jo Rupp) remain the authority figures everyone wishes they had, with their trademark mix of tough love and emotional support.
But one of the main reasons fans have tuned in is to see how their favorite characters have been getting on in the intervening years. Clearly, Eric and Donna have had their happily ever after, but what about the rest of the crew? Fans get their answer at the end of Episode 1 when we learn that Kelso (Ashton Kutcher) and Jackie (Mila Kunis) are getting married (again) — despite Kunis' issues with her character arc. But whether acceptable or not, Jackie and Kelso bickering together again is classic "That '70s Show." As is Jackie's trademark voice that helped define the character to begin with.
The complexities of Jackie weren't easy to replicate
As spoiled as she is confident, Jackie adds a certain charm to the basement circle that would otherwise be lacking. Part of these charms is her demanding voice she uses to talk about herself and fight with Kelso. When she appears in "That '90s Show," nothing has changed since the '70s. Once again, she has found love with her high school boyfriend and continues to rule him with an iron fist. But as familiar as the character may be to fans, the same isn't always the case with the actors who portrayed them. The legacy actors were more than happy to reprise their roles, but Debra Jo Rupp confessed exclusively to Entertainment Tonight that slipping into Jackie wasn't second nature for Mila Kunis.
"Mila had to find Jackie again," Rupp recalled. "It's so far away from who she is now, so it took her a couple of runs there to get back into the Jackie mode." Since "That '70s Show" ended in 2006, Kunis has had a full career that has varied from her early role. She has trekked across a dystopian wasteland in "Book of Eli" and explored residual trauma in the Netflix release "Luckiest Girl Alive." And to her credit, she isn't the only actor from her old sitcom with a similar blind spot.
"I don't remember shooting this," Ashton Kutcher revealed when watching an old scene for Vanity Fair. "It was 25 years ago."