The Witcher's Joey Batey Says Geralt And Jaskier's Friendship Was Effortless Both On And Off Screen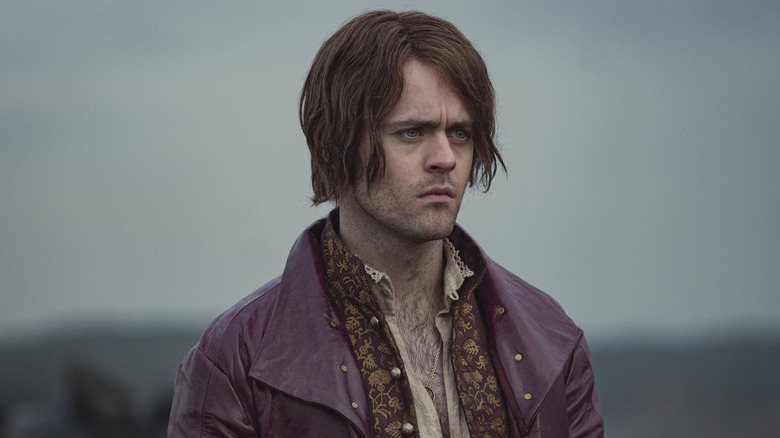 Susie Allnut/Netflix
When two actors click off-screen, that will likely seep into what occurs on-screen. In other words, a bond between co-stars can positively influence their performance and add to their chemistry during their shared scenes. In Netflix's "The Witcher," there was an overall harmonic relationship between the cast members which is visible in the final product. It is easy to tell from interviews that the actors get along with one another and, therefore, work well together.
In Season 2, for instance, Anya Chalotra had to work with Eamon Farren as their characters, Yennefer and Cahir, go on the run together after the former saves the latter from execution. According to what the actress told The Face, she had one of the best relationships on and off set with Farren. Although their characters antagonize one another at times, it is clear from their interactions that both are in sync and highly compatible as professionals and individuals.
Another great connection between cast members was Joey Batey and Henry Cavill, who play the hilarious bard Jaskier and the brooding monster-slayer Geralt of Rivia.
Toss a coin to your Witcher bestie
Katalin Vermes/Netflix
Geralt and Jaskier are total opposites. Geralt can be surly and aloof, with a serious demeanor; on the other hand, Jaskier is the life of the party, that one guy who'll pick up his lute and sing his heart out whether you wanted to hear him or not. However, this unlikely duo grow to become genuinely good friends. The TV series adds more context to their meeting that was not in Andrzej Sapkowski's books. While some fans believe their on-screen backstory strays too far from the original source, others appreciate it. "I kind of like it," A Redditor wrote, referring to the Witcher and bard's friendship. "It's not accurate AT ALL, but I like their dynamic." Another fan did not mind the rocky start to their friendship, saying Geralt would likely not get along with someone so eccentric immediately.
Indeed, the dynamic between Geralt and Jaskier is a particular highlight of the show. When asked about the creative process of establishing that friendship bond, Joey Batey told August Man: "If I'm completely honest, there wasn't too much of a creative process, and that's mostly due to the fact that Henry is an absolute delight. When we first met for our rehearsals in season one, we were already having a laugh within five-ten minutes. It was an easy friendship to develop."
The actor added, "Playing characters like Jaskier and Geralt and finding the humor within these characters whilst playing them as truthfully as possible have been effortless in many ways. We developed an almost telepathic sort of link between the two. Whenever we needed to get a gag or get a joke out of something, Henry would be very collaborative in putting up with a lot of what I do." 
Cavill will be dearly missed by all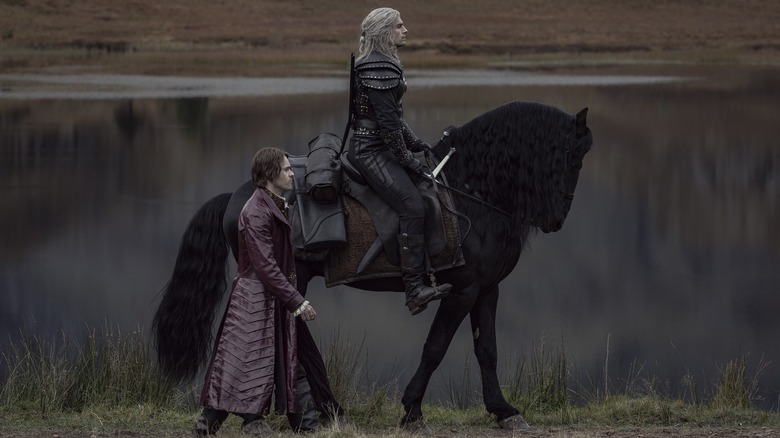 Jay Maidment/Netflix
For the most part, fans were disappointed to find out Henry Cavill would be recast in the fantasy-adventure series after Season 3. One wrote on a Reddit thread how the actor did his very best to do the role justice and that his departure is encouraging for the fact that it has to do with his love and care for the characters and the world created by Sapkowski. 
But it's not just the fans that will miss Cavill. "We're all gonna miss him," Joey Batey said at a "The Witcher: Blood Origin" event. The actor also praised Cavill's performance during the upcoming third season. Not only was Cavill adored by fans, but he was also outspokenly admired by his co-stars for his on-set behavior and professionalism. 
In an exclusive interview with Digital Spy, Batey further elaborated on his thoughts on Cavill's departure: "Henry and I are quite close. I knew a little bit before everyone else, really. But to be honest, the whole cast is just going: 'We're all going to miss him.'" The actor also complimented his co-star as "the hardest-working man in all of Hollywood."
Fans will get the chance to properly say their goodbyes to Cavill as Geralt in Season 3. Here's hoping, for the sake of comic relief, that Liam Hemsworth, who's carrying on the responsibility of being the lead role after Cavill, similarly clicks with Batey as on-screen partners in crime in a way that preserves the fun banter and hilarious dynamics between our favorite Witcher and bard.