Seth MacFarlane's Criticism Of Mila Kunis During Her Family Guy Audition Is Understandable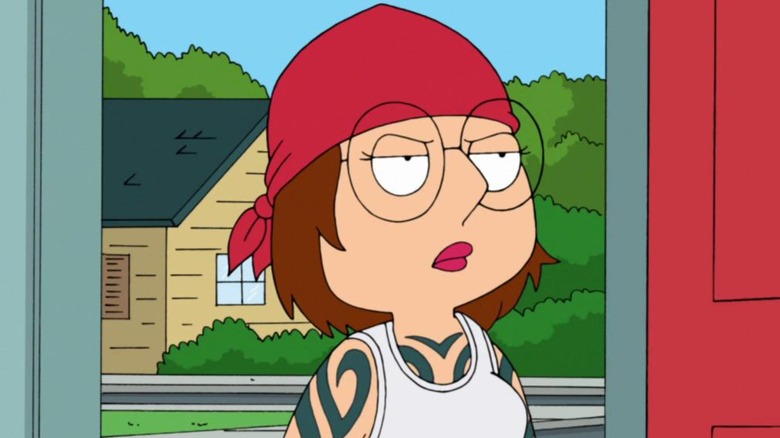 FOX
By now, plenty of dedicated "Family Guy" fans know the Griffins and their friends well enough to consider them an extended part of their own clan. When simply zeroing in on the Griffin home, it's easy to point out Peter (Seth MacFarlane), his wife, Lois (Alex Borstein), son, Chris (Seth Green), Brian, the dog (also MacFarlane), second son, Stewie (MacFarlane again), and of course, daughter, Meg, who is voiced by Mila Kunis. Fans may be interested to know there is one aspect of Meg's character that is solely unique to her. And that is, she's the only member of the family who was once voiced by a different actor.
For those not so privy to the world of adult animation, "Family Guy" has been churning out new content since the late '90s, recently surpassing the 400-episode mark. Shockingly, the series was canceled by Fox after its fourth season due to low ratings. Thanks to the show's profitable DVD sales and Cartoon Network keeping it alive with reruns, Fox finally agreed to bring back the show, solidifying it as a primetime staple on the network ever since (via The Los Angeles Times).
Around the time Mila Kunis auditioned for the role of Meg, she was much younger than plenty of fans may believe. Kunis told Variety that at only fifteen years old, she presented her voice for the part in front of creator MacFarlane, who was patient enough to give her some constructive criticism rather than moving on to another option. Not only did that advice shift the way Kunis voiced Meg, but it eventually led to her being cast in the role that she still performs to this very day.
The issue dealt with Kunis' speaking speed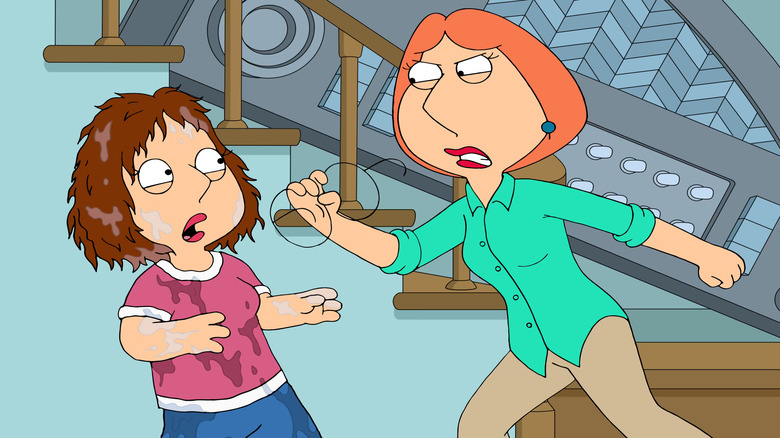 FOX
Originally, the voice of Meg on Fox's "Family Guy" was done by Lacey Chabert. When she discussed her early departure from the role, she told GameSpy in 2007 that it was her own decision. "I left the show of my own accord. And only because I was in school and doing 'Party of Five' at the time," she said. Interestingly, Mila Kunis tells Variety that her agent told her a different reason for Chabert's departure when she went to audition. "I remember my manager ... at the time being like, 'the actress quit because she didn't find the show to be in line with her ethical beliefs,'" she revealed. Whichever the reason, Kunis saw a major opportunity.
As Kunis explains, her audition itself didn't initially go so well when she first presented her voice to MacFarlane for the part of Meg. His critique had nothing to do with her performance but more about pacing. "So I went and auditioned, and I remember MacFarlane being like, 'slow down,'" she recalled. "Like, that was the big thing. I guess I naturally speak really fast. When I record now, I'm really good about knowing to slow down. But when you're fifteen, you just want to get this ball rolling." Kunis obviously took the notes perfectly as she landed the part.
Despite her making that pacing change thanks to MacFarlane's criticism, Meg has consistently remained the same. How the other characters treat Meg on the show has been another constant. Of course, that's been the ongoing joke since the series started, and Kunis continues to hear fans' attempts to tap into their inner Peter Griffin. While discussing Meg's treatment on "The Graham Norton Show," Kunis admitted, "The one thing I do get the most of is 'shut up, Meg' on the street." However, this statement brought more laughs than sympathy.