1923's Julia Schlaepfer Loved The Adrenaline Of Filming In Africa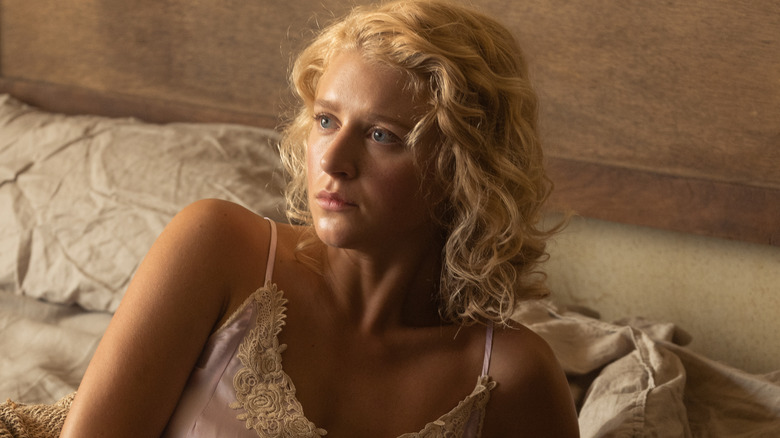 Emerson Miller/Paramount+
Of all the mega franchises to emerge in the modern pop culture landscape, "Yellowstone" receiving a whole TV universe may be the most surprising. "Yellowstone" began as a massive hit for Paramount Network, telling the story of the Dutton family protecting their Montana ranch from nefarious machinations. However, fans yearned for more, so it wasn't long until a spin-off developed, titled "1883," which gave viewers a glimpse into how that portion of land came into the Duttons' grasp over a century ago. To further fill in the blanks of the Dutton dynasty, "1923" picks up with the next generation to see what they're up to.
For much of the franchise's history, the shows have been primarily centered on the United States, specifically with the Montana land the Duttons acquired. "1923" mixes up the formula a little bit to show what Spencer Dutton (Brandon Sklenar) was up to during his travels in Africa. While there, he meets a British woman by the name of Alexandra (Julia Schlaepfer). And to make the scenes even more realistic, the crew actually filmed in Africa, much to the delight of Schlaepfer.
Julia Schlaepfer calls filming in Africa a 'fun whirlwind'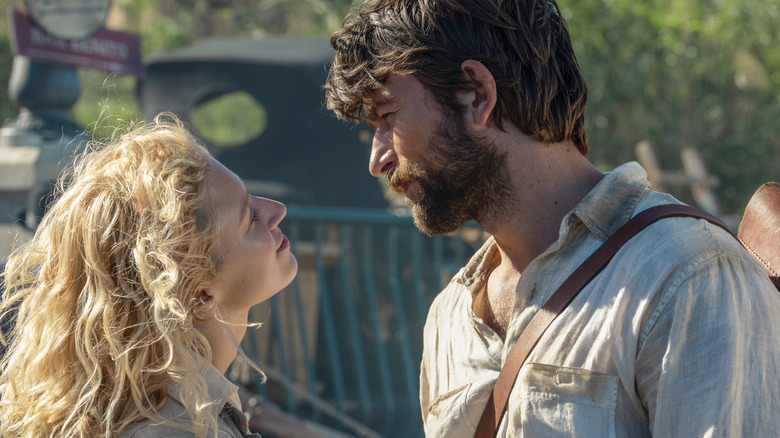 Emerson Miller/Paramount+
Having a separate crew film the Spencer and Alexandra scenes proved to be a challenge for the "1923" stars. For starters, they were on a much different schedule than their Montana counterparts, as Julia Schlaepfer explained to The Wrap, "We had a separate camera crew in South Africa and our friends were shooting back home. And back in Montana, there were so many different storylines going on. So people, had some days on, some off, that type of thing, but with me and Brandon, it was us nonstop. We were always working. And if we had a day off, we were doing fittings or stunt training or flying 16 hours to Kenya, that type of thing."
"1923" has shown so far how the two actors weren't just sitting around talking during their scenes. From hunting big game to getting rammed by a shipping liner on their tugboat, the pair have certainly gone through the wringer throughout their African journey. But despite all of the hard work they had to do for their scenes, Schlaepfer admitted it was plenty fun. She went on to say, "It was also the most fun whirlwind that I have ever been a part of. I still feel like I'm like getting my bearings realizing that I just did all of that and was in Africa and the whole thing. We were living off adrenaline and we were gross and dirty, and just like enjoying that aspect of it. And they think it really adds to the story and how fast it all moves."
Season 1 of "1923" has almost come to a close, but Paramount+ has renewed it for a second season. The romance between Spencer and Alex was a highlight of the first season, and hopefully, it's explored even further down the line.