Why Hendricks From Tulsa King Looks So Familiar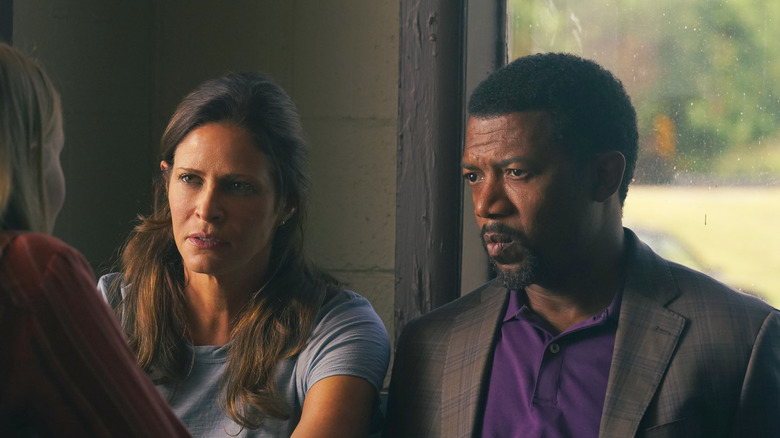 Brian Douglas/Paramount+
Taylor Sheridan's "Tulsa King" features plenty of familiar faces. The one everyone's paying attention to is obviously Sylvester Stallone, who portrays displaced New York mafia capo Dwight "The General" Manfredi in his first starring TV role. However, once you get past the Hollywood A-lister's sheer star power, you'll notice that the show is absolutely packed with talent.
Manfredi more than meets his match in ATF agent Stacy Beale, played by Andrea Savage of "Veep," "I'm Sorry," and "Episodes" fame. The Tulsa mafioso's nascent syndicate features characters played by folks like Martin Starr ("Silicon Valley," "Party Down," the Marvel Cinematic Universe "Spider-Man" movies), Garrett Hedlund ("Friday Night Lights," "Tron: Legacy"), and Max Casella ("The Sopranos," "Boardwalk Empire").
As tends to be the case with Sheridan's projects, even the characters in comparatively minor supporting roles are played by actors with extremely impressive résumés. Such is the case with the man behind Beale's boss, ATF Special Agent in Charge Hendricks. Here's why he looks so familiar.
Miles Mussenden played a superhero's father in Cloak & Dagger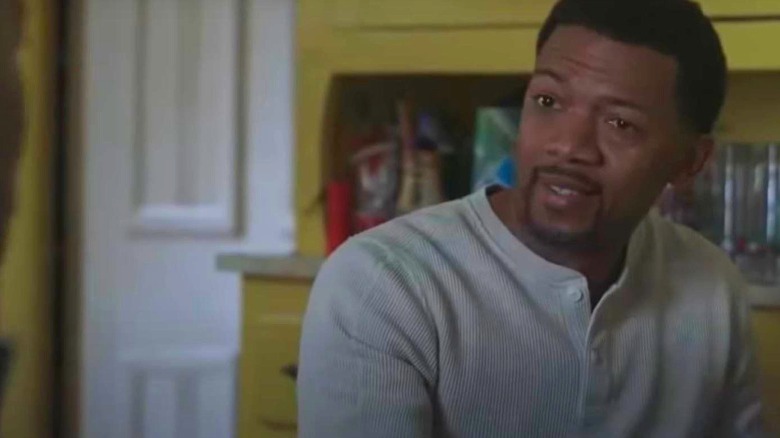 Freeform
Freeform's Marvel superhero show "Cloak & Dagger" lasted only two seasons, but the critics loved what they were seeing . The show explored the dynamic between Tandy Bowen (Olivia Holt) and Tyrone Johnson (Aubrey Joseph), who become inseparable after they gain light and darkness themed superpowers. A part of the show's main cast, Miles Mussenden portrays Tyrone's father, Otis.
"Cloak & Dagger" explores some fairly heavy themes for a superhero show. In fact, in an interview with Basic Stuff, Mussenden revealed that he wasn't even aware that the show would have a superhero angle at first. 
"When I auditioned initially, the material they gave me read like a high-end drama," he said. "It was heavy and emotional. It wasn't until later I was told it was a superhero project. [Showrunner] Joe Pokaski and [executive producer] Gina Bythewood's previous work sort of informed me that the show wouldn't be ordinary. Then it went even beyond how far even they thought would be approved by the network. I remember Joe saying to me, 'Can't believe they're letting us do this!'"
Mussenden portrayed Dangerfield Newby in The Good Lord Bird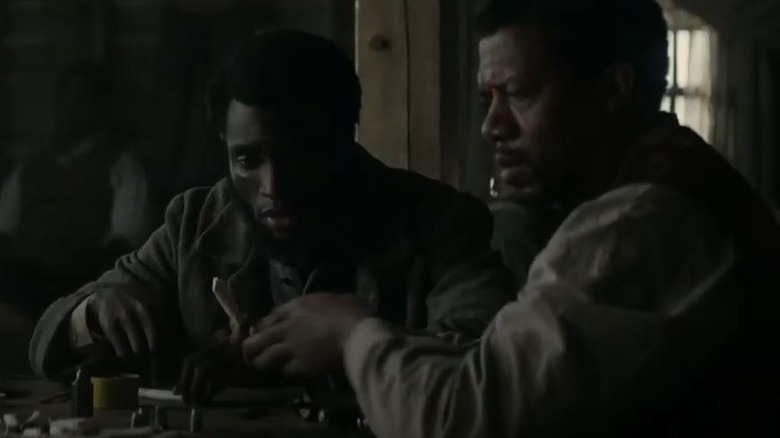 Showtime
One of Miles Mussenden's more noticeable roles in recent years was in Showtime's historical drama series "The Good Lord Bird." The six-part miniseries tells the story of eccentric abolitionist leader John Brown (Ethan Hawke), and also features numerous other historical figures –- including but not limited to notables like Harriet Tubman (Zainab Jah), Jeb Stuart (Wyatt Russell), and Frederick Douglass (Daveed Diggs).
While the series does also feature fictional characters, Mussenden's role is based on a real person, as well. He portrays Dangerfield Newby , one of Brown's more prominent allies. Along with a handful of others, Mussenden's Dangerfield joins Brown's army as a new recruit in Episode 4, "Smells Like Bear." He remains with them for a total of three episodes, with his last appearance coming in the penultimate episode, "Jesus Is Walkin'," which focuses on Brown's raid on Harpers Ferry.
He joined the Sisterhood of Dada in Doom Patrol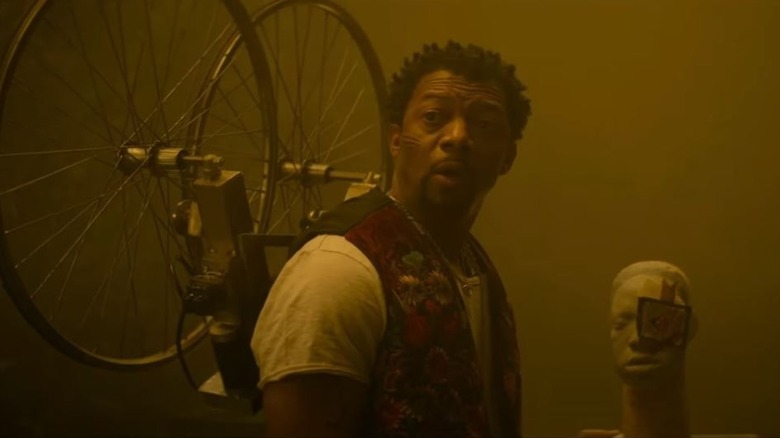 HBO
HBO's superhero series "Doom Patrol" has rarely been afraid to get extremely weird, and this trend continues to apply with Miles Mussenden's character in the show's third season. He plays one of the members of Shelley "The Fog" Byron's (Wynn Everett) metahuman artist collective, the Sisterhood of Dada. Mussenden's Lloyd "Frenzy" Jefferson appears to have bicycle parts fused in his body, though instead of causing him discomfort, they give him the power of creating winds.
In the comics, Mussenden's character is actually connected to the show's initial and arguably most famous villain, Eric "Mr. Nobody" Morden (Alan Tudyk), who created the comics version of the group, the Brotherhood of Dada. While somewhat similar in appearance, the show's take on Frenzy is considerable more articulate than the comics version –- and his penchant for intelligent debate makes him an inspired foe for Joivan Wade's Cyborg.
He plays Brett Hughes in Swagger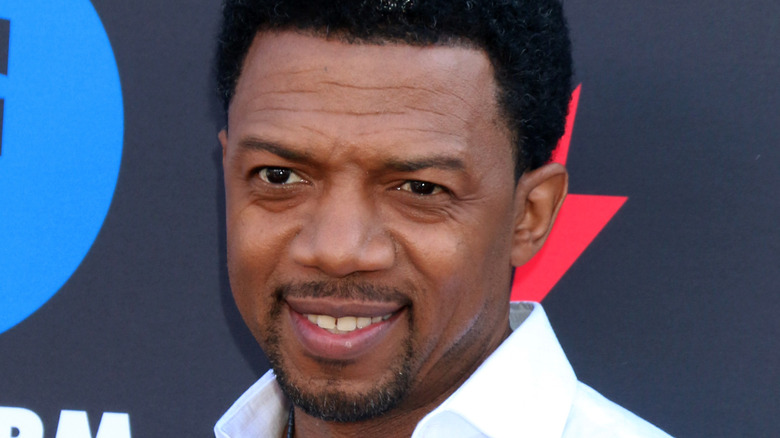 Kathy Hutchins/Shutterstock
In 2021, Miles Mussenden joined the cast of sports drama "Swagger." The Apple TV+ show is all about youth basketball, and focuses on O'Shea Jackson Jr.'s coach Ike Edwards and his star protege, Jace Carson (Isaiah Hill).Mussenden plays Brett Hughes, who backs the team financially, and is also the father of Jace's fellow young basketball prodigy, Royale (Ozie Nzeribe).
"Swagger" has been well received by critics and audiences alike , and while it's loosely inspired by NBA star Kevin Durant's early years as a nascent basketball superstar, creator Reggie Rock Bythewood told Looper that the show doesn't intend to be a faithful retelling of the athlete's story. 
"That's not what we're doing," he said. "While there were elements of his story that we have adopted, it's really a contemporary story about now, about today. Just really looking at where the game is, where youth ball is today. Really just taking KD's story as inspiration, as a launching pad, so that we can tell this contemporary story."
Miles Mussenden has appeared in numerous huge projects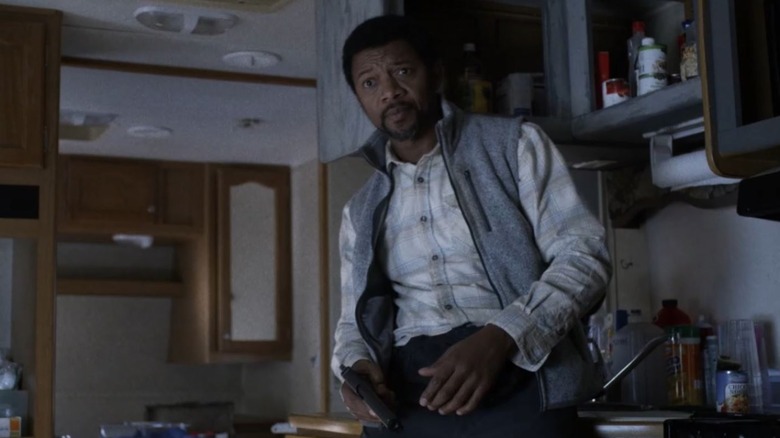 AMC
Miles Mussenden has become one of the industry's noticeable "hey, it's that guy" actors with a host of minor roles in projects that have been anything but small. Among other roles, he's turned up as an agent in the country music drama "Nashville," and an officer in a Season 1 episode of "Stranger Things." He was an instrumental part of "The Walking Dead's" "Here's Negan" episode as Franklin, a kind post-apocalyptic doctor who's a significant part of Negan's (Jeffrey Dean Morgan) complex backstory, and one of the few genuinely good people the villain encountered before his start of darkness. He's had one-episode roles in shows that range from Stephen King crime drama "Mr. Mercedes" to HBO's Dwayne Johnson comedy drama "Ballers."
Interestingly, Mussenden's small roles have also brought him in the Marvel fold more than once. First, he portrayed a guard in "Luke Cage" Season 1 episode "Step in the Arena" in 2016. The very next year, he had a small role as a park ranger in "Spider-Man: Homecoming." Combine these with the fact that "Cloak & Dagger" started airing in 2018, and Mussenden had three different roles in three different Marvel projects in the span of three years.